Opinion/Letters to the Editor January, February, March 2021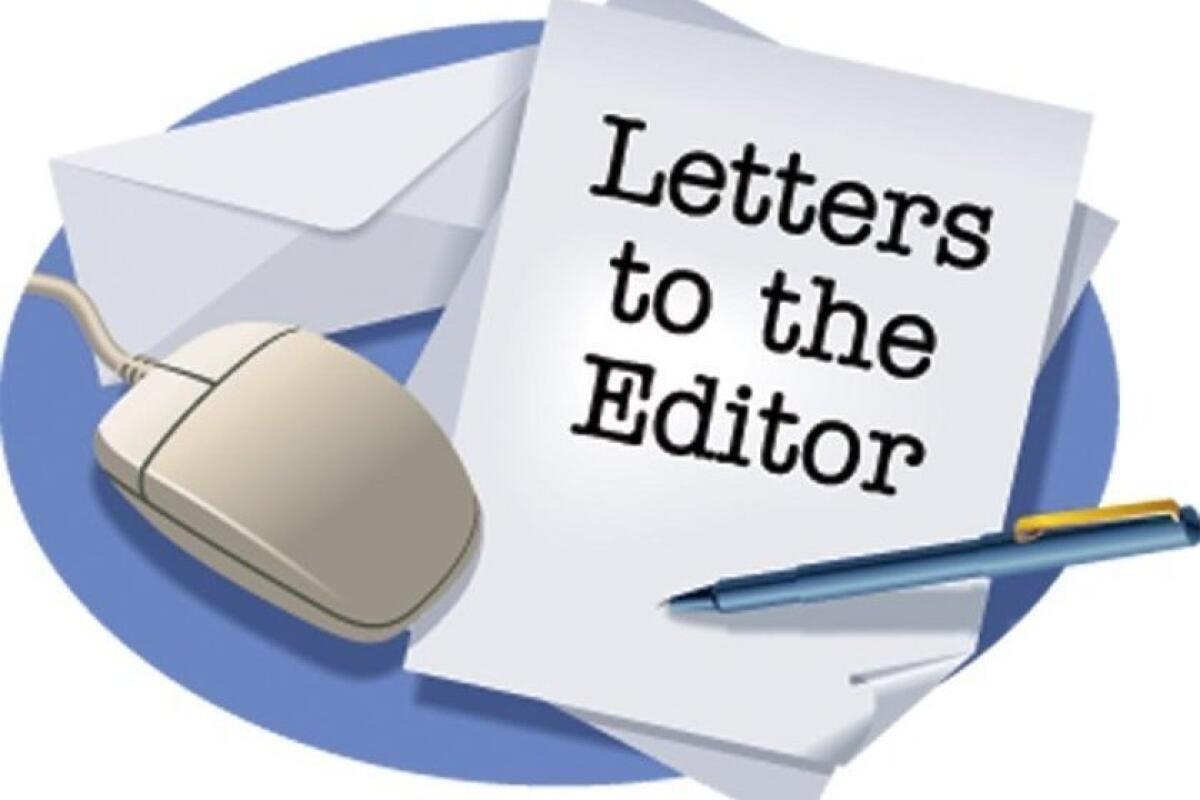 Jan. 7 issue:
Thank you Marlene King
Thank you to Marlene King for her steadfast resolve! Along with Greg Gruzdowich, they were two solid voices on the Santa Fe Irrigation District board. Marlene, in her six years (Dec. 2014-Dec. 2020) of water oversight and service as a director of the board, will be missed. Although Marlene's departure was a surprise to some, she achieved much during her tenure.
She was a voice of reason, holding the line against water rate increases. We should all be grateful to her for this.
It is critical that the next director be up to speed on all the local and regional water issues and challenges, to understand the past COSS (Cost of Service Study) to protect Ranch ratepayers' interests. The next COSS is in 14 months, which hopefully will not result in another water rate increase.
As Marlene said: "It does not matter how much 92067 reduces usage; the very nature of the difference in property size throws a significantly higher percentage of overhead onto 92067. Overhead is the last frontier in finally achieving rate equity."
I do hope that she will continue to be a voice (albeit) from the sidelines for the good of the ratepayers.
Thank you Marlene for being a strong advocate for us! You are highly appreciated.
Happy New Year 2021!
Nick Dieterich,
SFID Division 3 resident since 1996
The Ranch has lost more than its 'King'— What will water rates be in five years?
Thanks to former Santa Fe Irrigation District (SFID) Div. 3 Director Marlene King for working so hard for us. I feel there is no one left who will spend as much time representing Rancho Santa Fe for fair water rates.
All Ranch residents and landowners need to be concerned about the long-term rate effect on 92067 due to the newly lowered reserve fund thresholds. Former Director King often brought our attention to the disparity in general overhead costs between smaller, coastal properties and larger, inland properties. This will be very important when the time comes to fund SFID's contractual obligation to pay upwards of $50 million to build a new Lake Hodges dam face. Will the $50 million be divided equally among each of the SFID customers?
As SFID expenses rise and customers continue to reduce their outdoor water usage, will the Solana Beach majority vote in a sixth tier in a couple of years when SFID votes in a new rate structure?
Holly Manion
Rancho Santa Fe
Jan. 14 issue:
Marlene's SFID legacy
Marlene King represented Division 3 for 6 years and has my profound appreciation for her commitment to fighting for equitable water rates for all SFID customers. I overlapped terms with Marlene for two of my four years representing Division 1 and have followed SFID's rate structure closely since then. Time after time, Marlene and I were on the short end of 3 to 2 votes regarding water rate equity. Although our two mostly rural Divisions buy the majority of SFID water, we represented the minority of board seats due to SFID's board structure. When rates are not equitable, I feel it is like getting unfairly taxed without equal representation.
Marlene has continued that fight for equitable rates, knowing that convincing other SFID board members was typically a futile effort. Yet I believe Marlene studied and understood the financial modeling that is the basis for determining water rates better than any other director.
I give Marlene much credit for continuing her efforts and have referred to her as our "water advocate" version of RBG. What also comes to mind is the well-known Theodore Roosevelt quote about the person in the arena, "It is not the critic who counts… the credit belongs to the man (woman) who is actually in the arena…" Thank you.
Greg Gruzdowich
Rancho Santa Fe
SDUHSD principals are irreplaceable and deserve our support
As students in San Dieguito Union High School District, we have experienced the challenges of moving to online learning. We have watched teachers adapt their curriculums to the demands of new and unfamiliar platforms. We have watched students work to acclimate to these new curriculums and the unusual structure of the school day. What has been a constant throughout these changes have been our principals, who have supported both us students and our teachers.
In my experience, principals have acted as linchpins for the community, helping bring together students, parents, and teachers in ways each of those individual groups cannot. They are trusted to fairly represent all of their constituents and, especially during these pressing times, have navigated the disparate interests extremely gracefully and effectively. Principals work to protect students and guide them through difficult decisions—decisions which are becoming more and more common as our environment becomes more and more stressful. SDUHSD principals have demonstrated their commitment to our community, inside and outside of school hours. They are irreplaceable elements. And they deserve our support as much as any of our teachers. We ask on behalf of SDUHSD students that we give them this support and praise them for all they do for us.
Joshua Charat-Collins,CCA
Irene Chung, CCA
Madeleine Moon, TPHS
Ayush Agrawal, CCA
Andrew Gao, CCA
Sebastian Charat-Collins, PTMS
Lucas Beltran, SDA
Lukas Nepomuceno, CCA
Much gratitude to SDA's principal and assistant principal
I consider myself fortunate to have worked as a high school teacher for half of my teaching career at San Dieguito High School Academy. SDA has always attracted good students, staff and administrators.
I had retired before Adam Camacho became the principal at SDA, so I did not have the pleasure of working with him as a teacher. However, I volunteered at the school and, before the pandemic, I would often see him on campus. Adam always greeted me by name, with warmth and a big smile on his face, making me feel welcome.
Once retired, I helped organize a group of SDA's AVID students to read with the elementary students at Paul Ecke Central Elementary School (PEC) in the after-school program (AVID = Advancement via Individual Determination). On the drive to PEC, I enjoyed our conversations together. Most of the AVID students were Latina/o and would be the first in their families to be college bound. They spoke fondly of Mr. Camacho, happy that a Latino was their principal, someone who could "understand them better." I remember one student saying that Mr. Camacho always looked happy. This is what a good principal does: He listens to students, and with warmth and kindness, making them feel safe and accepted. I know that during this pandemic Mr. Camacho is tirelessly working to keep his staff as safe as possible.
I also want to compliment SDA's Assistant Principal Celeste Barnette. Her open mindedness and big heart have helped make the teachers and their students at SDA feel respected. I was part of a group of retired teachers from SDA who had been coming to SDA once a week, during the pandemic, with treats and drinks for the staff who were on campus. We set up our table near the check-in station by the Health Office. Ms. Barnette always greeted us enthusiastically. She posted our photo on SDA's Facebook page, praising our effort effusively. Her exuberance and positivity motivated us to continue our presence up until winter break.
Amidst COVID cases surging, heated debates about reopening schools, and the attack on the U.S. Capitol Building, I felt it necessary to spotlight two excellent school leaders in SDUHSD who positively impact so many human beings. Much gratitude goes to Adam Camacho and Celeste Barnette.
Ronette Youmans
Retired teacher, SDA 2014
Encinitas
SDUHSD leaders applauded for their work, support and care
I am a parent of students at both La Costa Canyon High School and San Dieguito Academy. I am writing in support of both schools' administration and faculty. We have all been faced with an unfortunate and unusual situation this past year, COVID-19. There is no blueprint on how to deal with it but I applaud our district for all of their work, support and care. We have many wonderful leaders who truly prioritize the needs and safety of our students and teachers. They communicate with us on a regular basis and they support our students, all while keeping up with the ever-changing landscape.
My husband was an educator for 16 years so I have seen first-hand what educators do for their students. Through his eyes I have also seen what principals do for their staff and students. They create safe spaces to learn, they celebrate the successes of their staff and student body, they champion school spirit and create contingency plans (especially important this past year).
Both of my high school children have felt connected and supported since starting virtual learning last March. They are comforted in knowing how seriously our administrations are taking the known risks of COVID-19. It is unfortunate they cannot attend in-person instruction but it is imperative that our children, our families and our community remain safe and healthy. The pandemic is world-wide, it is not isolated to North San Diego County. We should not be harsh with our educators, with the administration and staff during this already stressful time. Do I miss watching my son play soccer? Yes, but I know he will be able to play when it is safe.
This past year has taught me and my family, more than ever, the meaning of community and care. We must make sacrifices to keep others safe, we must modify our lifestyles to help others. We should commend our children for their resilience and for adjusting to the changes we all have faced. Thank you to everyone at La Costa Canyon, San Dieguito and the entire school district for keeping our children safe, informed, supported and encouraged.
Suzy Jackson
Encinitas (Olivenhain)
Feb. 4 issue:
The RSF Association should eliminate the term 'covenant'
The following letter was sent to the RSF Association general manager and to this newspaper for publication:
Rancho Santa Fe has many attractive qualities like space, privacy and a highly rated school.
We are lucky to live here, but we are also part of a larger community, and part of a history where property is more important than people, in a country where people once were property.
The earliest covenant was in Brookline, Massachusetts to forbid resale of property to "any negro or native of Ireland."
Covenants were used by property owners and developers to create segregated housing in order to increase property values by restricting who could live in a neighborhood. With few Black people in San Diego, covenants were originally used to keep Jewish people out of White communities like La Jolla and Rancho Santa Fe. People of color who worked in covenant homes during the day had to be out of RSF by sundown.
The term "covenant" is outdated yet still telegraphs discrimination. Rancho Santa Fe decided not to have stoplights in the community, but the term "covenant" is a blinking stoplight warning people not to proceed unless they "belong here." In researching the historical underpinning of covenants, we found a 1925 covenant in New Jersey which is strikingly similar to sections of the Rancho Santa Fe Protective Covenant. What are we being protected from?
Is it to protect us from "slaughter houses, smith shops, forge furnaces, steam engine, brass foundry, nail, iron or other foundry, any manufactory of gunpowder, glue, varnish, vitriol, or turpentine, or for the tanning dressing or preparing of skins, hides or leather, or for carrying on any noxious, dangerous or offensive trade; all toilet outhouses shall be suitably screened, no part of the premises shall be used for an insane, inebriate or other asylum, or cemetery or place of burial or for any structure other than a dwelling for people of the Caucasian Race."
This language is strikingly similar to Para 1 and Para 102 of the 51 pages of restrictions in the RSF Protective Covenant. Does anyone think these are relevant threats to Rancho Santa Fe? Lime green house trim maybe, but foundries?
When Restrictive Covenants were struck down by the courts, covenants became a contract among property owners who were required to join an association.
In 1970, a federal appeals court held that covenants violated the 1968 Fair Housing Act. The court observed that while covenants lack power they would make Black or "undesirable people" reluctant to buy in White neighborhoods.
We are all responsible for getting rid of discrimination. We request that the Association eliminate the term "covenant" and rename the community "the Osuna" (the first property owner) or "the Lilian" (first architect) because the word covenant is not only a remainder but a reminder of housing discrimination designed to convey subtle and de facto messaging. We also request that the Association rewrite and update "The RSF Protective Covenant" for the 21st century.
It's time.
Mary Bills, Janet Lawless Christ, Jane Bills
Rancho Santa Fe community residents and RSF Association members
Feb. 11 issue:
Plant more eucalyptus on RSF golf course
As our RSF Historical Society proclaims, "There would be no Rancho Santa Fe had it not been for the Eucalyptus." Widely admired for their majestic size, graceful foliage and drought tolerance, these trees have long contributed to the distinctive landscape and beauty of our community and golf course. The eucalyptus is not only the RSF Golf Club's logo but, more importantly, a key feature of the course's unique character and reputation. Sadly, there has been a significant and steady decline of eucalyptus on our course. I join countless golfers, trail walkers, riders and RSF residents in recommending that our Golf Club plant more of these iconic trees.
Notably, championship courses such as Aviara and Riviera promote the "incredible beauty of the Giant Eucalyptus," viewing them as a major attraction. The Aviara Eucalyptus Grove Management Plan and other premiere courses highlight numerous benefits of the eucalyptus, including beautiful silhouettes, bird habitat, increased property values, shade, carbon sequestration, improved air quality, and reduced storm-water runoff.
I grew up on the Ranch in the 1950s and 1960s admiring gorgeous stands of eucalyptus on our course. So many of these trees have now disappeared. I was disappointed to see the new Golf Course Master Plan called for removal of some eucalyptus and limited new trees to Cork and Live Oaks. I fully understand the need for proactive tree management, including removal of trees posing safety risks. However, I also supported the 2014 RSF Golf Club Master Plan, which recommended planting 26 new sugar gum and Eucalyptus nicholii on the front nine. Praised as "exceptional for the RSF landscape theme," these species of eucalyptus are superior to our blue gums whose shallow roots make them vulnerable to falling in heavy winds and our disease-prone red gum trees. Many eucalyptus varieties are fast-growing (some 10 feet annually), compared to oaks that require several human generations to reach adult size.
Unfortunately, the Golf Club failed to plant the 26 eucalyptus recommended in the 2014 Plan and has not replaced numerous eucalyptus that have fallen or been cut down. Tree management was the top priority of the 2014 Plan, but the course architect's guidance was never fully implemented.
The golf course property is owned by all Association members who, like golfers, deserve to enjoy the beauty and grandeur of our heritage trees. Thus, I strongly urge the Golf Club to replace fallen eucalyptus and plant more eucalyptus trees in species recommended by arborists, golf course architects and our RSF Forest Health and Preservation Committee. These trees can be planted in areas that showcase their beauty without diminishing course playability. All RSF residents benefit from preserving eucalyptus on our course, the Golf Club's most attractive and iconic landscape feature.
Sally Koblinsky
Rancho Santa Fe
'Covenant'
I read with dismay the wildly misleading, divisive, and inaccurate screed penned by three RSF Association members concerning the "The RSF Protective Covenant". The cancel culture is alive and well in RSF and these three members have devised a solution in search of a problem. They misleadingly quote from a New Jersey covenant that they unearthed, leading you to believe that this offensive language was extracted from our Covenant.
No paragraph exists in the RSF Covenant where Jewish people or people of color are explicitly excluded. The authors again misleadingly refer to a Brookline, Massachusetts document that does just that. Where in our Covenant does it say people of color have to be out of RSF by sundown? Nowhere does our document require structures be built exclusively for people of the "Caucasian race".
Their laughable suggestion that we rename RSF "The Osuna" to eliminate discrimination, exposes their naïveté and historical ignorance. Who "owned" the land granted to Osuna by the San Dieguito land grant? It could be argued that Osuna's occupation of this land was an immoral appropriation of land "owned" by indigenous people who lived here for thousands of years prior to the Spanish arriving.
The RSF Protective Covenant is an interesting historical document. It's language is dated, but nonetheless gives current residents a peek at norms from almost 100 years ago. Leave it alone.
Kim Eggleston
Rancho Santa Fe
Feb. 18 issue:
Covenant racial discrimination history
The Civil Rights Act of 1964 prohibited discrimination on the basis of race, color, religion, sex or national origin.
The 1928 recorded RSF Covenant in Article I, Section 2, included explicit language prohibiting, to the best of my recollection, "Orientals, Negroids, Indians and Jews" from owning land. That original document was even filed in Superior Court by the RSF Association in a 1982 lawsuit discovery response by defendant RSF Association in my TICOR vs RSF Association litigation. TICOR won that suit by a unanimous three justice Appellate panel and it stood as standing case law for decades.
Article I, Section 2, Par. 2 was deleted entirely by the 1973 amendment.
Albert B. Frowiss, a 46-year RSF area resident
March 4: Guest Commentary
Officials tragically propose to close San Pasqual Academy despite its successes
Submitted by Board of Directors of Friends of San Pasqual Academy
A recent newspaper article was published announcing the proposed closure of San Pasqual Academy. This was a shock to many since this was the first time the staff and foster students living at the Academy, teachers, supporters and others were notified of this situation. A letter was sent to the Board of Directors of Friends of San Pasqual Academy that describes the devastating impact it has had on the current foster teens, staff, houseparents, grandparents, and also will affect future foster teens of San Diego County.
This letter is from Rex Sheridan, clinical director at San Pasqual Academy: "After over 13 years of service to the youth at San Pasqual Academy, I received the shocking news of my community's impending closure from a Union Tribune article forwarded to me from one of my clinic staff who happened to be reading the Sunday news. This news was devastating enough and even more personally hurtful because of the careless, insensitive, and non-trauma informed way that it was delivered.
"During my career in mental health and youth services, two decades of which has been in San Diego County, I am dedicated to meeting the needs of our most vulnerable youth populations; yet none could even remotely be compared to what is offered at San Pasqual Academy. I have first-hand experience witnessing lives transformed, hearts opened back up after years of disconnection, wounds healed after lifetimes of abuse and trauma, siblings reunited after separation, goals reimagined out of hopelessness, skills and knowledge crafted and nurtured out of feelings of incompetence, and new identities and possibilities replacing desperation and fragmentation. And if you think that those experiences sound overstated or dramatic, then you haven't had the pleasure of attending one of our graduation ceremonies where our young adults tell these stories themselves, one of our sports games where youth are cheered for the first time in their lives, one of our talent shows where they perform an original song, or a college road trip where they get to visit universities all over the state and envision a new possibility that was never previously imagined.
"What the article characterized as a struggling program is actually a vibrant community made up of diverse ages, ethnicities, faiths, gender and sexual orientations, and most importantly families. All of this uniqueness blended together with the common goals of acceptance, hope, knowledge, growth, connection, and kindness. San Pasqual Academy, in a microcosm, represents everything that San Diego County has said it is striving for. What the article called "declining enrollment" (in large part due to the lack of consistent commitment of referring parties to view San Pasqual Academy as an equal and in many cases even preferable option to other "resource homes" with far less resources) are actually amazing young San Diegans who have desperately sought permanency and connection and finally found it at San Pasqual Academy.
"Although I cannot share names, it is important to me to share a few real life stories from the last couple of days as we and our amazing staff have been working tirelessly to help our community both recover and persevere. Yesterday, I sat down with a young lady who lived at SPA as a youth, graduated from SPA, and recently completed Certified Nursing Assistant program; all while raising a beautiful daughter. She has shared repeatedly the pride and self-esteem that she gets from giving back now to the community that gave so much to her. When I spoke with her yesterday, she said simply "I know my daughter and I are going to be OK because SPA has helped me so much. But you guys are my family that I know I can always fall back on, so what's going to happen now?
"I spoke with another young man yesterday who needed to pace and walk in a circle around me as I slowly pivoted to stay facing him while he talked. He has only been at SPA for a few months and is planning to return to a family member soon, but he has been so impacted already by the community at SPA, that he said "I know I won't be here much longer, but I want to fight for SPA for all the other kids because this is their home and they don't want to go anywhere else."
"When our administrative team went into a 10th grade classroom to process the recent news with them and offer support, instead of asking first how it was going to impact them, they demonstrated their connection and internalization of this community by asking instead… "Where are the grandparents going to live, and our house parents? And what about you Tia? (Our Campus Director who was in the room at the time and who has committed her whole life to this program including moving her and her family and raising her children on campus over 15 years ago because she knew the program needed that kind of hands-on leadership.)
"Finally, the most common questions that we got from nearly every youth who chose to speak were 'Where am I going to live now?' and 'Why didn't anyone care enough to talk to us or anyone here about decisions that change our lives?' Unfortunately, none of us had any answers to these simple and yet profound questions, and I am confident that none of those reading this have those answers either.
"I share these stories to paint a picture of our community, offer a perspective of the real impact of these decisions, and to inject actual names and identities into a process that has appeared to be void or disinterested in all of these things. My hope is that those involved in these recent decisions were misinformed or did not have all the information, are willing to listen to voices that by choice or in error were not given the opportunity to be heard before, and are willing to reflect and reconsider a decision that neglects and further traumatizes our county's most vulnerable population at their most vulnerable time when we have a duty to protect them and give them our very best. Our very best has already been designed, cultivated, and evidenced in the form of San Pasqual Academy. This special community is widely celebrated for its forward thinking, innovative, and effective approach in responding to the complex needs of our youth. Its presence over the last 20 years has served as one of this county's greatest achievements, while its closure would be a stain on the record of all who did not do everything in their power to protect it. I respectfully ask that all possible options be explored, pursued, and exhausted and that the collaboration and teamwork that once built and sustained SPA be restored in order to preserve this invaluable community."
The Board Members of Friends of San Pasqual Academy are asking you to voice your concern and help stop the closing of San Pasqual Academy and to contact the following decision makers:
Supervisor Nathan Fletcher at nathan.fletcher@sdcounty.ca.gov,
Governor Gavin Newsom. Website to send email: https://govapps.gov.ca.gov/gov40mail/,
Senator Toni Atkins. Website to send email: https://sd39.senate.ca.gov/contact, and
California Department of Social Services, Deputy Director - Angie Schwartz, emails can be directed to her assistant: Tennille Nicks: tennille.nicks@dss.ca.gov
For more information on San Pasqual Academy, please go to www.friendsofsanpasqualacademy.org.
March 18 issue:
Santa Fe Irrigation District water news
Water can be a boring topic and we all expect a safe, clean, reliable supply without any drama. The board and staff of the Santa Fe Irrigation District (SFID) are working hard to provide just that as well as cost- effective water. Our district is one of the largest per capita water users in the state, recognition that we really don't want or need. Future state mandates will undoubtedly force reduced consumption which in turn forces higher prices. When you consume less water, SFID receives less revenue and hence the pressure to increase rates. Sounds like bad news, but it's not. SFID has among the lowest rates in San Diego County. The following table illustrates water rates for several adjacent water districts. I added Monterey Peninsula Water rates as an example of how bad rates can get.
Reserve Fund Policy
Thirty percent of our water comes from less expensive local water from Lake Hodges and 70 percent is more costly imported water. Late in 2020, a "Local Water" reserve fund was created to capture rainfall in excess of that budgeted, in 2020 that was 2,400 acre feet (AF) from Lake Hodges. Our rainfall last year delivered 455 AF above that budgeted and that excess is captured in a new Local Water reserve fund to offset future imported water purchases, which primarily benefits tier 3 and higher water users. The local water fund is now at $385,000.
Water Leaks
Every month the SFID board receives appeals for leak credits that were denied as being outside of policy. SFID policy states that leak credits are only available if the customer has signed up for the Automated Metering Portal which can provide text and email notifications for excessive water use. Leaks can happen to anyone at any time. To preserve your rights to receive a leak credit, please take the time to go to the SFID website, www.sfidwater.org, with a recent bill in hand. Select "I Want To" and "*NEW View My Water Use". Call (858) 756-2424 for assistance.
Full Board
As of late January, I am pleased to say that the SFID board selected Sandra Johnson to represent division 3. We now have a full board and are hard at work on an updated strategic plan. We are looking into cost effectiveness, diversifying our sources of water, improving our customer focus, long-term plans for infrastructure including fortifying the Lake Hodges dam, cybersecurity and disaster preparedness among other topics. We seek community input and the board would love to hear from you! Please contact board members with your feedback here: www.sfidwater.org/151/Board-of-Directors
Frank Creede,
Santa Fe Irrigation District, Division 1 Director, representing Solana Beach and Rancho Santa Fe.
Separate but not equal harms property values
It is indeed distressing that the RSF Association has elected to bury an issue of critical important to all RSF Association members.
If you read the March 5, 2021 "News Bulletin" and make it to page three, buried under "Proposed Golf Club Rule Changes Posted," then further buried under "3. Locker room usage and configuration changes," and if you made it that far, virtually anyone who reads the "News Bulletin" could have no idea what the "Locker room usage and configuration changes" mean for RSF Association members.
# 3 says: "Purpose and Effect By way of background, the Golf Club intends to restore the men's and women's locker rooms to the originally-designed configuration as informal lounge areas appurtenant to the respective locker rooms, with services and facilities to be substantially equivalent and consistent with the original wishes of the golfers. The main purpose of both locker-rooms and appurtenant lounge areas was to serve as an extension of the golf experience (before and after rounds), with a secondary purpose of an informal meeting and social space."
What does this oblique language mean? 1. Approximately 77% of all RSF Association members are going to be illegally excluded from using the Players Clubhouse 2. 100% of the women RSF Association members are going to be illegally denied access to the Vaquero Lounge.
Facts:
RSF Golf Club is not a legal entity--merely a "division" of RSF Association.
Articles of Incorporation of RSF Association, Article VI, Paragraph D: "Each Member shall have an equal interest in all the property owned by the Corporation" (Includes golf course and club buildings).
California Civil Code Section 1363+: "….common areas are owned as tenants in common, in equal shares…."
California Civil Code, Sec. 51 (b): "All persons…are…no matter what their sex….entitled to the full and equal accommodations, advantages, facilities, privileges, or services in all business establishments…." "Separate but equal" has not been the law of the lands for decades. As an aside, the facilities are not equal.
All RSF Association members have "paid" for the Player's Clubhouse: No rental payments ever, $300,000 per year to RSF Golf Club, etc.
Your property values could be adversely impacted, living in a community where RSF Association members are treated unequally.
Conflict of interest? Five of seven RSF Association board members are RSF Golf Club members.
If you care, let the RSF Association know immediately (statutory time limit): E-mail memberinput@rsfassociation.org or mail to PO Box A, RSF, CA 92067
Lisa M. Bartlett
Former RSF Association member, 24 years
March 25 issue:
Road right of way issues in RSF
The street and roads in our community allow for dedicated right of ways. In driving around our community I find the streets are well enough maintained by the County; however, the right of ways are another matter.
According to the County of San Diego Public Road Standards, our residential roadways are generally classified as "Collector Series with NO Improvements" which means it provides for two 12-foot travel lanes and two 8-foot shoulders.
Driving in our residential neighborhoods we should have roadway shoulders that allow for pedestrian and bicycle use on either side of the roads. Instead, I see rocks and boulders, vegetation of many heights, etc. that, in many cases, prohibit walking and bike riding that are allowed within the 8-foot shoulders by the County. I recently saw a baby buggy having to ride in the street because of obstructions in the shoulder along the roadway.
I should also mention that some of these obstructions could also cause harm to cars and people using our roads. Hitting a large rock could force a car to turn into the opposite roadway, damage their car and tire or worse. Remember, these obstructions are not allowed and the owner of the adjacent property could be held responsible for damage caused by their allowing obstructions on the County right of way property adjacent to their property.
Recently I have noticed an increasing amount of this misuse of the County right of ways. The rules are simple: the 8 feet outside of the roadway are for pedestrian and bicycle uses. Many people use this should space for guest parking, trash pick-up, etc. which is a temporary use for these services; however, putting rocks and boulders or having dense vegetation in the 8-foot shoulder is wrong and dangerous to others.
I would appreciate your giving some attention to this issue. Many of our residents may not know that there is an 8-foot shoulder on both sides of our roadways that belongs to the County. There should be an 8-foot area that is clear of large rocks and vegetation that inhibits pedestrian and bicycle use and sometimes even visibility on our roadways.
Please take a good hard look at our residential roadways, especially now that school is starting and children will be walking or riding to our schools again. Help protect our community by keeping our right of ways safe and open for public use.
Marion Dodson
Rancho Santa Fe
Response to Lisa Bartlett's letter of March 18, 2021
The letter from Lisa Bartlett, replete with misinformation regarding the use of the Players Club, has unfortunately caused unrest among members of the Association who are not familiar with the history of the Golf Club. Her letter almost verbatim copies dozens of letters we received from her when I served on the Association board. Ms. Bartlett no longer lives in our community or state, but continues to disrupt.
1. The Players Club opened in 2008 and was built at the time the Golf Club restaurant was remodeled. The total cost of both buildings was paid by Golf Club members. Although the entire Association membership enjoys the use of the restaurant and meeting rooms, it is the Golf Club members, not Association members who are still paying off the debt for both buildings.
2. The Players Club is built on Association land, and about 75% of the building is devoted to locker rooms for men and women and a pro shop. There is a shared use room (Veranda Lounge) between the two locker rooms which golf members use for larger gatherings.
3. She further states that general Association members will no longer be be allowed in the Players Club. The rules of access for nonmembers haven't changed since it was built; it is meant for Golf Club members to use before and after playing, storing their equipment in lockers, etc. All Association members have access and charging privileges in the pro shop.
4. She also states that 100% of women will be excluded from the Vaquero Lounge (the men's locker room) which is the proposed rule change going back to original use. For several years, the club experimented with using half of the men's locker room as a multi-purpose room but it was underutilized and with an influx of new members the men want to use their lounge as it was intended.
5. The $300,000 that she quotes as payment to the Golf Club from the Association is also misrepresented. Historically until 2019 the Golf Club members paid for the entire deficit from the restaurant (HOA restaurants usually run in the red). In 2019 in order to maintain a quality restaurant for our community, the Association agreed to supplement the deficit.
Whether or not members of the Association are golfers, the golf course continues to be one of our greatest assets as is a quality restaurant.
When the rule change was proposed to return the Players Club rooms to their original purpose, it probably should have been presented with historical perspective. However, who knew that Ms Bartlett, even though living in another state, would get wind of it and pounce.
Respectfully submitted,
Anne Feighner McCarthy,
RSF Association member for 47 years
A closer look at SFID water news rates
In his letter published March 18, it was disappointing Mr. Creede offered four rate comparisons ostensively representing Santa Fe Irrigation District (SFID) has lower rates than "several adjacent water districts". Particularly troubling was the disclaimer, "Tier cutoffs and fixed fees vary by district," neglected to include billing frequency – monthly and bimonthly. Choosing to include Cal-American-Monterey, a privately held water purveyor with only two water sources, desalination and groundwater, and often declared the most expensive water in the USA, does little to inform customers how SFID rates stack up against others regionally. All Cost of Service Studies compared SFID rates to County Water Authority members' rates. Directors have spoken of wanting to keep SFID in the bottom quartile.
To assess Creede's rate comparisons, purporting to demonstrate SFID's rates are lowest of the five agencies, let's analyze the three adjacent agencies against SFID's median customer usage. Prices are "all-in" - fixed meter and water. Olivenhain and City of San Diego rates adjusted to bimonthly. Median HCF data, 50% of bills higher and 50% of bills lower, was the sole rate comparison model used by the 2019 rate consultant.
• ¾" meter @ 25 HCF bimonthly: SFID lowest; then Olivenhain +$5.75; then San Dieguito additional $18.53 and City of San Diego additional $15.30.
• 1" meter @ 85 HCF bimonthly: Olivenhain lowest; then SFID +$21.61; then San Dieguito additional $130.67 and City of San Diego additional $282.51.
• 1.5" meter @ 160 HCF bimonthly: Olivenhain lowest; then SFID +$22.66; then San Dieguito additional $242.40 and City of San Diego additional $610.04.
• 2" meter @ 130 HCF bimonthly: Olivenhain lowest; then SFID +$83.22; then San Dieguito additional $97.75 and City of San Diego additional $435.17.
"When you consume less water, SFID receives less revenue and hence the pressure to increase rates". Rate pressure is overhead pressure. Creede wrote "We are looking into cost effectiveness". No cost containment? Concerning are Strategic Planning documents reflecting staff's desire to add more employees. Puzzling that Creede shared "The local water fund is now at $385,000," as Creede made the motion to reduce that fund to offset the Water Authority's 4.8% increase.
Irrigation/Agriculture Rates
A look at Irrigation/Agriculture rates of the districts is informative:
• Lowest is Olivenhain: Ag. @ $5.42/HCF; Ag. with dwelling 1-23 HCF at domestic rates and remainder at $5.42/HCF. Irrigation: Tier 1 @ $5.20/HCF; Tier 2 @$5.57/HCF, depending on winter/summer allotments.
• San Dieguito Ag. is $5.42/HCF; Landscaping is $6.25/HCF.
• SFID Ag./Irrigation: $6.11/HCF.
• City of San Diego Irrigation: $7.05/HCF.
SFID's Ag./Irrigation rate has increased 51% since 2016: $4.04 to $6.11/HCF.
Accurate, cogent rate comparison data provides the clarity SFID customers deserve.
Marlene King
Former SFID Director, Div. 3, Fairbanks Ranch and eastern Rancho Santa Fe

Get the RSF Review weekly in your inbox
Latest news from Rancho Santa Fe every Thursday for free
You may occasionally receive promotional content from the Rancho Santa Fe Review.