RSF District to focus on lifting student test scores this school year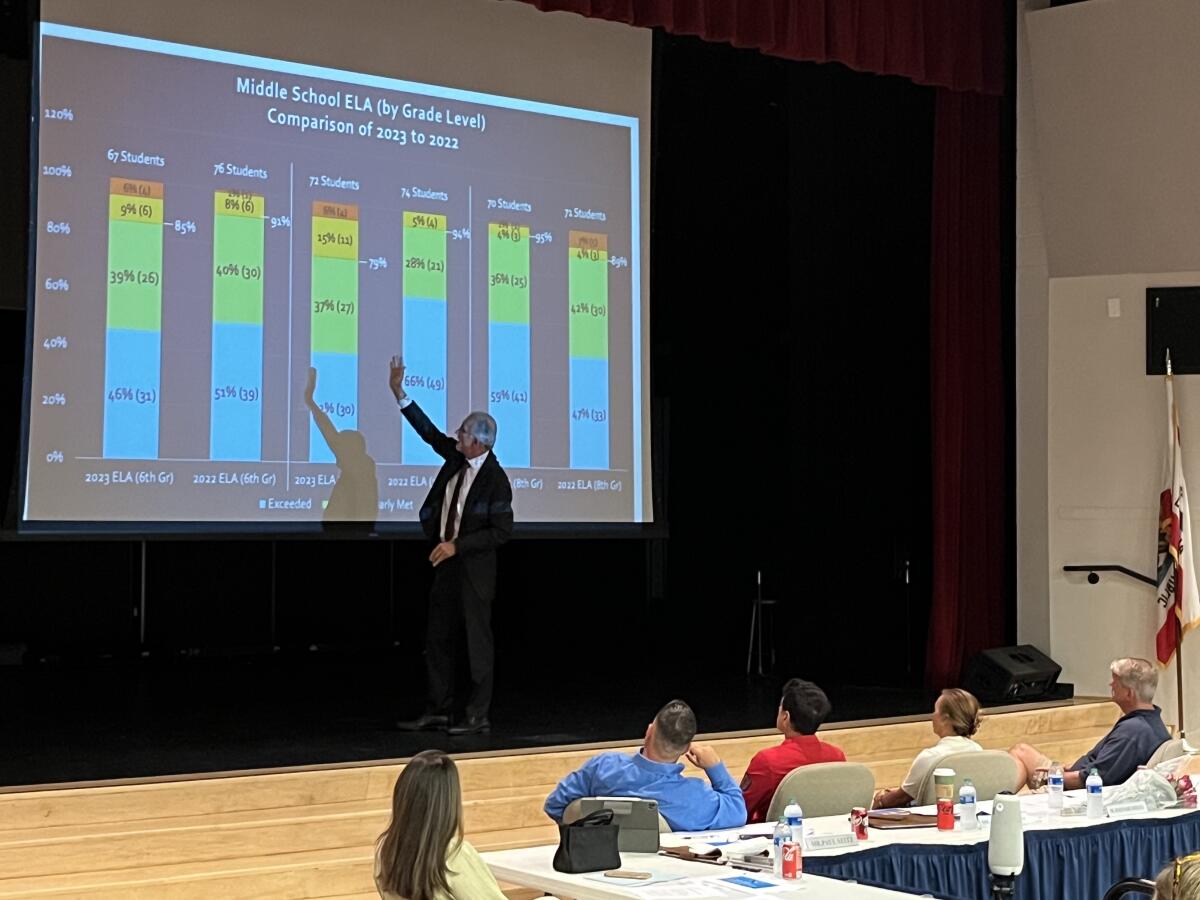 Under new leadership, the Rancho Santa Fe School District is hoping to tackle its declining test scores.
At the Sept. 15 meeting, the board reviewed the 2023 scores in the Smarter Balanced Assessment tests. In English language arts (ELA) 87% of Rowe students met or exceeded the standards, down from 91% the year prior. In math, 84% of students met or exceeded the standards, down from 85%.
In science, a test given to just fifth and eighth graders, Rowe students were 74% proficient or advanced. At the fifth grade level students scored at 72%, down from 81% in 2022.
"This is significantly below where we should be," said Superintendent Tom Bennett. "It is one of our areas of focus this year."
"I want to assure parents we're on the academic piece. We see it, we understand," Bennett said. "We want to be able to make sure that students are intrinsically motivated to be able to learn…we want students to be excited about learning, we want learning to come alive. We want children to want to come here and be stimulated about how it is that they learn."
The new superintendent's background is in how kids learn and develop cognitive understanding—he holds a Ph.D. in educational psychology, learning and instruction from UCLA.
"We know how to be able to do this…we have the expertise here to be able to get this thing done and I know that we can do it," Bennett said.
Bennett said he believes his expert staff is guided by a strong new leadership team. He was selected to serve as superintendent in the spring, Kelly Griesbach (formerly Stine) was promoted to middle school principal mid-year and over the summer, Joseph Erpelding came on board as the new elementary school principal.
Bennett said one data point they are tracking is how the students perform as they pass through the school—as an example, the third grade cohort went from 93% meeting or exceeding standards to scoring at 85% in fourth grade. In math, the fourth grade cohort that scored at 96% in 2022 dropped to 78% in fifth grade in 2023.
Pointing to middle school ELA scores going down to 86% from 92% the year prior, Bennett said it's clear they are not making the necessary adjustments. Middle school math did see a slight improvement.
The district's plan of attack includes a team approach centered on an individualized system of support for students.
Since coming to Rancho Santa Fe, Erpelding said one of the things he has noticed is there isn't a lot of vertical integration between grade-level teachers—he said they are aiming to have better alignment on the structures and strategies in place to ensure high-quality teaching and learning.
Action plans include increased math support, literacy interventions, a better allocation of resources and using "student success teams" to understand each student's individual needs.
For middle school, the district purchased a new program called IXL that mirrors the SBAC test. More IXL practice has been linked with better performance and students will practice with IXL two to three times a week in their advisory period to increase instructional minutes in ELA and math.
For science, extra science labs have been scheduled.
"There's been a lot of 'we used to do that' and it just went on hiatus and you can see it in the scores," Erpelding said.
He said it will take the teachers "linking arms" and coming together with a multi-tiered system of support for students to make a difference. The approach aims to reach all kids, not just the ones who are risk but the ones who need acceleration: "We're actually looking at all kids, at every kid getting a year's worth of growth," Eperdling said.
The ultimate goal is for 90 to 100% of students to be scoring proficient and advanced.
"We acknowledge scores have gone down, it's an honest assessment of our last two years. There's a lot of things that we can blame…but I think I would rather link arms and look to the future and figure out how to make things better and spend our time properly resourcing the district," remarked board President John Tree. "I'm excited for the future."

Get the RSF Review weekly in your inbox
Latest news from Rancho Santa Fe every Thursday for free
You may occasionally receive promotional content from the Rancho Santa Fe Review.