Fairbanks Ranch teen helps change lives by building homes in Tijuana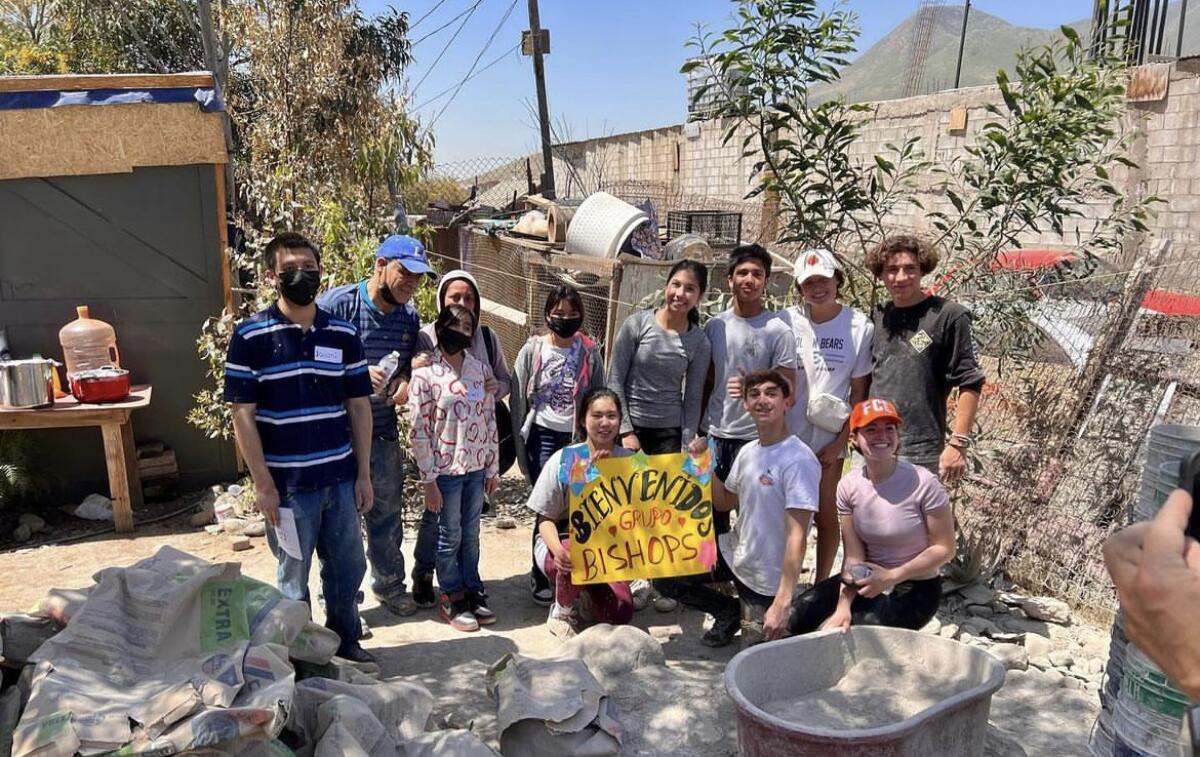 From churning concrete to adding warmth to a new kitchen, Fairbanks Ranch's Grace Debir has helped in every part of building homes for families in Tijuana.
The 17-year-old incoming senior at The Bishop's School is president of the Build A Miracle Club, a student chapter of the local nonprofit. Since 2019, Bishop's students have helped build seven homes for families in Tijuana—Grace has been involved in the club since she was a freshman and has done five of the seven houses.
Students completed the seventh home at the end of May and are currently fundraising to build their eighth, under Grace's leadership.
San Diego-based Build a Miracle (BAM) has has built over 480 homes for families in Tijuana. Grace said a home not only provides a family with safe living conditions, but also enables a family to put their income toward concerns such as their health, children's education or even putting food on the table. Families that get BAM houses are selected very carefully and they have to do at least 500 community service hours. They also help participate in the build.
"The whole message of BAM is really to end that cycle of poverty that has been placed upon those people," Grace said. "Not having a house they are starting well below and they are always stuck in a hole and can't get out. With a house, they get on a semi-equal level to provide for their families and make their lives better for future generations."
Grace didn't know much about Tijuana until she went to Mexico for the first time at the end of her freshman year. She saw that many people live in shacks made of recycled materials and learned that they sometimes work entire lifetimes before having the funds to build safe accommodations for their family.
"The border and Mexico is 45 minutes away and it's a completely different world…we completely take it for granted," Grace said. "It was really eye opening and I didn't think about on a daily basis until I went down and saw how it was."
Depending on the time frame, the Build a Miracle Club takes two to three trips down to Tijuana when they are working on a project. The first trip is the concrete mixing for the foundation of the house, working with a professional team.
"We mix the concrete ourselves it's very labor intensive, it's a lot of pushing and shoving," Grace said of the process of loading up wheelbarrows and mixing sand, cement and gravel with water. On that trip, the students meet the family for the first time, working side by side to build the house which really bonds them all together.
By the second trip, the walls are up and students help place chicken wire and installation. The third trip involves painting and decorating the home and then, joyfully, presenting it to the family.
"The third trip is definitely the most fun and the most rewarding for sure," Grace said. "When we present the house to the family, it's always a very emotional time. Everyone cries."
Once the family is in the house, Grace said they always tell the students that they are now a part of their family and are always welcome.
It takes $18,000 to build each house and as club president, Grace is in charge of fundraising and coordinating their Tijuana trips. She is the one trying to get the message out, running their Instagram page and coming up with new ways to earn extra money. The club often holds bake sales; this year, they did a furniture sale that raised $5,000. As Grace is a taekwondo champion (competing again at this month's ATA World Taekwondo Championships in Phoenix) she has also donated money earned from private taekwondo lessons.
This year they will start from scratch to raise money for their eighth house and have so far raised $1,600. They have a long way to go but Grace said local families have been very generous in their support.
In addition to building homes, Build a Miracle also runs two community centers in Tijuana that serve over 700 people per week. The centers offer accredited adult education programs, vocational training, tutoring, counseling and more. Families who receive BAM services also give back service hours to the center or the community. "It's really about getting everyone back on their feet and building relationships," Grace said.
Grace has really enjoyed the opportunity to teach educational classes at the community center—she has helped out with English classes and used her taekwondo expertise to teach a self-defense seminar.
As much as she has helped change people's lives in Tijuana, participating in Build a Miracle has changed her life too.
"I really enjoy community service work, it's definitely very rewarding and it's not something I thought I would be doing when I was younger," Grace said. "But now doing it it makes me appreciate what I have and want to help others more."
To donate or learn more, visit the Build a Miracle club's Instagram @bam_bishops
or their Go Fund Me page at gofund.me/b1aa8c57

Get the RSF Review weekly in your inbox
Latest news from Rancho Santa Fe every Thursday for free
You may occasionally receive promotional content from the Rancho Santa Fe Review.