Canyon Crest Academy students honor Holocaust Remembrance Day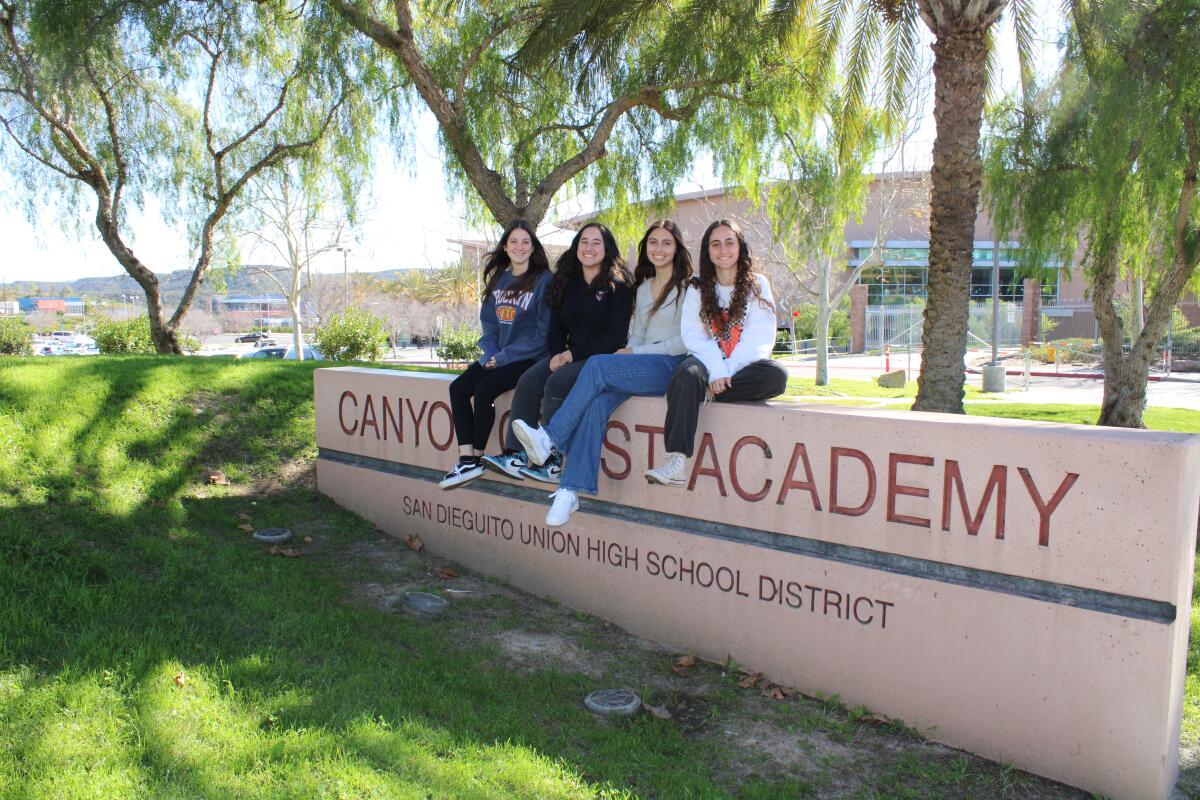 On the Jan. 27 International Holocaust Remembrance Day, Canyon Crest Academy students led an effort to honor the memories of the approximately six million Jewish lives lost in the Holocaust, and to make sure it never happens again.
Four Canyon Crest Academy Jewish Club seniors Danielle Habusha, Roni Lerer, Mia Donemberg and Gal Mazor organized the day, which included education and awareness, a siren call for a moment of silence for all 2,600 students and painting ceramic butterflies as part of the Butterfly Project.
Danielle, who serves as club president, said the school's Jewish Club is a "safe haven", they meet every week to listen to Israeli music and hear from guest speakers, such as local rabbis who speak about the Jewish holidays. The club includes both Jewish and non-Jewish students who believe that the fundamental cause for hate is a foundational lack of education—Danielle said every week there are at least two or three people who are there for the first time.
This marked the first time CCA has had a school-wide presentation on International Holocaust Remembrance Day: "This all started with students, it ended with students and it's all about students," said Garry Thornton, assistant principal at Canyon Crest Academy.
The students in the Jewish Club approached Thornton and asked if the school would support their efforts to recognize the signifacant day. Working with counselor Shay Marcon, the students prepared a presentation that was shown during all students' homeroom period, providing staff with resources to teach and discuss. Their presentation included survivor stories about what happened during the Holocaust.
Thornton said the effort represented what he wants more than anything for his students—to listen to one another with empathy and to bring people together to learn about other cultures to promote understanding and acceptance.
In Israel, an air raid siren sounds throughout the country on Holocaust Remembrance Day and everyone stops what they are doing for two full minutes. Just before lunchtime on the CCA campus, the siren sounded for 54 seconds. Students and teachers stopped in their tracks as they walked through campus and sat still in their classrooms in quiet reflection.
Students were then invited to the quad to participate in The Butterfly Project, painting ceramic butterflies to represent the 1.5 million children killed in the Holocaust. The Butterly Project's roots are in Carmel Valley, created at the San Diego Jewish Academy in 2006 by educator Jan Landau and artist Cheryl Rattner Price as a way to teach the difficult subject of the Holocaust that was hands-on and hopeful—creating art installations as reminders of courage, justice and remembrance.
The CCA campus already has one Butterfly Project installation, butterflies flying together in the shape of a heart. It is the hope the newly painted butterflies will be added on or used to create a new installation on campus.
"This is putting some action to it," Danielle said, watching as students gathered at the tables to paint.
According to the Anti-Defamation League, 2021 was the highest year on record for documented reports of harassment, vandalism and violence directed against Jews since they began tracking antisemitic incidents in 1979. The ADL's recent survey on antisemitic attitudes in America reported widespread belief in Jewish tropes and conspiracy theories. in recent years, the San Dieguito district has struggled with antisemitism as students have reported verbal insults about their faith and Holocaust jokes, swastikas have been spray painted on district campuses and at Carmel Valley Middle School last year a portrait of Hitler was posted in a classroom alongside world leaders like Martin Luther King Jr. and Winston Churchill.
Gal, the Jewish Club secretary, said she has personally met young people who deny that the Holocaust happened and the ignorance is very hurtful.
After the students had put so much planning went into the day, Gal was very proud and touched by students choosing to participate: "It's so nice to see people coming together with respect."

Get the RSF Review weekly in your inbox
Latest news from Rancho Santa Fe every Thursday for free
You may occasionally receive promotional content from the Rancho Santa Fe Review.