Rancho Santa Fe 2021: A Year in Review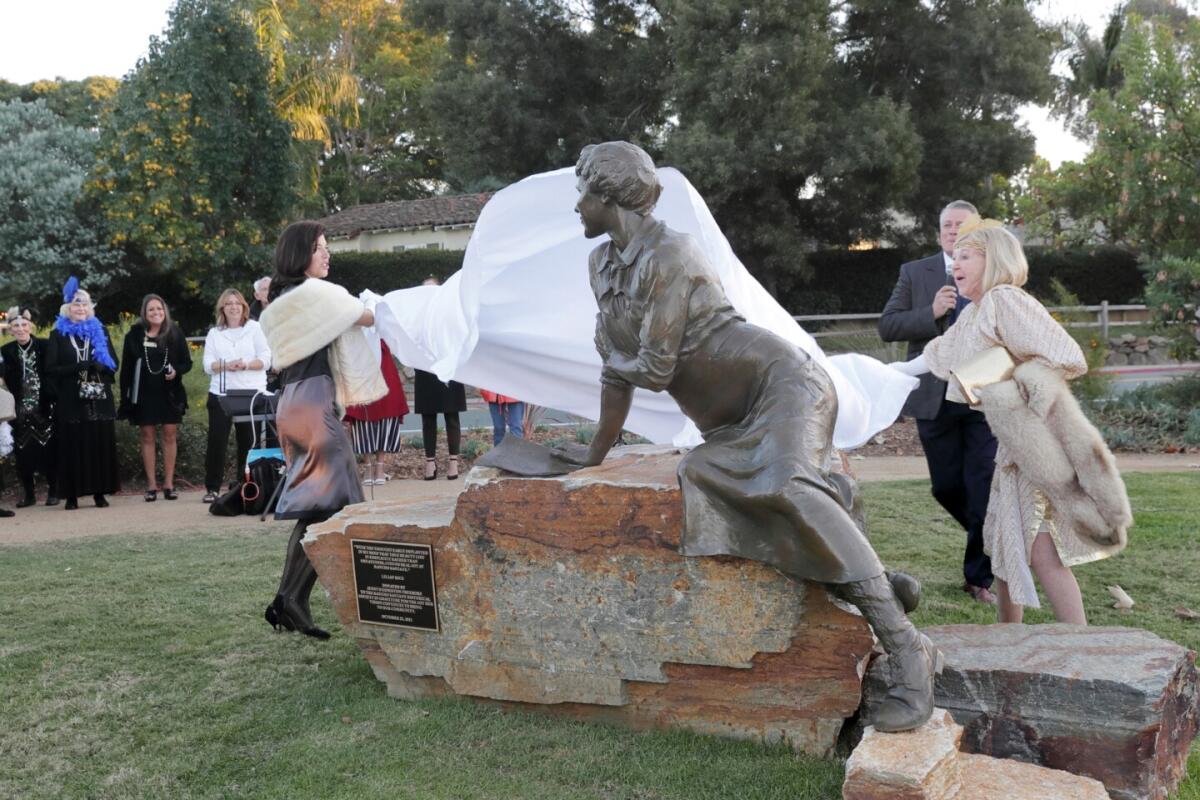 January

Remember tiers? San Diego County remained deep into the purple tier due to COVID-19 case numbers and the percentage of positive tests. The Rancho Santa Fe School District shifted back into distance learning for a week to allow time for re-entry testing of staff after the winter break. San Dieguito Union High School District remained in distance learning.

R. Roger Rowe graduate and Torrey Pines sophomore Sofie Brown was one of the voices featured in "Young People of the Pandemic", an anthology of stories, anecdotes and poems by 10 to 21-year-old Americans. She finished up her freshman year and started her sophomore year in distance learning at Torrey Pines.
"The word quarantine would forever hold a PTSD trigger word within my generation. It was scary, it is scary," wrote Sofie, now a junior. "I learned to never take even the smallest moments for granted. I learned that putting your mind to something will pay off. But the most important thing I learned is, life goes on. My life will go on and now I will live it to the fullest."
The Santa Fe Irrigation District selected Sandra Johnson as the new director for District 3, representing Rancho Santa Fe and Fairbanks Ranch. Johnson, a retired school superintendent, 40-year resident of Rancho Santa Fe and former Art Jury member, filled the seat left by Marlene King who resigned in December 2020 after six years of service to the board.
Solana Beach School District welcomed kindergarten through third grade students back to school in-person four days a week, moving out of a hybrid model that had students online two days a week.
"You can't see their faces but see their cheeks rise under their masks and hear the laughter in classrooms," said Assistant Superintendent of Instructional Services Sabrina Lee.
The regional stay at home order lifted at the end of the month, clearing the way for restaurants and bars to open outdoors as well as hair salons, barbershops and nail salons.
February

The Del Mar Fairgrounds became a vaccination "super station" with the ability to give 10,000 jabs a day.
The RSF Association board approved new rules for the Osuna Ranch, focused on improving the security and safety of borders and visitors. There had been no rules in place since the Association purchased the 28-acre property on Via De Santa Fe in 2006 and the new policy set operating hours for the Ranch and access points. Maximizing the Osuna's use was listed as one of the top priorities of the Association board in 2021, with the goal of encouraging more diverse participation on the property so it benefits a wider majority of Covenant residents.
Solana Beach School District celebrated another first day of school as all sixth graders were welcomed back to four days a week in-person instruction. To bring back the larger 4-6 grade classes in the district, some classrooms extended into secondary learning spaces in order to accommodate all students while maintaining distancing and stable groupings.
The RSF Golf Club began the search for a new general manager as Brad Shupe accepted a leadership position at Sherwood Country Club in Thousand Oaks. Shanon McCarthy, the club's director of membership and communications, stepped in as the interim general manager.
March

San Diego County was upgraded to the red tier, meaning restaurants could resume indoor dining and youth and high school sports were allowed to return. March 20, was a special day for Rancho Santa Fe Little League players and coaches as they were finally able to play in their first games of the season. The Friday night lights were turned on once again for a rare March football match-up between Torrey Pines High School and Cathedral Catholic.
The San Dieguito district was able to allow students who wished to return back to school starting on March 16 due to a judge's ruling in the Parent Association lawsuit against the state's reopening rules. The reopening was expanded to two days a week starting March 22. The board members spoke about seeing hope, happy tears and excitement among the students who had been off campus for a year.
"Our kids need to be in the classroom," said SDUHSD President Mo Muir. "We have the best teachers in the world and the best learning is in the classroom. I think we're doing our kids a disservice if we don't have them back in the classroom."
San Dieguito students were able to return to school in-person four days a week on April 12 after spring break.
April

After being closed for over a year due to the pandemic, the Rancho Santa Fe Community Center reopened its doors on April 12 for new sessions of kids classes and sports.
The San Dieguito board voted 3-1 to use the appointment process to fill the Area 5 seat left vacant by trustee Kristin Gibson, who resigned in March citing personal reasons. The board interviewed seven candidates in public and selected Carmel Valley resident Ty Humes. Over 700 signatures were then collected in a joint effort between the San Dieguito Faculty Association and district parents to force a special election for constituent voices to be heard. Three candidates vied for the post and, in the November election, Julie Bronstein was elected as the new trustee.
San Dieguito Superintendent Robert Haley resigned after less than three years with the district. Throughout the pandemic, parents, teachers and board members were critical of Haley's leadership and the district's pathway to reopen schools. In November 2020, 98% of the San Dieguito Faculty Association voted that they did not have confidence in his leadership.
Lucile Lynch, a former SDUHSD parent, was appointed as the interim superintendent two days later.
"I would love to build some trust, even if it's only for two months," Lynch said. "Community buy-in will make everyone's job so much more positive."
The $6.4 million renovation of the RSF Golf Club begins, including a full turf replacement on the fairways, a new irrigation system and reshaped bunkers.
A group of students protested at the San Dieguito district office for their voices and experiences to be heard about issues with discrimination at school. In their third demonstration since last August, the students were asking for diversity training for board members, administration and staff; a more diverse curriculum; and establishing a district-wide equity committee to have honest discussions on diversity and inclusion.
May

The Rancho Santa Fe Association held its second virtual annual meeting on May 14. A little over 70 participants tuned in on Zoom for a candidate forum with the five candidates vying for two available seats on the board.
The RSF Association and RSF Golf Club agreed to commit $80,000 toward refining design plans for the clubhouse restaurant, working toward the Association board's goal of serving more non-golf club members and creating a central gathering place. The renovation process will include preparing construction documents, Art Jury review and board review and approval.
The Association board approved a new locker room configuration in the RSF Golf Club's Players Clubhouse, amid some complaints the proposed changes were discriminatory. The change restored the areas to the original layout when the Players Clubhouse opened in 2008. In addition to the pro shop, there is a women's locker room and lounge, a men's locker room and lounge and a co-ed social gathering space called the Veranda Lounge.
San Dieguito Trustee Michael Allman was served with a recall petition initiated by the San Dieguito Faculty Association and a group of community members, citing alleged "abuses of office, disregard for proper protocols and lack of common decency". Proponents had until Nov. 16 to gather the required 5,008 signatures in Area 4, which includes portions of Del Mar, Carmel Valley and Rancho Santa Fe.
Brigadier General John Tree, a RSF School board trustee, was nominated by President Joe Biden and confirmed by the Senate for promotion to Major General (two-star) in the U.S. Air Force Reserve. The promotion ceremony was held at the Hall of Heroes at the Pentagon.

June

With declining COVID-19 cases and hospitalizations, California reopens fully on June 15.
The Solana Santa Fe School modernization project began as students left campus for the summer break. The first phase included the demolition of the kindergarten play area and portable classroom and the construction of a 22-foot retaining wall to support a new parking lot adjacent to a reconfigured kindergarten play area.
The second phase of the renovation includes the construction of a new two-story classroom building, a modification of the administration building and construction of the new north parking lot and alteration of the south parking lot.
Later in the year the original $21 million price tag went up to $5 million due to pandemic labor and supply shortages and the timeline for completion was extended from December 2022 to April 2023.

RSF School District teachers received a 4% boost in pay as the RSF Faculty Association and district were able to reach an agreement in their contract negotiations for the 2020-21 and 2021-22 school years.
In a close election, Lorraine Kent and Dan Comstock were elected to the Rancho Santa Fe Association board. A total of 1,289 ballots were received and Kent was the top vote getter with 578 votes, followed by Comstock with 506.
Kent, a Covenant resident for 25 years, brings her perspective as a daily trail hiker, a past horse owner at Osuna Ranch, a past RSF Golf Club member and current pickleball member at the RSF Tennis Club
Comstock, who has lived in Rancho Santa Fe for the last eight years, runs his own own research/consulting business and has three young children. He served on the RSF Golf Club board for three years, is a member of the RSF Tennis Club and is a RSF Little League coach.
The Santa Fe Irrigation District and the RSF Association reached an agreement settling the litigation filed in December 2018 over the district's 2016 water rates.
After a year of drive-through and virtual ceremonies, local schools celebrate graduations in person.

July

The Fourth of July parade returns triumphantly to the village.
The RSF Association board held its first meeting in public and off Zoom in over a year. As the pandemic continued, for the next months they experimented with holding outdoor meetings on the patio.
Residents raised alarm about the felling of trees during the RSF Golf Club's golf course renovation project, more than the six that were approved to be removed in the master plan. Tom Huesgen, golf club director of agronomy, said that the majority of the removals were trees that were dying or dead, at risk of falling and a danger to both trail users and golfers.
The board placed a moratorium on further tree removals and, in August, a new protocol was set for a collaborative approach to the management of trees on the course. Per the approved protocol, a board-appointed group will recommend tree types and locations and prepare a plan for replanting including cost and schedule that will be presented to the community.
Twenty-one live and cork oaks are expected to be planted on the course in early 2022.
The Association prepared to send out defensible space maps to every homeowner in the Covenant through its partnership with FireWatch. The aerial imaging provides a new tool for residents to help in creating defensible space zones around their homes that can help slow the spread of wildfire, protect lives and property.
Rancho Santa Fe is the first HOA to partner with a fire protection district to try and get a handle on hazardous fuels.
"Success in fire management requires a united community effort," said Caitlin Kreutz, RSF Association's fire preparedness administrator. "Creating defensible space protects lives and property while potentially decreasing insurance liability and increasing real estate values. The preparation we take now will help determine whether our homes and community can survive wildfires."
The gym at R. Roger Rowe School was repainted this summer as the RSF School District board continues to plan for improvements to the facility, including a new roof. The possibility of modernizing or replacing the gym, built in 1973, has been discussed many times over the years, however, this year the board stressed that the district should consider the gym a long-term asset that needs to be maintained. Repairs to the gym's fascia and a full roof replacement will be considered in the coming year.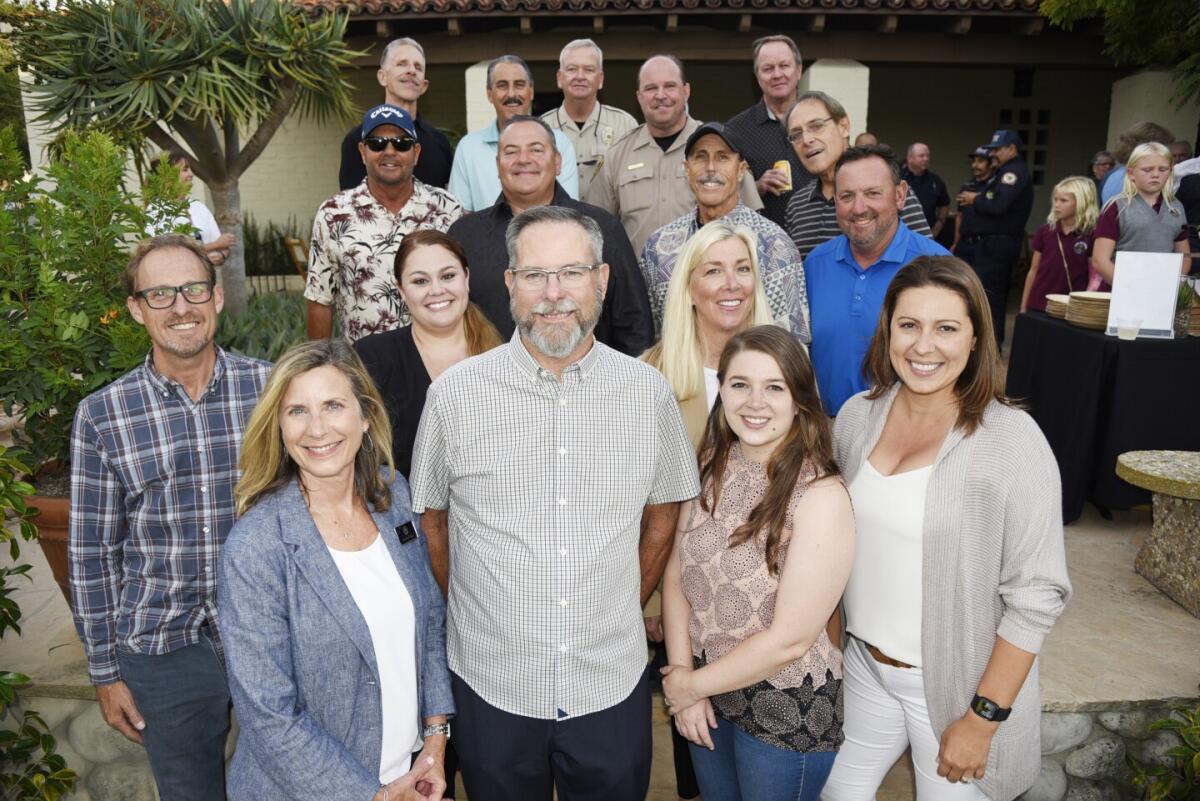 After nearly 41 years of keeping the community of Rancho Santa Fe safe, RSF Patrol Chief Matt Wellhouser retired.
Wellhouser worked his first day in Rancho Santa Fe as a 23-year-old officer on Sept. 2, 1980. Five years after he started, he was promoted to sergeant and then took over as chief. On multiple occasions, Wellhouser said that he only intended to stay a couple of years but nearly 41 years later he was still on duty.
"I want to thank the community for being so supportive of me and my operation, that made the job easier in that respect—not to say that it wasn't stressful," Wellhouser said. "When you have the community's support, it's a big thing because a lot of places don't have that."
August

The RSF Golf Club added an unprecedented 81 new members, bringing the club's membership to 528 golfers, the highest membership level since the mid 2000s.
The membership boost was credited to the investment made into the golf course renovation in addition to changes in the initiation fee. The club's $50,000 initiation fee, which hasn't been raised in 17 years, was increased to $75,000 as of Sept. 1.
After over a year of distance learning, San Dieguito celebrated a momentous first day of school, bringing back students five days a week.

The RSF Association board granted an extension for the new RSF Pharmacy building with the hopes of beginning construction in 2022. Approved back in 2017, the pharmacy will move across the street into a new village building on the vacant lot on the corner of El Tordo and La Granada, next to Third Bloom. The new 4,466-square-foot building will be constructed in the Lilian Rice-style, featuring a shaded arcade, tiled alcoves and, uniquely, 12 rooftop parking spaces.
The newly formed RSF Vintners and Growers held a member event at The Inn at Rancho Santa Fe, inviting the community to come learn more about growing grapes and producing wine in Rancho Santa Fe—as well as taste the fruits of their labor. There are currently over 25 active vineyards in Rancho Santa Fe with an annual production capability of over 20,000 bottles. The organization hopes to have the community participate in annual harvest and crush events, educate people about the benefits of having a vineyard and possibly even open a wine-tasting room in downtown Rancho Santa Fe.
Fairbanks Ranch opened the newly renovated Lilian Rice Pump House. The Pump House's origins go back to 1926, when screen actors Douglas Fairbanks and Mary Pickford purchased 3,000 acres of land and named it Rancho Zorro. Fairbanks built his own dam and lake to irrigate the mass of Valencia oranges they planted. The renovated Pump House is planned to serve as a community amenity.
September

The Country Friends Art of Fashion benefit event returns to the Ranch.
RSF Association Director Greg Gruzdowich proposed several changes to the Association's regulation on exterior building materials, revisiting a previous ban on faux wood materials in Covenant home construction. Gruzdowich's proposal, which was approved by the board in December, removed the percentage limitations on wood in new and remodeled homes as well as rescinded the board's 2019 resolution that prohibited the wood-look material.
For several months the Association board grappled with a document outlining the Art Jury's roles and responsibilities, working toward its goal of improved consistency in Art Jury decisions. A version prepared by Directors Bill Strong and Laurel Lemarie hoping to further define the limits of Art Jury discretion and aspects of conflict of interest did not receive consensus. The editing process was returned to Building Commissioner Maryam Babaki, with Manager Christy Whalen providing oversight.
The Santa Fe Irrigation District Board of Directors supported General Manager Al Lau in declaring a Drought Response Level 1, which includes a voluntary 10% reduction of water use by customers.
Rancho Valencia Resort and Spa got a refresh, including a new salon space and spa treatment areas, an expanded retail boutique, enhanced fitness center, expanded men's and women's locker rooms, and designated men's and women's relaxation spaces.
October

The RSF Golf Club's front nine opens after the course renovation.
The RSF Tennis Club hosted the RSF Open, a $60,000 women's USTA pro circuit event.
The RSF Historical Society finally moved ahead on the placement of a new piece of public art honoring a local architectural icon.
The life-size bronze statue of Lilian Rice, who designed the Rancho Santa Fe community nearly 100 years ago, is seated on a large boulder in the North Village Park. The statue was generously donated by Rancho Santa Fe resident Jenny Freeborn and sculpted by Fairbanks Ranch artist Nina de Burgh.
The 350-pound bronze statue was officially revealed to the public before the RSF Historical Society's Roaring 20's Gala.
Christy Wilson retired from her role as CEO and president of the Rancho Santa Fe Foundation after 24 years.
"During her tenure, the RSF Foundation has transformed from a small foundation established to serve Rancho Santa Fe into one of San Diego's largest community foundations, with over $105 million in grantmaking since 2001. Christy led the Foundation for 24 years and we wouldn't be where we are today without her leadership," said Kevin Crawford, chairman of the foundation's board of directors.
Chris Sichel was named as her successor. For the past 16 years, he served as president and CEO of Make-a-Wish San Diego.
San Dieguito Union High School District hired new Superintendent Cheryl James-Ward. James-Ward, a Carmel Valley resident, is the former CEO and chief engagement and innovation officer of e3 Civic High, a charter school in downtown San Diego. Prior to joining e3 Civic High, she was a tenured professor at San Diego State University for 14 years.
RSF Association Assistant Manager Arnold Keene announced his retirement after 20 years serving the community. Keene spent 15 of his 20 years heading up the Parks and Recreation department.
Halloween in the Village returned with a fun family celebration with Rancho Santa Fe Village merchants.
November

RSF Association members gathered Nov. 7 to celebrate the community's Osuna Ranch, home to one of California's oldest adobes.
The recall effort for San Dieguito Union High School District Trustee Michael Allman failed as the San Dieguito Faculty Association was unable to gather the necessary signatures.
"I'm hopeful that we can now get back to work and focus on our key mission – making our schools the best they can be, while serving the needs of parents and students," Allman said.
Rancho Santa Fe native Caroline Ingalls and her horse, Concerto, were named Grand Champions of the entire amateur-owner hunter division at the National Horse Show at the Kentucky Horse Park in Lexington, Ky.
"It was definitely his biggest win and my biggest win as well," said the 29-year-old Ingalls who has been riding in Rancho Santa Fe since she was 8 years old, starting at the Rancho Riding Club. She has trained at the Osuna Ranch since she was 16.
The search continues for a lessee to take over Del Mar Horsepark after an initial request for proposals yielded one "nonresponsive" submission. Closed for almost one year, the venue requires infrastructure updates to satisfy Regional Water Quality Control Board requirements. A plan to implement approximately $3-4 million of wastewater management measures would allow it to reopen.
Encinitas City Council upheld the planning commission's denial of the controversial 277-unit Encinitas Apartment complex proposed for the western edge of Olivenhain, just outside of Rancho Santa Fe. RSF residents, including Association President Bill Weber, spoke out against the project's density and impact on dark skies and the risk the project poses to evacuation routes out of Olivenhain and Rancho Santa Fe.
December

The RSF School board passed a resolution against the state's vaccine mandate, urging the governor to reconsider or rescind the mandate as a condition of in-person learning.
"The governing board finds that the vaccine mandate is ill-advised and in opposition to the educational and social and emotional goals of the district for its students," the resolution stated.
Jee Manghani is elected the new president of the RSF School board. Annette Ross was selected as vice president and Kali Kim as clerk.
Todd Huizinga is hired as the new general manager of the Rancho Santa Fe Golf Club. Huizinga has nearly 30 years of private club operational experience, serving as general manager, chief operating officer, director of club and golf operations, and head golf professional. He has served in leadership roles at The Vaquero Club, The Club at Boot Ranch, The Stone Canyon Club and The Pine Canyon Club. His first day on the job will be Jan. 1, 2022.
The RSF Association begins to establish a permanent, working bathroom at Richardson Field. The restroom project has been in development since 2016, when resident Rory Kendall issued a complaint to the trails and recreation committee noting that the existing porta-potty facility seemed to be out of compliance with Covenant regulations and, at the very least, not up to standards for Rancho Santa Fe. Stay tuned for an update at the Association's next scheduled board meeting on Jan. 13.
Get the RSF Review weekly in your inbox
Latest news from Rancho Santa Fe every Thursday for free
You may occasionally receive promotional content from the Rancho Santa Fe Review.