R.E. Badger and Son celebrates 100 years of business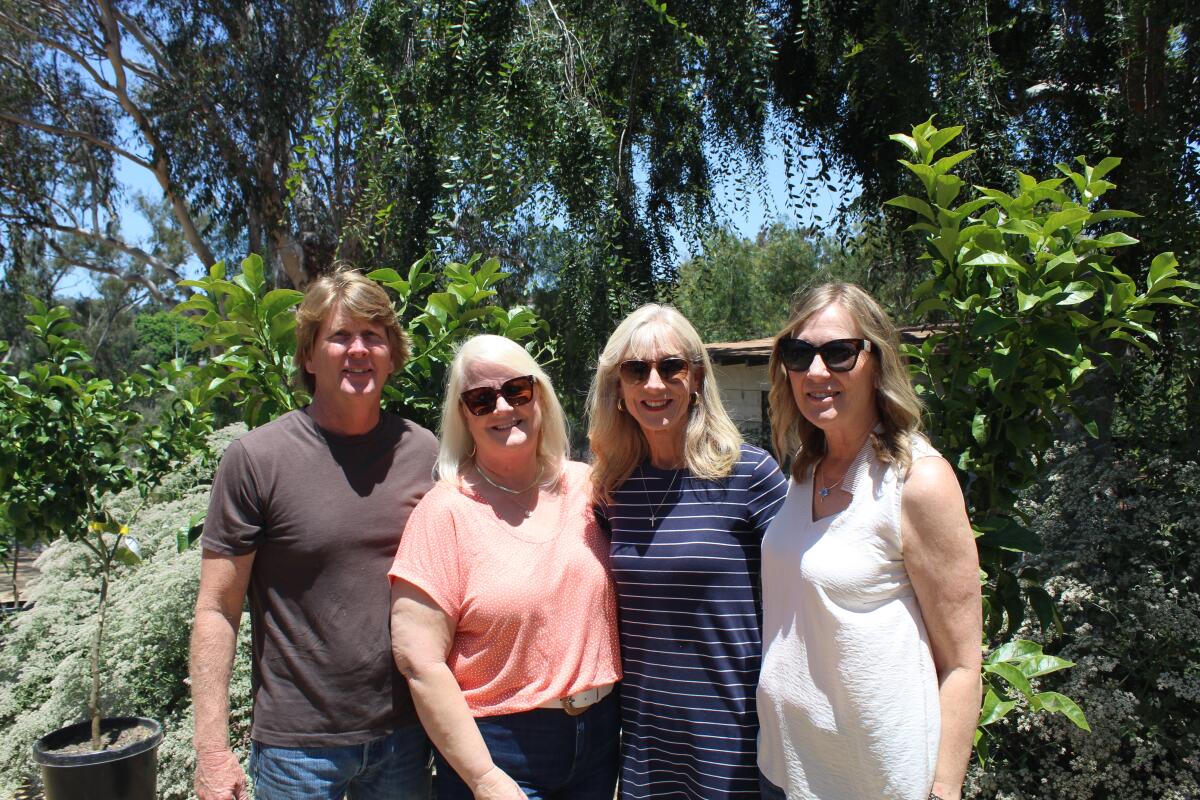 In 1923, Raymond Badger wrote a letter to his father about a new housing development he'd found near Del Mar, where the Santa Fe Land Improvement Company was subdividing land.
"A number of people are already buying land. They must have someone to prepare their land, put in their orchards and take care of them," Badger wrote, in his tidy cursive about Rancho Santa Fe. "It seems to me like big opportunity and I am going to do my best to get it."
The Oregon State agriculture grad and former beet farmer purchased his own tractor to care for his own grove and began doing grove maintenance for others.
"He came here in 1923 and never left," said Chuck Badger, Raymond's grandson who now runs the farm management company that specializes in the development and maintenance of citrus groves and cut flower plantings.
On June 30, the Badger company hosted a 100-year anniversary party at Rancho Santa Fe's Osuna Ranch. Customers, employees and family gathered by the historic Osuna Adobe for tacos and cake, serenaded by a mariachi band. Raymond's letter was on display at the party, alongside a handwritten customer logbook and Badger's land grant deed from the Santa Fe Land Improvement Company for 24.49 acres from El Mirador at the corner of La Valle Plateada down to Las Collins.
The Osuna Ranch setting was especially meaningful as Chuck's grandfather actually lived in the Osuna Adobe with his wife Helen in the mid-1920s while their home in the Covenant was being built.
"Here we are, 100 years later," Chuck said.
Ray Badger was greatly involved in the Rancho Santa Fe community—he served as president of the school board, served twice on the Rancho Santa Fe Association board, spent 20 years on the 22nd District Agricultural Association board and was on the Santa Fe Irrigation District board for 16 years—the district's filtration plant out on Aliso Canyon Road is named in his honor.
A 1968 edition of Rancho Santa Fe Living on display at the party celebrated the then "45 years of progress" and the completion of the new Badger Building in Rancho Santa Fe, long the company's headquarters.
Helen and Ray raised three children in Rancho Santa Fe—Charles became the "Son" in Badger and Son, a U.S. Air Force veteran of the Korean War. Charles had four children including Kathy, Lori, Sharon and Chuck.
"I tried to avoid it at all costs but I got sucked in," said Chuck, a former teacher and basketball coach who started working with the company in the 1990s.
Over the years, their management of farmland has expanded from lemon groves to coffee. Thanks to all the rain, they have also done a lot of weed abatement this year. Throughout the picking season that stretches from January through June, R.E. Badger employs about 35 people including Frank Rodriguez, who has worked for the company for 60 years.
"It's really fun to look back and see the foundation laid 100 years ago and see that we're still doing it today," Chuck said. "We have survived as a business that helps people and provides jobs for people."
Get the RSF Review weekly in your inbox
Latest news from Rancho Santa Fe every Thursday for free
You may occasionally receive promotional content from the Rancho Santa Fe Review.