Rowe School welcomes veterans to jogathon supporting Honor Flight
The event, called "Take Flight", was held to raise funds for Honor Flight San Diego, supporting local veterans. What made the day even more special is that the school played host to some very special guests: a dozen World War II, Korean War and Vietnam veterans were in attendance for the event.
Thankfully, the rain held off just long enough. There were just a few sprinkles and the overcast skies made for ideal running conditions for the R. Roger Rowe Elementary School jogathon on May 5. The event, called "Take Flight", was held to raise funds for Honor Flight San Diego, supporting local veterans. What made the day even more special is that the school played host to some very special guests: a dozen World War II, Korean War and Vietnam veterans were in attendance for the event.
For the second year in a row, Rowe fifth graders in the Leadership and Community Club organized the charity event, with teacher Jessica Henke guiding them through the planning process.
"This event is truly a blessing," said Henke. "The fifth graders were so excited to put it on. It's such an amazing opportunity for students to be leaders and show pride."
Funds raised will be passed on to the school's Interact Rotary Club, which has been working to help Honor Flight this year. The Honor Flight trip, entirely organized by volunteers and supported by donations, takes veterans to see the memorials dedicated to their service in Washington D.C. The next flight, the second in 2023, is scheduled for Sept. 29- Oct. 1.
Leadership and Community Club students planned the event entirely on their own—they chose the beneficiary, handled the budget, made up informational flyers and presented to all K-4 students about what Honor Flight is about, linking to their curriculum and their history lessons.
The day of the event, fifth graders rotated through jogathon jobs like designated cheerleaders, lap counters and popsicle station workers. In "Take Flight" t-shirts, they set the runners off on their laps grade by grade through a red, white and blue balloon archway on the track.
"Are you guys fast or what?" asked one fifth grader, dispensing high fives to kindergartners as they raced by. A handful of students ran while holding signs that read "We love our veterans", making sure to hold them high when they passed the assembled group of veterans.
For several years, Rowe has been a huge supporter of Honor Flight, with efforts led by Stacey Halboth, an English language arts intervention teacher at Rowe. Halboth has volunteered on three Honor Flights and forms meaningful and sweet friendships with every veteran she encounters. She was instrumental in getting as many veterans as possible to the school last week.
Since 2017, Rowe students have been inspired to raise funds to send veterans to Washington D.C.—last year five local students raised a total of $15,000 toward the flight. Sixth graders Samantha Choconas and Sloan Harris each raised $5,000, enough to sponsor four veterans. Eighth grader Jake Hauenstein actually went on the Honor Flight last year after raising money for the flight with his younger sister Ivy.
Rowe teachers and students regularly show up at the airport to participate in the heroes homecoming held for the veterans when they return from D.C.
On the morning of the jogathon, Interact Lunch Club members Conrad Markstein, Shane Vinci, Jake Hauenstein, Jeremy Cui, Dean Kaffka, Will Zhou and Keani Brown welcomed each veteran personally to the school track, which was decked out with American flags and signs.
Among the dozen VIP guests were 96-year-old World War II veteran Andre Chappaz in full uniform; Korean War veteran and Rancho Santa Fe local Lou Benavides, the grandfather of the Grust girls who graduated from Rowe; and 103-year-old WWII veteran Ruth Gunther from Solana Beach, whom Rowe sent on an Honor Flight in 2021.
Korean Veteran George Sousa was there, who went on an Honor Flight courtesy of Rowe students, as was Korean veteran Royce Williams, who was just this year awarded The Navy Cross: "A legend…truly one of a kind," Halboth said.
Williams is considered a real-life Top Gun. For 35 minutes, he engaged in a solo, aerial dogfight with seven Soviet MiG-15 pilots, downing at least four jets before escaping to land his heavily damaged jet on a U.S. aircraft carrier. He was sworn to secrecy about his feats for more than 50 years. In addition to reaching the Navy Cross in January, last month South Korean President Yoon Suk Yeol awarded Williams with the Taegeuk Order of Military Merit, Korea's highest military order, at a ceremony in Washington D.C.
For many years, local Congressional representatives have been working on "Operation Just Reward," a campaign that aims to award Williams the Medal of Honor, the U.S. military's top award.
At the jogathon, Williams and other veterans enjoyed interacting with the students and attendees—elementary school students came fresh off the track to visit with the veterans with red, white and blue popsicles to help them cool off from their running. The fifth grade students doted on the veterans, serving them coffee and snacks and making sure they were shielded from lingering rain.
The jogathon event brought the community together, with firefighters from the Rancho Santa Fe Fire Protection District also coming to show gratitude for the veterans and to cheer students on. Firefighters even ran a few laps with the kids, as did Vietnam veteran Gary Clark, who went onto medical school after his service. The running retired surgeon now travels the world to provide services to people in need with volunteer international medical missions.
Rowe Principal Megan Loh also donned her running gear to get in some laps with the kids, pacing herself having learned her lesson running with all grades last year.
The students' goal with the jogathon had been to send at least three veterans on an Honor Flight if not more. While the official results are still being tallied, one classroom raised $6,000 on their own, enough for two veterans to take flight.
Henke said she was so touched by how many veterans came to the school that day and how they stayed for the entire jogathon, from 8:30 a.m to 11:30 a.m.
The gratitude flowed both ways.
"(The veterans) were so enthusiastic. They kept saying 'Our future is bright' and that the students were a 'ray of sunshine'," Henke said. "Many said they could rest assured knowing that our future is so well taken care of."
To support Honor Flight San Diego visit honorflightsandiego.org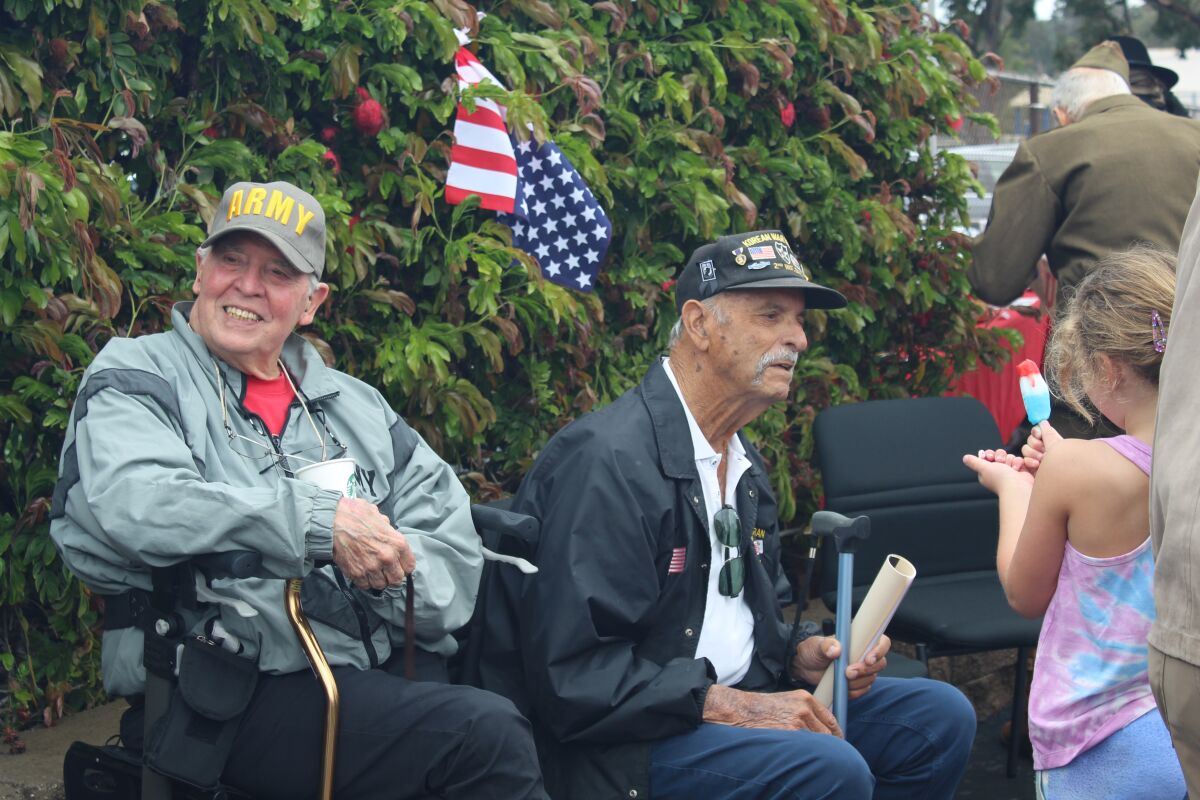 Get the RSF Review weekly in your inbox
Latest news from Rancho Santa Fe every Thursday for free
You may occasionally receive promotional content from the Rancho Santa Fe Review.