Rancho Santa Fe fireman rescues dog, shows the heart beneath the heat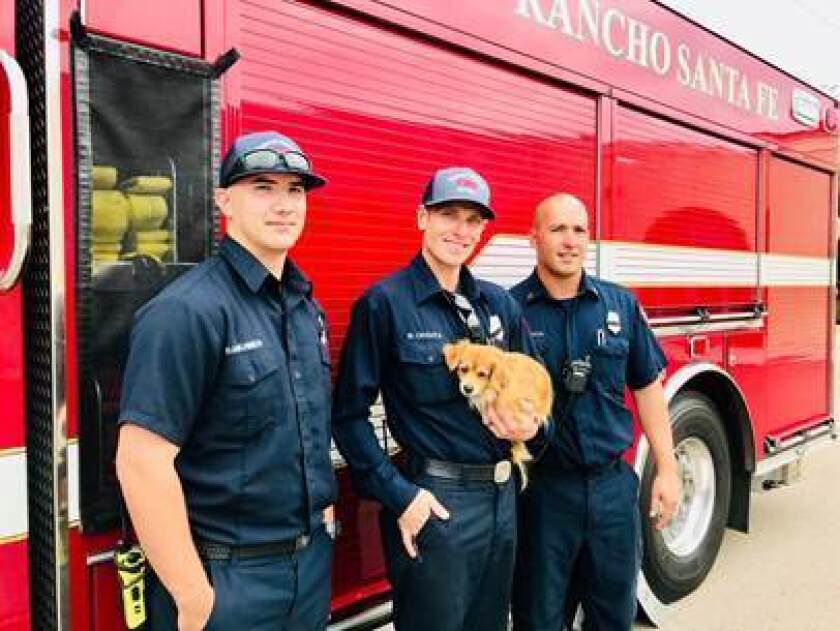 Everyone is familiar with the incredible heroics performed by local fireman and the amazing rescue efforts they demonstrate during San Diego fire season. But the morning of July 10, a firetruck and three firemen from Rancho Santa Fe Fire Station 3 – Fairbanks – pulled up in front of Helen Woodward Animal Center with a rescue of a different kind. The emergency? A tiny dog cuddled in the arms of Fire Engineer Brian Ciuchta.
Ciuchta, who resides in Lakeside, had found the small dog July 9 during his evening run in Sycamore Canyon.
"She was miles away from any home and she wasn't wearing a tag," stated Ciuchta. "I knew if I didn't take her with me, she was definitely going to be food for a coyote."
Ciuchta immediately placed a "FOUND" ad on Craigslist and on July 10 he brought her to work. His fire station is located directly across the street from Helen Woodward Animal Center and Ciuchta hoped Center staff would help locate a microchip so that the dog's owner could be found. Unfortunately, the tiny pup had never been microchipped, leaving her former family a mystery.
Helen Woodward Animal Center pets come with a microchip ensuring adoptive families can more easily be united with lost pets. The center encourages all pet owners to microchip their own pets – a service which is available at the Center's Companion Animal Hospital located at 6523 Helen Woodward Way, Ste 200, Rancho Santa Fe, 92067.
As for the lost dog cuddled in Ciuchta's arms, the local fireman said that he hoped a news story might help him track down its owner. "She's such a sweet pup. I'm sure someone must be missing her."
If you recognize this dog or are its owner, please contact the Rancho Santa Fe Fire Station 3 – Fairbanks – at (858) 756-4730.
Asked if he might keep the dog if its owner couldn't be found, Ciuchta stated, "My wife has already named her 'Nala' but it's important to me that I try to find her family if I can."
Proving a fireman's demonstrations of selflessness and heroism are not just acts of bravery, they are also acts of heart. --News release
---
Get the RSF Review weekly in your inbox
Latest news from Rancho Santa Fe every Thursday.
You may occasionally receive promotional content from the Rancho Santa Fe Review.