RSF Association pushes for changes to SFID water rates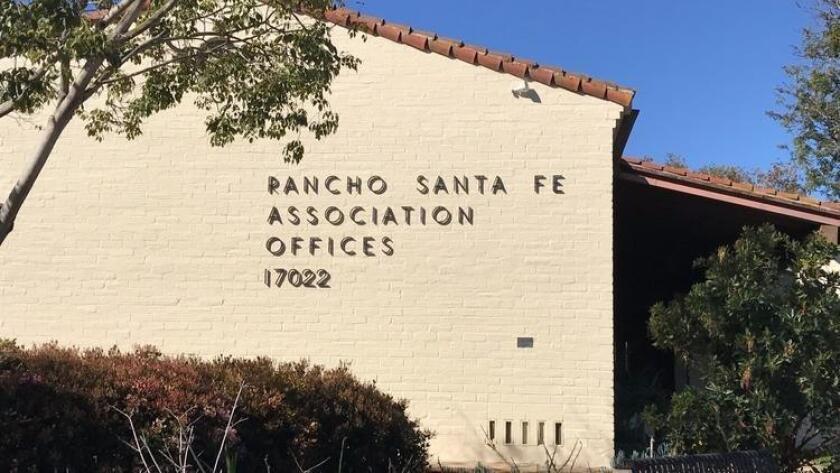 As the Santa Fe Irrigation District (SFID) begins the process of setting its rates for the next three years, the Rancho Santa Fe Association is urging the district to scrap its system of tiered rates tied to the amount of water used, in favor of uniform water rates for all residential customers.
Under SFID's current rate structure, as customers use more water, the amount they pay per gallon goes up. District officials contend that when they approved the system of four tiered rates in 2016, the board majority believed it was the best and fairest way to allocate the district's costs across its customer base.
But residents of Rancho Santa Fe and Fairbanks Ranch, which form the eastern portion of SFID's territory, are convinced that because they have larger lots and need more water for irrigation, they are paying more than their fair share under the tiered rate system. They say larger users are in essence subsidizing rates for their neighbors to the west in Solana Beach, whose lots are generally smaller and who use less water.
In 2017, the RSF Association formed an ad hoc committee to challenge SFID's current rate structure, and allocated funds for a consultant and attorneys to study the issue. The RSF Association presented its case to the water district board at an April 25 workshop held to discuss an upcoming "cost of service study" that SFID will use to set its rates for the next three years.
The chair of the RSF Association's water committee is Rancho Santa Fe resident Greg Gruzdowich, who served on the water district board for four years, and stepped down from his seat in 2016. During his time on the board, Gruzdowich advocated against the current tiered rate structure, but often found himself in the minority on rate-related issues.
Now, as chair of the ad hoc committee, Gruzdowich is urging his former water board colleagues to go back to a uniform, single water rate for all residential customers, as was the case before 2006.
"It appears that the most equitable way to treat customers in the residential classification is to go back to a uniform rate structure," Gruzdowich said.
However, at the workshop, at least one water board member who represents a portion of Solana Beach expressed the concern, said Gruzdowich, that if the board does go back to a uniform rate, customers in the coastal area would see their rates go up.
"The reality is that's likely the case," said Gruzdowich. "(Coastal customers) have been getting a sweetheart deal and that will be coming to an end potentially if we go to uniform rates."
In their presentation, the RSF Association consultant and attorney argued that SFID violated state regulations with its tiered rate structure, in part because the district could not demonstrate that the higher charges levied on larger water users are tied to higher costs for providing the water.
SFID Board President Michael Hogan, however, said he flatly disagrees with that assertion, noting that the district consulted with rate experts and legal counsel before adopting the tiered rate structure, and that the plan conforms with state law.
Gruzdowich also noted that part of the RSF Association's strategy is to establish an administrative record of its objections, in case it decides down the road to bring a legal action against the water district.
"We're doing everything we can to build a case, and hopefully come up with an equitable (rate structure) for the entire community so no one has to sue," Gruzdowich said. "There's no threat, just a desire to do things right."
Hogan said the water district is open both to hearing from the RSF Association regarding its concerns, and to exploring other potential rate structures, including a uniform rate plan.
"The more information we have... gives us a broader base of information to work through with our consultant to try to address concerns raised by the public," Hogan said.
He said it is too soon to tell what impact changing the current rate structure would have on SFID customers, no matter where they live in the district.
"It obviously raises concerns for me on what kind of impact it would have for all homeowners," said Hogan. "That's why we're going through this process, I want to see what the impact will be."
As for a potential lawsuit, Hogan said the water district will rely on expert advice to make sure that any decision on rates will be legally defensible.
Hogan said he also does not agree that larger users are subsiding the rates for smaller users in the district. He said a case could be made that before the tiered rates were established, smaller users were paying more than their fair share to the benefit of larger users.
In any event, he said, "We're going to take a look in our new study to see if there are changes to our rate structure that would be more equitable across the board for everybody."
RSF Association Manager Christy Whalen said the ad hoc committee was formed due to member concerns about SFID's tiered rate structure.
"We think the current rates put the burden disproportionately on members of the Covenant. We want a more uniform rate structure that is fair to all customers," she said.
The RSF Association board has allocated funds for a water rate expert and attorneys, although Whalen declined to reveal the specific dollar amount. She also praised the water board for allowing the RSF Association to make a presentation at the workshop.
"I would say we've known for some time that water rates have not been fair and this is our opportunity to step forward and be heard," Whalen said. "We're pleased the (SFID) board gave us the opportunity to participate and make our case."
---
Get the RSF Review weekly in your inbox
Latest news from Rancho Santa Fe every Thursday.
You may occasionally receive promotional content from the Rancho Santa Fe Review.