Schools try but can't always prevent suicide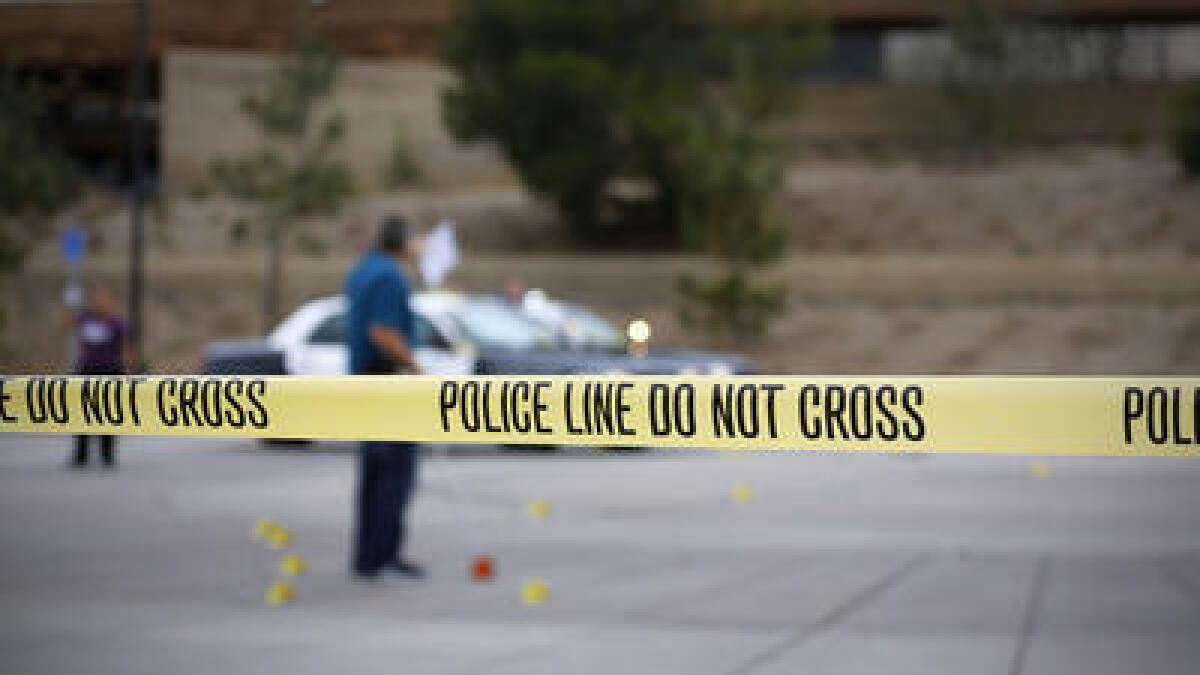 Teachers look for warning signs, classmates keep an eye on their friends and counselors have meetings with parents, but all the efforts still are not enough at times.
"I think the natural reaction for people is to consider, 'Is there more we could have done, and are there things we should have seen?'" San Diego County Office of Education interim Director Bob Mueller said about the shooting early Saturday morning, May 6, at Torrey Pines High School.
"In a general sense, I don't think any school in the country can say, 'We are doing everything, we're doing enough,' because it's not something that will ever be finished with," he said. "The work on school climate is something we'll always be working to improve."
San Diego police officers fatally shot Torrey Pines freshman Jacob Peterson, 15, outside the school around 3:30 a.m. after responding to a 911 call. The shots were fired after Jacob aimed a pistol at the officers and kept advancing despite their demands he drop the weapon, which turned out to be a BB gun. Investigators later discovered that the student had made the call and had a suicide note in his pocket.
Mueller said schools generally have counselors, psychologists and social workers who work together as a team that tries to identify psychological issues before they spin out of control and result in students harming themselves or others.
More efforts are being made to spot warning signs that students have serious emotional or mental issues, and the County Office of Education has a new grant to train school employees throughout the county on identifying students with problems, Mueller said.
Bullying, academic performance, poor attendance, outbursts and things written in essays can be warning signs of emotional problems, he said.
Dr. Jill Harkavy-Friedman, vice president of research for the American Foundation for Suicide Prevention, said other factors include long-standing substance abuse, physical ailments, depression and stressful life events.
A state law that went into effect Jan. 1 requires the California Department of Education to create a model suicide prevention plan and calls for school districts to adopt the plan or create one of their own.
Eric Dill, superintendent of the San Dieguito Union High School District, which includes Torrey Pines High, said his district has had such a plan in place for about 20 years.
"Staff is learning to recognize the warning signs of crisis, and curriculum is taught for kids to understand how feelings of depression can lead to suicide," he said, adding that students also are taught to develop coping skills and recognize warning signs in their friends.
"We were all shocked by these events and did not anticipate this," he said about the shooting, but declined to discuss details about the incident or Jacob.
The district in March held Yellow Ribbon Week to raise awareness of mental health issues and suicide prevention, and many Torrey Pines students wore yellow in solidarity Monday, May 8.
The role of school counselors in helping students cope with serious issues became a topic at San Diego Unified School District board meetings in recent weeks when trustees considered cutting some positions to help balance the budget. Several counselors appealed to the board and said their work can help prevent student suicides.
Katherine Cowan, communications director for the national Association of School Psychologists, said it's not uncommon for districts to cut counseling positions when budgets are tight, and most districts in the country do not meet the association's recommendation of one counselor for every 250 students.
Dill said San Dieguito's ratio is one counselor for every 419 students, but that doesn't account for other steps the district has taken, including peer counselors who help fellow students.
Dr. Jeffrey Rowe, supervising psychiatrist for San Diego County's Juvenile Forensics Division, said there are about 10 suicides among children per year throughout the region.
In assessing whether an adolescent or young adult is suicidal, Rowe said he focuses on four main factors that can lead to despondency: Are they experiencing extreme pain and suffering either physical or emotional? Are they struggling with extreme embarrassment or shame? Are they overwhelmed from demands placed upon them? Are they exhibiting extreme anger or hurt?
In recent years, bullying has received outsize attention from the public, especially at schools where it most often occurs. But Harkavy-Friedman said bullying alone has not been shown to cause suicide. It is often present in those who take their lives, but there are always a host of other factors present.
Rowe and Harkavy-Friedman said the key is to watch for the warning signs and take them seriously when they do pop up.
Rowe said that most don't realize that suicide attempts are successful one out of every two times, but those odds are changed dramatically when someone notices the warning signs and reaches out.
"If somebody intervenes at all, even if it's just to get them to a nurse practitioner or family doctor, that rate of success goes down to 2 percent," Rowe said.
The act of simply asking what's going on when warning signs such as slipping grades, uncharacteristic mood swings, social withdrawal or depression and irritability keep cropping up can significantly lessen the chances of suicide.
"You don't have to start out with 'are you thinking of killing yourself?' Just let the person know that you care enough to notice that they're struggling," Harkavy-Friedman said.
Suicide prevention resources
In San Diego County the It's Up to Us program provides an array of resources at up2sd.org.
Anyone who is in immediate need of help can call the San Diego County Crisis Line: (888) 724-7240
The National Suicide Prevention Lifeline is also available at (800) 273-8255 or by texting TALK to 741-741.
Signs and symptoms that someone may be thinking about suicide include:
Talking about wanting to die or wanting to kill themselves,
Talking about feeling empty, hopeless or having no reason to live,
Making a plan or looking for a way to kill themselves,
Talking about guilt or shame,
Talking about feeling trapped or feeling there are no solutions,
Feeling unbearable emotional or physical pain,
Talking about being a burden to others,
Using alcohol or drugs more often,
Acting anxious or agitated,
Withdrawing from family and friends,
Changing eating and/or sleeping habits,
Showing rage or talking about seeking revenge,
Taking great risks that could lead to death,
Talking or thinking about death often,
Displaying extreme mood swings,
Giving away important possessions,
Saying goodbye to friends and family,
Putting affairs in order, making a will.
Source: National Institute of Mental Health
--Gary Warth and Paul Sisson are writers for The San Diego Union-Tribune
Get the RSF Review weekly in your inbox
Latest news from Rancho Santa Fe every Thursday for free
You may occasionally receive promotional content from the Rancho Santa Fe Review.