Solana Santa Fe students work to ban styrofoam in their community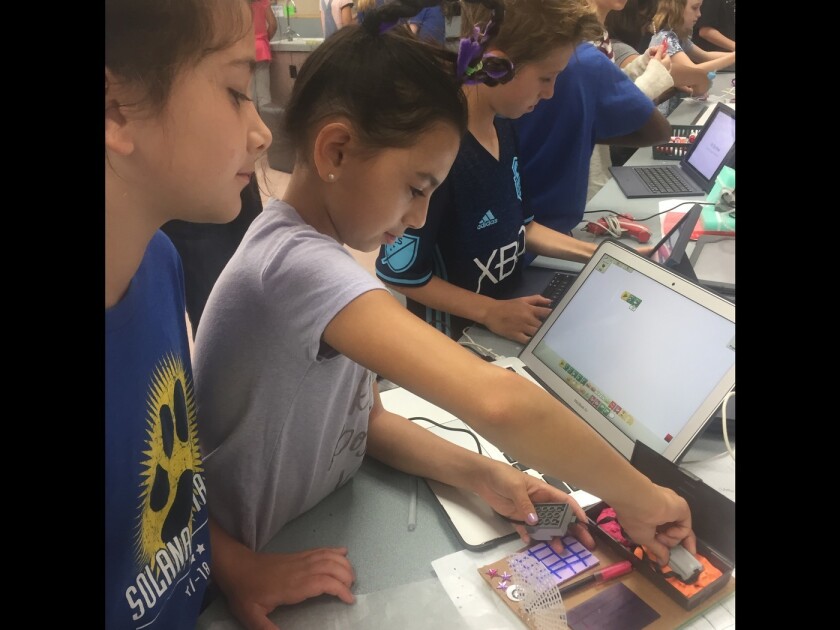 Solana Santa Fe fourth grade students turned their passion for the environment into action, calling for Rancho Santa Fe to ban polystyrene and encouraging local businesses to choose more eco-friendly options than styrofoam containers and cups. As the students were concerned about the accumulating waste in their "mystical, amazing, precious one ocean" they urged San Diego to join 116 cities across California that have banned the material, including Solana Beach and Encinitas, through a letter-writing campaign.
"For the whole year, we had the mindset of looking out for our community," said teacher Cara Spitzmiller.
The students learned about the Great Pacific garbage patch, a collection of plastic and garbage three times the size of Texas in between Hawaii and California, and the ongoing thread throughout the year was pollution and waste. During the schools's annual Ocean Week, the students did a deep dive on problem-based learning, asking themselves the question: "How do we protect our one ocean?"
"Trash is a poison to all. Believe it or not by 2050 our oceans will have more pieces of plastic trash than actual fish. In fact, 25 billion styrofoam coffee cups are thrown away by the U.S. each year," wrote Nikita. "This doesn't even count other styrofoam or waste outside America."
During Ocean Week, students learned about an invention called Mr. Trash Wheel in Baltimore Harbor, which uses hydro and solar power to collect trash on the Jones Fall River. The students were then tasked to build their own Mr. Trash Wheel prototypes in the STREAM lab.
The students then thought about what they could do in their own community—in the statistics gleaned from Mr. Trash Wheel, the number one trash item picked up was cigarette butts and the second was styrofoam takeout containers. They found similar results in a study of beach debris at 43 sites along the Orange County coast.
Using their skills of persuasive writing, the students wrote individual letters to the Rancho Santa Fe Association, several local restaurants and this newspaper, calling for a ban. They did research to find convincing facts to back up their call, to inform and let the reader make a choice to bring positive change for the community.
"The first reason using styrofoam containers is harmful is because it is not easily recyclable. Styrofoam containers are made of polystyrene, this substance is made of mostly air," wrote Vivian. "To make matters worse, since it is made of mostly air it then floats, it becomes floating trash."
Large amounts can accumulate along coastways and waterways and becomes the main component of marine debris.
Students letters' shared that using styrofoam is also harmful because it is toxic to animals, oceans and people. It can break into small pieces called micro plastic, which animals can confuse for food. Humans who eat seafood are also ingesting the same toxins as the fish.
The fourth graders urged Rancho Santa Fe to be a leader in "the trend of the future," a switch to more environmentally-friendly containers and cups.
"As a coastal community, protecting our ocean and its habitats is our responsibility," wrote Kat.
As the students were doing their research, in May San Diego City Councilman Chris Ward proposed a styrofoam ban for the city.
"It was exciting for the students to see that this was something that is happening right now," Spitzmiller said. "It was an awesome experience for the kids…They were excited to send their message."
---
Get the RSF Review weekly in your inbox
Latest news from Rancho Santa Fe every Thursday.
You may occasionally receive promotional content from the Rancho Santa Fe Review.