SDPD: Officers fatally shoot 15-year-old boy who pulled BB gun at Torrey Pines High School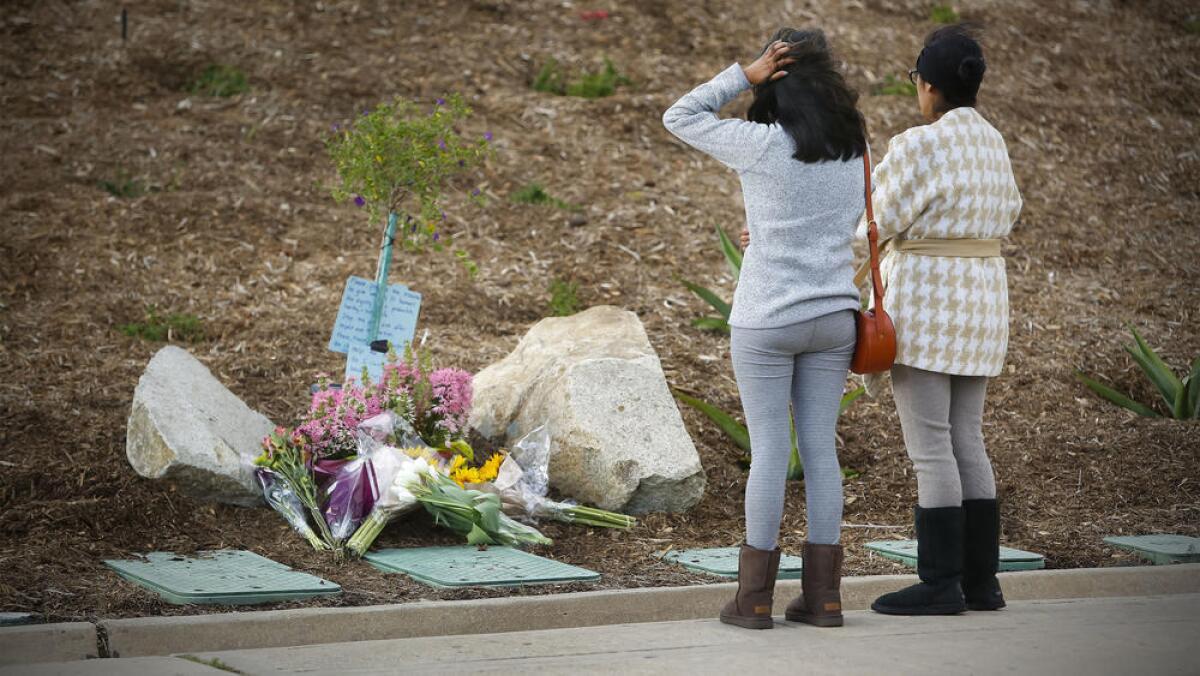 Two San Diego police officers shot and killed a 15-year-old boy who pointed what turned out to be a BB gun at one of them as he stood in front of Torrey Pines High School early Saturday, May 6, police said.
Police officials are declining to name the boy because he was a juvenile. The teen was a freshman at the Carmel Valley school and lived in the neighborhood.
Police received a 911 call at 3:27 a.m. asking for a welfare check, said police homicide Lt. Mike Holden. The caller said there was a kid in front of the school who someone should probably check on and stated the person was not armed, the lieutenant said.
Police believe the caller was the boy himself, Holden said.
The two officers arrived at the school on Del Mar Heights Road about the same time and saw the teen. As they got out of their patrol cars to speak with him, he "pulled a handgun that was concealed in his waistband and pointed it at one of the officers," Holden said.
Both officers drew their weapons and told the boy to drop the gun, but he continued to point the gun and walk toward the one officer, Holden said.
The teen ignored additional commands, and the officers, fearing for their safety, both fired, the lieutenant said.
The teen was struck several times.
The officers immediately began life-saving measures, and the boy was taken to Scripps Memorial Hospital in La Jolla, where he died, Holden said.
The boy's gun remained at the scene to be processed as evidence. Police later determined that the gun was a "semi-automatic BB air pistol," Holden said.
Both officers had activated their body-worn cameras at some point and there is video of the incident for investigators to review, Holden said.
The shooting occurred in the front parking lot, near a turnaround area. It was not known how the student got to the school, although police said he didn't appear to have driven himself there.
According to police radio traffic, a dispatcher asked two officers to check the welfare of someone at the school. The person was described as a white male, 15, of medium build, wearing a gray shirt and black pants. Officers said they were there about a minute later.
There was no more radio traffic about the call for six or seven minutes. Then, a dispatcher acknowledged "shots fired" and asked if any officers were injured. One officer answered "negative" but said paramedics are needed "now." He said he and another officer were doing CPR. Another two or three minutes passed and an officer noted that CPR was still in progress.
Other officers were asked to check around the grounds of the high school, apparently for anyone who may have been involved with the teen or any witnesses.
"The details of the situation are still unfolding, but whatever they are, this event is very traumatic for our students, staff, families, and community," Eric Dill, superintendent for the San Dieguito Union High School District, said in a letter posted on the district's website. The teen's name was not released in the letter.
"I know this is difficult, but we ask that you please refrain from conjecture or spreading rumors. This is a difficult time for the family and we need to let them mourn."
He said a crisis response team will be at school Monday, May 8, for students and faculty as needed.
"As a community, we have a shared responsibility to care for one another. Please rest assured that we will do everything possible to maintain our daily routine while supporting each other as we deal with this sad event," Dill said.
Amanda Chen, a 17-year-old senior, showed up outside the campus by late morning, not long before the remaining investigators and evidence technicians packed up their equipment and left the parking lot. She said news of the shooting was "shocking."
"I feel like those types of incidents, you always hear about them in the news but you never feel like it's going to happen here in Carmel Valley where traditionally there's not a lot of crime," she said. "There's never been, like, really big issues with the police ever. So I think it's just really surprising, and honestly I'm so shocked that it happened somewhere so close to home, especially in the parking lot of my school."
Amanda, who is editor-in-chief of the school newspaper, the Falconer, said she didn't know the identity of the boy, but hoped that in light of this incident students might try harder to empathize with one another and to "listen to what other people are going through."
Tracy Francisco Dominice, a life coach and parent of a Torrey Pines student, held a sign on the edge of campus that read: "TEEN HELP." She offered her own phone number to young people in need of emotional support.
"We just need to help our children so they don't get to this point," she said.
The shooting occurred just hours before an unknown number of students arrived at the school to take SATs, tests used for college admissions.
Dill told the Union-Tribune that police redirected students arriving for the tests to a rear entrance. Students also were informed about what had happened and were given the opportunity to opt out and take the test another day, but Dill said he had not heard of any students who had.
Torrey Pines Principal Rob Coppo sent a tweet Saturday that read: "A very sad day for our school. Our thoughts and prayers are with the family. #wearetp."
He was expected to write a letter that will be sent to families and staff members.
"I know he's quite saddened by this," Dill said about Coppo. "He has been in touch with the family, and his focus is on supporting the school."
Dill said the family had told Coppo that they wanted privacy. He also said he had not heard of any note or other message the student had left behind that would give an indication of why the incident occurred.
A small memorial of flowers and notes began to grow at the scene by Saturday afternoon.
The involved officers have been identified as Officer Gilbert Flores who is a 28- year veteran and Officer Kai Johnson who is a four-year veteran of the San Diego Police Department
They were not injured.
---Kristina Davis and Dana Littlefield are writers for The San Diego Union Tribune
-- San Diego Union-Tribune staff writers Gary Warth and Pauline Repard contributed to this report.
Get the RSF Review weekly in your inbox
Latest news from Rancho Santa Fe every Thursday for free
You may occasionally receive promotional content from the Rancho Santa Fe Review.