Rancho Santa Fe School board hears recommendation for more standards-based art program, arts-integration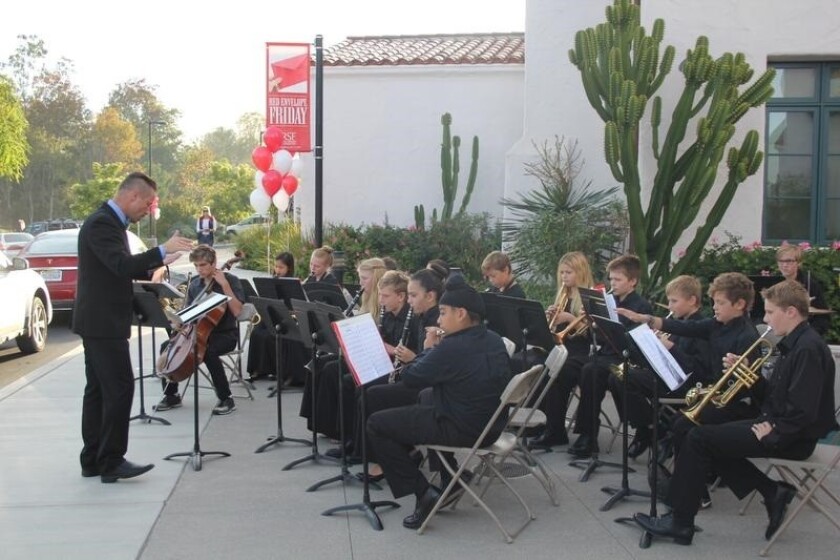 The Rancho Santa Fe School District board members received a report on ways the district can enrich its arts education program at their Feb. 2 meeting. Art is happening on campus every day through MUSE programs such as art, band, choir, dance, strings and theater. The school also boasts an "impressive" extra-curricular program that includes Rancho Santa Fe Players theater productions and 187 students taking a before-school music program.
"What we're looking at here is to take a good program and make it way more efficient," RSF School District Superintendent David Jaffe said.
Consultant Ashley Adams recommended that the district make sure the teaching and learning is rigorous and standards-based, provide more professional development for teachers and to strengthen the arts department's organization so they can work more effectively as a team with a collective vision.
"MUSE is currently not standards-based and I think that's a critical component that we have not implemented at this school that needs to be implemented," board clerk Marti Ritto said. "We need these to be standards-based…these are not just fluffy subjects."
In October, the board approved hiring Adams as an independent consultant to conduct a comprehensive review of the district's arts program. Adams was the first drama teacher at Canyon Crest Academy and former director in the school's Envision program, which encompasses cinema, dance, theater, music and digital and fine arts.
Over the last few months, Adams said she has been impressed by R. Roger Rowe students, watching them in classes, after-school activities, assemblies and arts performances.
"It's been such a joy to see them discover new things and have exciting new ideas, to grow their confidence and to also express their developing sense of identity through the arts," Adams said. "That's incredibly inspiring to me."
As part of her review, Adams also had formal and informal conversations with administration and teachers, received input from questionnaires and met with the San Diego County Office of Education's visual and performing arts coordinator of Arts Empower to discuss next steps and strategic planning.
At R. Roger Rowe, there are currently four lead MUSE teachers and six teaching artists who come before and after school. Adams said she would consider hiring full-time, credentialed teachers for MUSE as it's difficult for part-time instructors to provide the rigor required. Right now music teacher RC Haus is the only full-time teacher.
Adams suggested the district move toward arts-integration when appropriate and also to move toward all-school events that further curricular learning goals as well as build community.
She noted the school has many "remarkable and beautiful" all-school events but they are not curricular and a lot of instructional time goes into the creation of these events. She gave an example of Grandparents and Special Friends Day, which was created by Haus and drama teacher Heidi Moreno put together the "incredible" production.
"That performance was not created and practiced during classroom arts time. It was practiced during classroom instructional time. And when you counted up all the hours, it was a total of seven hours or classroom time that was taken away from core content," Adams said.
She said Haus recorded songs and gave them to classroom teachers to work with students so it wasn't Haus doing specialized music instruction with the students.
"It was a hybrid that didn't allow the event to be as meaningful as it could've been for the students and it wasn't standards-based at all," Adams said. "To do it differently, arts teachers could collaborate to make sure events are standards-based and that preparation happens in arts classes or an arts-integrated instruction model."
Adams overall recommended the district include more arts-integration, where an arts specialist works with a core classroom teacher to develop activities and lessons that meet dual-learning objectives. Adams said arts integration is growing in popularity because it's efficient and a smart way to assure kids are getting arts standards in some way.
"Teachers also love it because it engages students," Adams said. "It's such a powerful way to get kids interested in what they're learning and it always offers students a much deeper way to explore whatever they're learning."
Adams said that in her meetings with teachers they have always said that any project that involves arts are the projects that the kids remember most.
RSF School District Board Vice President Tyler Seltzer said generally the consensus from parents on every school program is that they want more, whether it's arts, robotics, foreign language or athletics. It's a challenge to change the academic schedule in any way, to add more requires a balance and it can be almost an endless debate.
"We have arts already taking place and its affecting every single kid at this school," Superintendent David Jaffe said. "If we become more efficient in how we deliver it, and we provide professional development for the teachers who are already delivering it, we're going to get better quality. Not necessarily more, just more efficient."
---
Get the RSF Review weekly in your inbox
Latest news from Rancho Santa Fe every Thursday for free
You may occasionally receive promotional content from the Rancho Santa Fe Review.