Rancho Valencia in bloom: Rancho Santa Fe resort named best in California
Once a month, Rancho Valencia Resort & Spa General Manager Coni Thornburg takes a stroll around the Rancho Santa Fe resort with a bucket full of wildflower seeds. Since arriving last March, she's started a tradition of sprinkling seeds for every positive TripAdvisor review, a way of putting the good energy back into the Rancho Valencia grounds.
"We're on 45 acres and the original Rancho Valencia was a ranch full of olive trees and orange groves, flowers and gardens," Thornburg said. "It's an oasis of greenery and the flowers are so spectacular so naturally I just wanted to plant more and more."
When guests depart the resort, they are given an envelope of custom Rancho Valencia wildflowers that they can plant at home to remember their stay.
Thornburg said the spring blooms at Rancho Valencia promise to be beautiful and bountiful after starting the year on such a high note: Rancho Valencia was named the number one Best Resort and Best Hotel in California in U.S. News & World Report's 2019 Best Hotel Rankings.
The annual evaluation of hotels across the nation also awarded Rancho Valencia a Gold Badge for placing among the top 10 percent of all ranked hotels in the country-- specifically, number five Best Resort in the U.S. and number nine Best Hotel in the U.S.
"It is thrilling. California has such incredible properties and to be able to say we're the number one hotel in California is a tremendous honor," Thornburg said. "We take tremendous pride in nurturing a luxury experience that exceeds expectations of the most seasoned traveler through our dedication of understanding the art of hospitality."
Thornburg arrived at Rancho Valencia at the end of March 2018 with more than 25 years of experience in five-star, five-diamond hotels. For the last 10 years, she was the general manager for Calistoga Ranch in Napa. Prior to Calistoga Ranch, Thornburg served as the general manager of the Lodge at Pebble Beach, Hotel Teatro in Denver, and the Little Nell Hotel in Aspen, Colo.
Raised in Montana in an agricultural community, the natural environment is close to her heart and Rancho Valencia was an ideal landing spot.
"When the general manager position opened up, I came down for a weekend visit and absolutely fell in love," Thornburg said.
For the last year, she has been working on creating sustainable culinary and wellness experiences such as a greenhouse, herb garden and programming like gleaning and canning events. She is working on the development of an on-site chicken coop where she envisions children helping to fetch eggs to use in farm-to-table meals.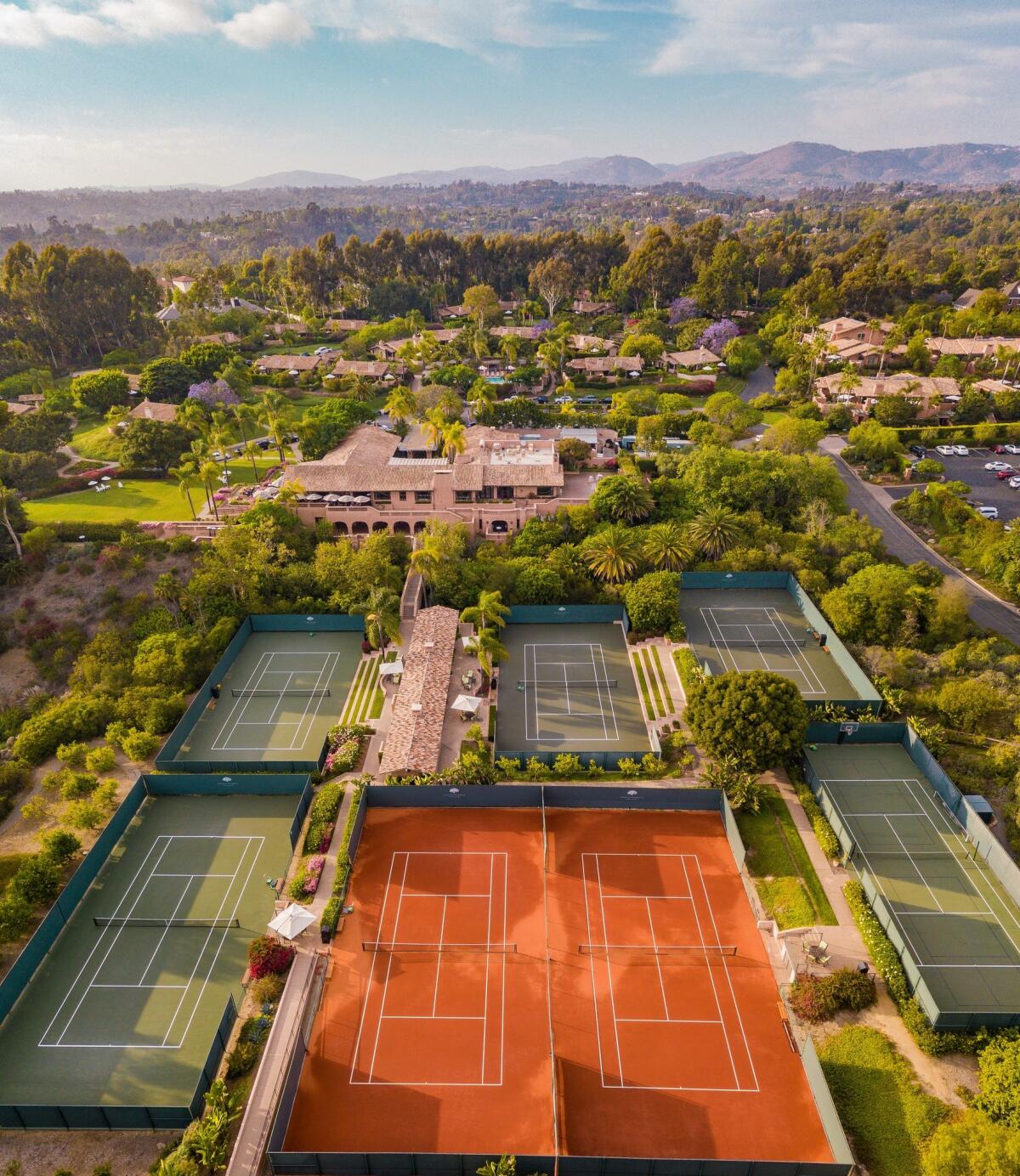 "The traveler of today really enjoys an interactive experience, so this is a natural fit for Rancho Valencia," Thornburg said.
Thornburg said the wellness component of the resort is strong and they have become a hospitality leader and trendsetter in that area. They offer over 95 fitness classes a week complimentary to guests (and accessible to community members through tennis and spa memberships), as well as personal training and monthly yoga workshops in their Serenity Yoga Pavilion.
The property has also enhanced its tennis program led by two-time U.S. Open Champion Robin White with the addition of two new red ClayTech tennis courts while the spa features therapies and treatments in a state-of-the-art facilities that bring guests the latest science and technology for restorative and healing experiences.
The property also recently introduced a Pinarello Test Drive Program, the first U.S. hotel partnership with Cicli Pinarello. The program allows Rancho Valencia guests an opportunity to ride complimentary Pinarello bikes.
As 2019 marks the resort's 30th anniversary, Thornburg said they are in the process of planning all the many ways they will celebrate—they are hoping to have a big big party in the summer and are exploring diamond-themed experiences and tie-ins throughout the year such as diamond-dusted cocktails in the Pony Room and engagement packages.
Thornburg said she has many ideas that she is hoping to bring to the resort but is being patient and taking the time to ensure she is cultivating the best guest experience.
"When I arrived I had all these wonderful things I wanted to do," Thornburg said. "I am absolutely am so in love with this property and wish I could do it all today…There is more to come. We have a lot in store for 2019 and cannot wait to share what's next for Rancho Valencia."
Get the RSF Review weekly in your inbox
Latest news from Rancho Santa Fe every Thursday for free
You may occasionally receive promotional content from the Rancho Santa Fe Review.