Osuna family visits their Ranch roots
The descendents of early Rancho Santa Fe settler Juan Maria Osuna recently returned to the Osuna Ranch to relive a 181-year-old chapter in their family's heritage. Nate Larson, whose fourth great-grandfather was Osuna, brought his grandmother Marie Lawson to the ranch for her 95th birthday on Aug. 12 — Lawson's mother, Frances Osuna, was born in the Osuna Adobe in 1903.
Larson grew up hearing stories about the Osuna Ranch and thought a visit to the adobe home would be a special experience for his grandmother Marie, as well as for his own family, wife Sue and seven-month-old son Russell. He contacted the Rancho Santa Fe Association to set up the small, multi-generational tour of his family's roots for Marie's birthday.
"It was really special for her," said Larson, who now lives in Burbank but was born and raised in Carlsbad.
Juan Maria Osuna, the first alcalde or mayor of San Diego, acquired the property known as Rancho San Dieguito in 1836, raising cattle and building his family in the adobe home. In the 1860s, the family expanded the adobe by adding a sleeping porch and living room to the original two-bedroom structure. The family lived there until they sold the property to the Santa Fe Land Improvement Company in 1906.
The adobe would eventually be remodeled by Rancho Santa Fe architect Lilian Rice.
Larson said he's invested a lot of time in finding out as much as he can about his family history.
"I'd heard all the stories but I wanted to do more research and find the connections; take all the hearsay and try to put the pieces together," Larson said. "For me, it was definitely a very cool experience to step back in time."
Osuna Ranch Manager Troy Keenan showed the visitors around the property and shared about the Osuna Committee's efforts to preserve and enhance the adobe and the ranch since the Association purchased the property in 2006.
Larson said during the tour they all kept remarking, "If only these walls could talk."
"Our relatives built these walls and lived their lives here," Larson said. "A lot has happened in this hub and home over the last centuries."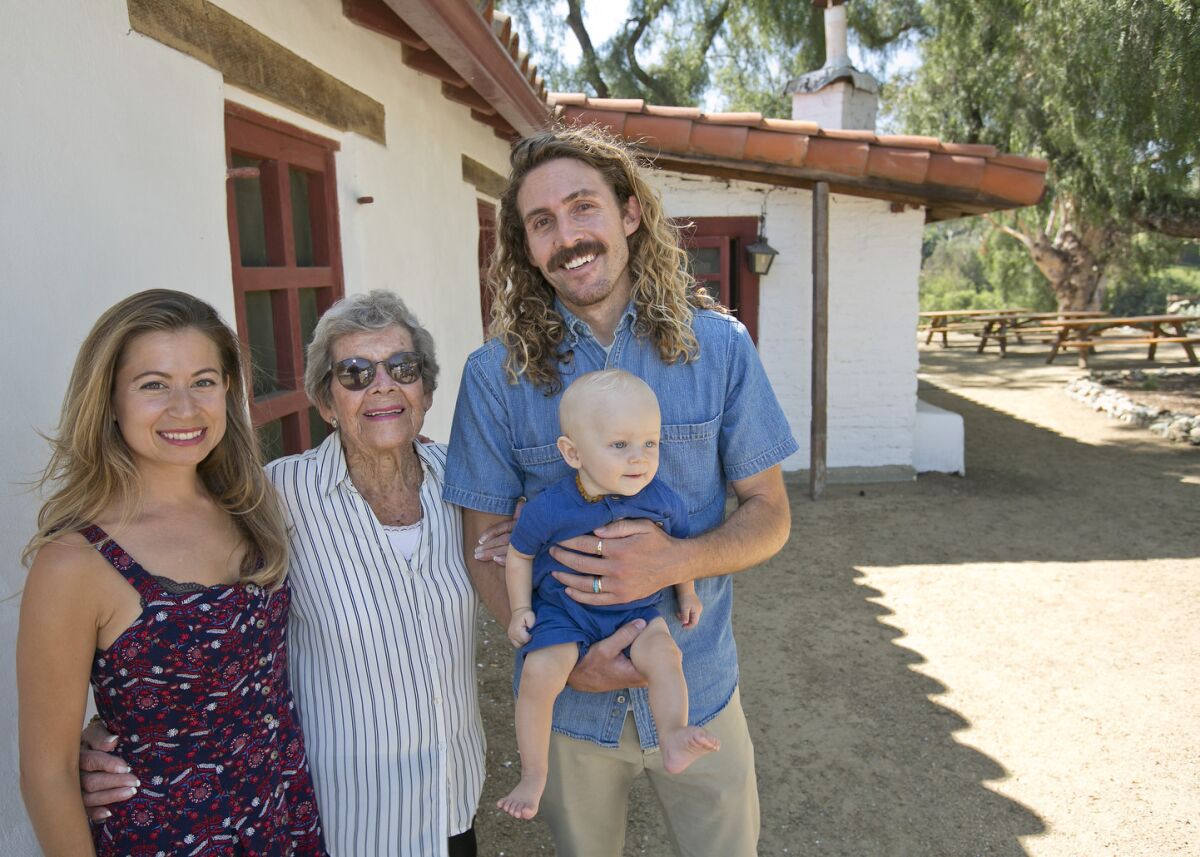 Get the RSF Review weekly in your inbox
Latest news from Rancho Santa Fe every Thursday for free
You may occasionally receive promotional content from the Rancho Santa Fe Review.