Second course: Mille Fleurs hires first new chef in three decades
Mille Fleurs, a fine dining fixture in the Rancho Santa Fe village since 1985, has added its first new chef de cuisine in three decades. Owner Bertrand Hug has tapped Chef Sean McCart to infuse a more fresh and modern take on the menu, aiming to bring in new diners and keep its devoted regulars in the industry that has continued to change dramatically
"It was time. It was time for new blood," Hug said, noting that since McCart has come to Mille Fleurs there is a new spirit in the restaurant and in the kitchen. "We have been very classic and the same thing. We needed new menu items, I didn't want Mille Fleurs to be the old fuddy-duddy. We needed to modernize."
Hug said he is excited by the new direction and the bolder presentations on the plates.
"We couldn't be happier," Hug said. "We're staying true to the core of our gastronomic philosophy of providing the best seasonal menus. Sean is totally devoted to the culinary arts and is consumed by creating the best, freshest and most flavorful dishes."
McCart is a San Diego native who honed his craft in the best farm-to-table kitchens in Oregon—including working as a sous chef at Eugene's Mache and executive chef at The Bay House. He has been working with Hug as the chef de cuisine at his Mister A's in downtown San Diego for over a year.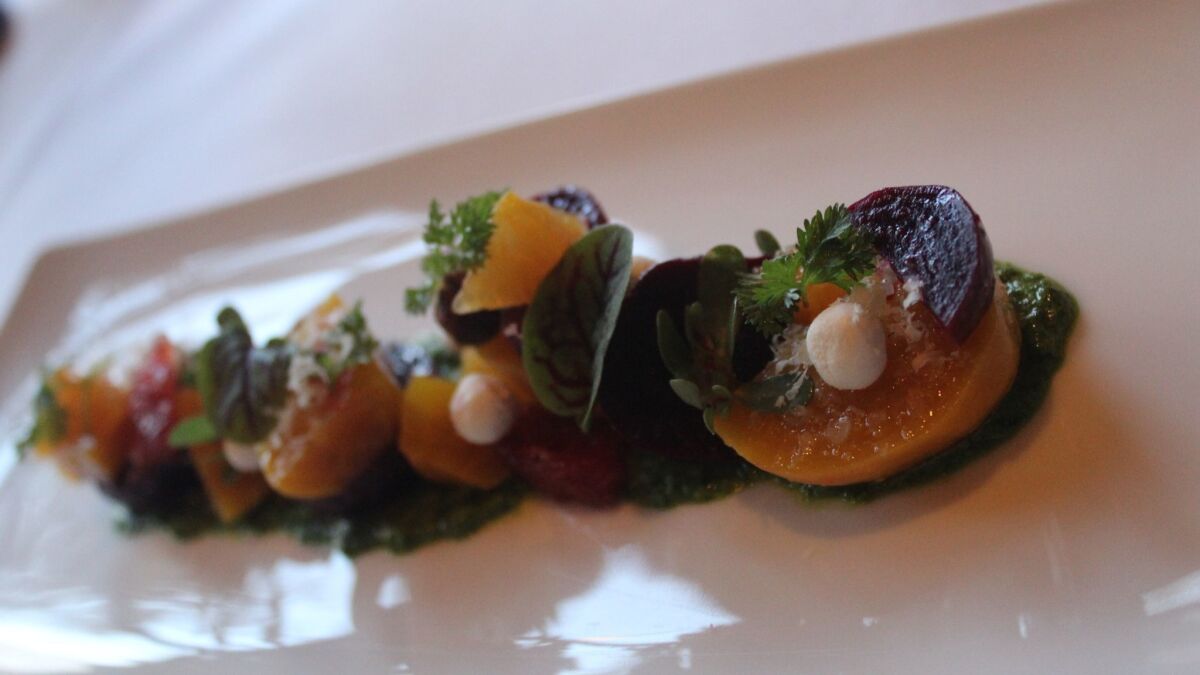 "He has proven his worth with hard work, creativity and his ability to coach, teach and enhance the abilities of his kitchen staff," Hug said.
Hug said Mille Fleurs was a natural fit for McCart, as he said the restaurant was the first to do the farm-to-table concept, taking advantage of the spoils of Chino Farms down the street.
McCart officially started on Oct. 1 and with each week the menu has evolved to reflect the new leader in the kitchen. The Mille Fleurs favorites such as the wiener schnitzel and Maine lobster salad will remain but the rest of the menu includes fresh and modern tastes and a different look— as McCart believes food is art, he aims to create beautiful presentations, including bringing in new flatware and dishes.
Menu items include the Chinook salmon with French Le Puy lentils, lardons, chanterelle mushrooms and a mustard tarragon sauce, and a beet dish fills a plate with earthy and sweet yellow and red beets, in a hazelnut pesto with goat cheese and oranges.
The Chino Farm ravioli stars handmade pasta stuffed with sweet potatoes, pumpkin and sage, topped with morel mushrooms.The dry aged duck breast is served up with grilled morels, roasted celery root puree and a demi-glace with mustard seeds.
A five-course tasting menu is also offered.
McCart said he has been inspired by the long-time kitchen and dining room staff at Mille Fleurs.The kitchen staff remains mostly the same while McCart did bring his own Pastry Chef Kim Tran, who dishes out salted caramel chocolate cake and fresh peach and blackberry crisp with crème fraiche ice cream.
"Mille Fleurs has a great history," McCart said, complimenting not just the dedicated staff but the "incredible" setting that includes the outdoor patio, the quaint small dining rooms with its touches of Provence—Hug calls it his home and has strived to make it feel like a second one for guests and his staff.
Like any good chef, McCart loves food and he most loves its ability to bring people together. Growing up he recalls his mother entertaining in their home, appetizers of celery with cream cheese and the simplicity and comfort of her meatloaf. He has warm memories of friends and family coming together over a meal, laughing and enjoying each other's company.
"I decided when I got older, I wanted to do that. I wanted to cook and entertain and bring people together," McCart said.
After getting his culinary education at the Art Institute in San Diego, he went to Eugene, Ore. to work at the French-inspired farm- to-table restaurant Marche, learning under James Beard Award-winning chefs. McCart said he had never had such a hands-on experience with food, everything extremely local from the restaurant doing its own butchery to the vegetables sourced straight from the farm.
"It was all new to me," McCart said. "It lit my eyes up."
Steve Wilson, the owner at The Bay House in Lincoln City, saw what McCart was doing at Marche and brought him to the Oregon Coast to run his kitchen. His focus remained on sourcing the best and freshest ingredients, planning the menu a year in advance from the harvest at the local Barking Dog Farm— he even had his own bearded mushroom forager.
McCart missed San Diego and came back, working as a sous chef at Juniper & Ivy and Pueblo in Pacific Beach. Hug poached McCart to help modernize the Mister A's menu and realized that he was just what he needed to bring a new energy to the Ranch.
McCart said that at Mille Fleurs he feels like he has come full circle, utilizing everything he has learned and experienced over his career. He said he couldn't be more fortunate with his farm-to-table focus having Chino Farms so close by to inspire his dishes.
"I always wished I had the opportunity to create my own menu and perfect every dish. I feel like I have been handed that here,"McCart said.
Get the RSF Review weekly in your inbox
Latest news from Rancho Santa Fe every Thursday for free
You may occasionally receive promotional content from the Rancho Santa Fe Review.