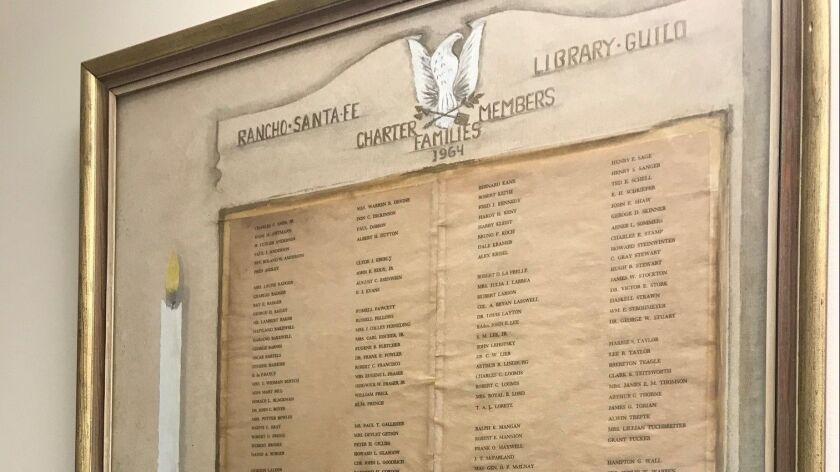 In honor of the Rancho Santa Fe Library's 50th anniversary, the Rancho Santa Fe Library Guild is hoping to honor the founding members and families of the Library Guild. The hand-written and typed names of the 215 charter members are in a gold frame on display in the library, the yellowed papers pieced together to create a "plaque" listing names in alphabetical order from Charles S. Ames Jr. to Walter C. Young.
"One of the things that we haven't done in a long time is recognize or reach out to the founders and founding families of the Guild," said Susan Appleby, RSF Library Guild executive director. "There are so many names on the plaque. We would love to hear from founders or their family members if they are still in the area."
At some point during the anniversary year, Appleby said the Guild plans to recognize them—celebration plans are still in the works. The names are posted below and founders and family members are encouraged to contact the Guild at info@rsflibraryguild.org.
Appleby also welcomes people to come see the plaque at the library.
In addition, the plaque includes local organizations such as The Inn, the RSF Rotary and Garden Club, the Rancho Santa Fe Parent Teacher Association and groups that Appleby knows nothing about such as The Wishing Well, Vista Hermosa Farm and the RSF Stamp Club.
"If those spark memories for any residents, we would love to hear about it," Appleby said.
While 2014 marked the 50th anniversary of the first RSF Library and the founding of the Guild in 1964, the existing library on Avenida de Acacias was dedicated in April 1968.
The temporary library site was on the Ewing property, the old post office building on La Granada and Paseo Delicias. Around 1965 the fledgling Guild, led by its first president Helen Weddell, became serious about looking for a site for a permanent library building. Roger Rowe, then superintendent of the school district, was supportive of the Guild's vision and sold the library site to the Guild for $1.
The new library was built in a little over a year for $85,000, including $75,000 in contributions from Arthur Lindberg and Bill Evans, as well as 15 of their friends who remained anonymous.
---