Katherine Cosmetics opens flagship Flower Hill store
Rancho Santa Fe resident Katherine "Annie" Finch has opened her first flagship store for Katherine Cosmetics, her line of beauty products that aims to share a positive message of beauty and to help women and girls feel confident and pretty. The new store opened in Del Mar's Flower Hill Promenade just three weeks ago, celebrating a grand opening party on June 22.
"I didn't realize what a big deal it was to have a store and how much I would love it and how much the customers would love it," Finch said. "It's the best thing I've ever done."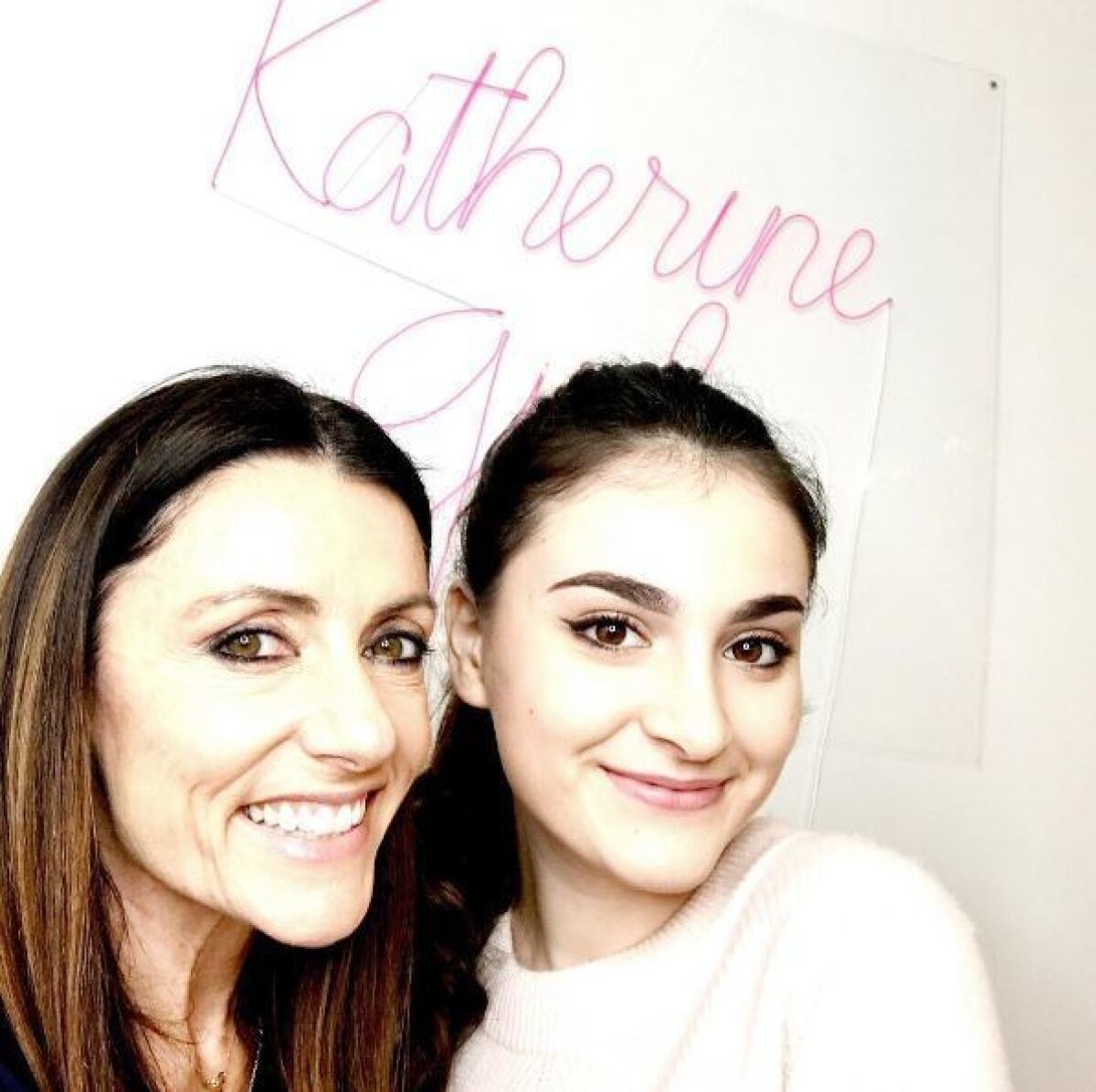 Guests can come in to shop for their favorite Katherine Cosmetics makeup or have an expert makeup application done — whether it's for a high school dance or charity event, the talented Katherine Cosmetics team is available for the perfect look. The studio is also available to book for parties.
Everything in the store reflects Finch's lifestyle — visitors can sample her favorite coffee or chocolate as they shop the sparkling display of products, in pretty pinks and golds, stamped with positive inspirational notes like "you can and you will." There's even a perfectly-lit selfie station in the corner, with a pink neon Katherine Girl script as the backdrop.
The four "Ks" in her logo represent the four "powerful" generations of Katherines in Finch's life that supported the notion that "All girls can do and be anything they want in life."
Finch's knowledge of the industry comes from a 23-year career at Estee Lauder in sales, marketing and product development. During her time in New York, she helped launch Aerin Lauder and Tom Ford's lines before moving to Rancho Santa Fe to retire and ride horses.
But she didn't stay retired for long.
Katherine Cosmetics got its start in 2014 when Finch set out to create a line of sport makeup. K-Sport is smudge, smear and sweat-proof even through one of her spin classes at Rancho Valencia or the steamiest of hot yoga classes.
With K-Sport, Finch created essential basic items that were all-natural, gluten-free, paraben-free and never tested on animals.
"That was really important, to take out all the bad ingredients and put only good ingredients in," Finch said.
Items in the line are dual-action such as lip gloss with sunscreen and her Wow stick, which is a multi-use primer that offers coverage, protection and works as a line-filler. K-Sport also has a very popular waterproof eyeliner — the "can't live without, must have" product that lasts through riding or running with a useful built-in blending brush.
Her next product was her lipsticks, the A+ Friends Beauty line of 11 shades developed and named for some of her closest friends. As a reflection of Finch's passion for giving back, $1 of each sale goes to its namesakes' charity of choice.
Drawing on her Estee Lauder roots, Finch also launched a fragrance, Katherine Girl — pretty and light with notes of citrus, floral jasmine and magnolia, and drywoods and leather.
Finch is especially excited about her new addition of Date Night Beauty eyeshadows, highlighter, brow solution and eyelash kit.
"The idea is the brand can take you through everything you need in life, from morning workouts and horseback riding, to coffee with friends and date nights out," Finch said.
While Katherine Cosmetics started online and with social selling, she eventually landed in 300 Dillard's stores across the country. Online, social media ambassadors called Katherine Girls help spread Katherine's positive, strong and inspirational message across the world — doing the right thing, being a good friend, sister and daughter, doing what you love, learning and trying new things, and believing in yourself.
"Katherine Girls love what we stand for as a brand, being natural and active, helping others and being confident and pretty all at the same time," Finch said.
Finch put all of that and more into her new store. She had never really thought of having her own studio but once she got the encouragement from friends and fellow Flower Hill businesses, she was able to put it together on a quick timeline over the last month. Like the brand preaches: "All girls can do and be anything they want in life."
Learn more at KatherineCosmetics.com or visit the store at 2690 Via de la Valle, Del Mar.
Get the RSF Review weekly in your inbox
Latest news from Rancho Santa Fe every Thursday for free
You may occasionally receive promotional content from the Rancho Santa Fe Review.