RSF businessman's fortunes rise in governor's race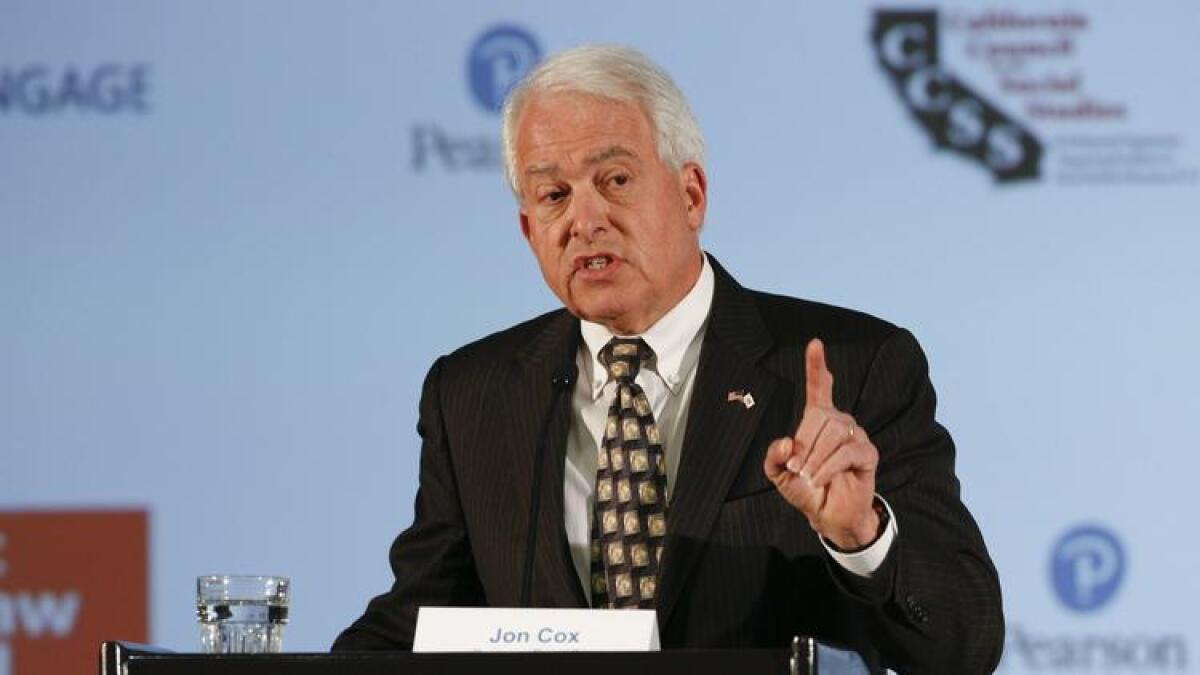 John Cox may be the most successful gubernatorial candidate that most Californians have never heard of.
The Rancho Santa Fe businessman, a Republican, is running in either second or third place in two recent polls, out of a field of 28 candidates running to replace retiring Gov. Jerry Brown in the June 5 primary election.
The top two finishers in June will face each other in the November general election, meaning Cox has a good chance of advancing if current trends hold. This, in spite of one poll showing 70 percent of Californians don't know who he is, said Cox.
Cox is working hard to increase his name recognition in the state, through media ads, appearances on talk radio and attendance at public events. And he expects voters will get to know him better if he makes the runoff.
A poll released by UC Berkeley's Institute of Government Studies on April 26 put Cox in second place with 18 percent support, trailing Lt. Gov. Gavin Newsom, a Democrat, who polled at 30 percent. Another poll by Survey USA, on behalf of news organizations including The San Diego Union-Tribune, put Cox at third place, with 15 percent, behind Democrat Antonio Villaraigosa at 18 percent and Newsom at 21 percent.
Cox, 62, a CPA and attorney, runs a real estate and investment counseling firm with about 100 employees. He said he is running to right the ship of state government, which he contends is foundering due to a number of factors.
"I'm running as a businessman to change the management" of the state, with expertise gained while building a business worth $200 million, Cox said. "I want to use whatever skills I've developed as a manager to turn the state around."
Cox provided a laundry list of what he claimed are the state's management ills, in such areas as transportation, education, housing, water and taxes. And he disputes claims by state officials that California has a budget surplus, since its accounting doesn't include unfunded liabilities for its pension system or retiree health benefits.
"It's a loophole of government accounting," he said. "The idea the state is running a massive surplus is phony."
He also wants to fix the state's road maintenance and construction program, which he said is inefficient and wasteful, spending four times what the state of Texas spends on road repairs.
"If we used money wisely, we'd get so much more in road construction done, and not have to raise taxes," Cox said. Which is one reason he's also helping to spearhead an effort to repeal the gas tax recently enacted by the state Legislature.
Another area where he stands opposed to California's current leadership is the sanctuary laws enacted by the state which limit law enforcement cooperation with federal immigration authorities. Cox applauded the San Diego County Board of Supervisors, which voted in April to support a lawsuit by the Trump Administration against the California sanctuary state legislation.
"It's not because we're anti-immigrant. I'm a Jack Kemp Republican, I like people who come here and want to make America better," said Cox, referring to the late congressman and NFL quarterback. But he said he doesn't want to live near MS13 gang members who have crossed the border illegally, and he doesn't like that the state's sanctuary laws prohibit police from informing federal immigration authorities when an undocumented immigrant commits a crime such as domestic violence or assault on a police officer.
He isn't swayed by studies that show immigrants - documented or undocumented - are much less likely to commit crimes than native-born Americans.
"The state should work with federal authorities to remove dangerous people from our streets," he said. "Just because it's a small percentage of the population doesn't meant it's not a threat."
He's also committed to reducing the costs of running California's prisons. The Golden State, he said, spends about $75,000 per year on each inmate, while states such as Nevada and Alabama spend $23,000 and $16,000 respectively. California's higher costs are caused at least in part, he said, by professionals such as dentists and psychiatrists who earn salaries in the hundreds of thousands of dollars for their work in state prisons.
Cox is making a large personal bet that his message will resonate with California voters - he's given $4 million from his own funds to his campaign, on top of $1.2 million he's raised through donations.
He's no stranger to politics. He ran unsuccessfully for the U.S. House and Senate in Illinois, and also ran for president in 2008. He took a key role in the campaign to oust former San Diego Mayor Bob Filner, who faced sexual harassment allegations, and also has worked, unsuccessfully so far, to put an initiative on the California ballot that would greatly expand the number of state legislators, aiming to improve representation and reduce the influence of special interest cash on state politics.
He and his wife, Sarah, have four daughters. Cox moved with his family from Illinois to California in 2011, at least in part for the great weather.
"In the business world, I build bridges," said Cox, and he plans to do the same in Sacramento if elected governor. "I (want to) build a bridge from where we are to where we need to be."
Get the RSF Review weekly in your inbox
Latest news from Rancho Santa Fe every Thursday for free
You may occasionally receive promotional content from the Rancho Santa Fe Review.