Mystery pop-up artist sends messages of peace, empathy, love
The sixth of seven happy and heartwarming pop-up art installations hit Rancho Santa Fe on Monday, Aug. 7, this one a peace sign carefully constructed out of 700 hand-painted, bright, floating, fluorescent butterflies at the intersection of El Apajo and Bella Siena. At night, the peaceful pop-up is illuminated by black lights.
A mystery artist, who claims not to be an artist at all, said he is hoping to share messages of love, hope, peace and empathy with the community. The pop-up artworks are meant to stay for just a short while before coming down.
He was forced to take down his first installation in early July as the homeowners association in question opposed the placement. All of the art pieces that followed have been approved by the homeowners.
"These families were true inspirations and happily welcomed the art on their property," the artist said. "I thank each family for that."
The Review was able to track down a friend of the artist and exchange a few questions via e-mail. While he would like to remain anonymous, he will admit that he has been a San Diego resident for 30 years and has lived in Rancho Santa Fe for the last 10 years.
What made you want to bring art to the Rancho Santa Fe community? What was your goal with the pop up art?
I am leading into a landmark birthday and it has made me take a step back and reflect on how incredibly fortunate I am and that I don't ever want to take it for granted. I have an incredible family, successful businesses and a truly amazing network of friends from Rancho Santa Fe and all over San Diego. The art was a simple gesture of gratitude and thankfulness and meant as a give-back to the community I live in every day. Hope, Love, Peace, Empathy and Happiness are the guiding themes to each piece.
Do you typically do these kinds of large scale art installations? Do you do other kinds of art?
I have never done a single art project and don't intend to ever do another. This started as a single piece that was for the community. There was a dying Canary Island Palm Tree on El Apajo that I watched die over a six-month period. These palms are majestic and when they get sick they shrivel into a fraction of themselves. It's sad to watch and I wanted to do something related to caring, empathy and love. The girl, made of willow, is hugging the tree that is slowly dying and transforming into a skeleton of its former self. The tree's heart is made of grape vines that slowly pulsated until the last day of the sculpture when the light went out for the entire night.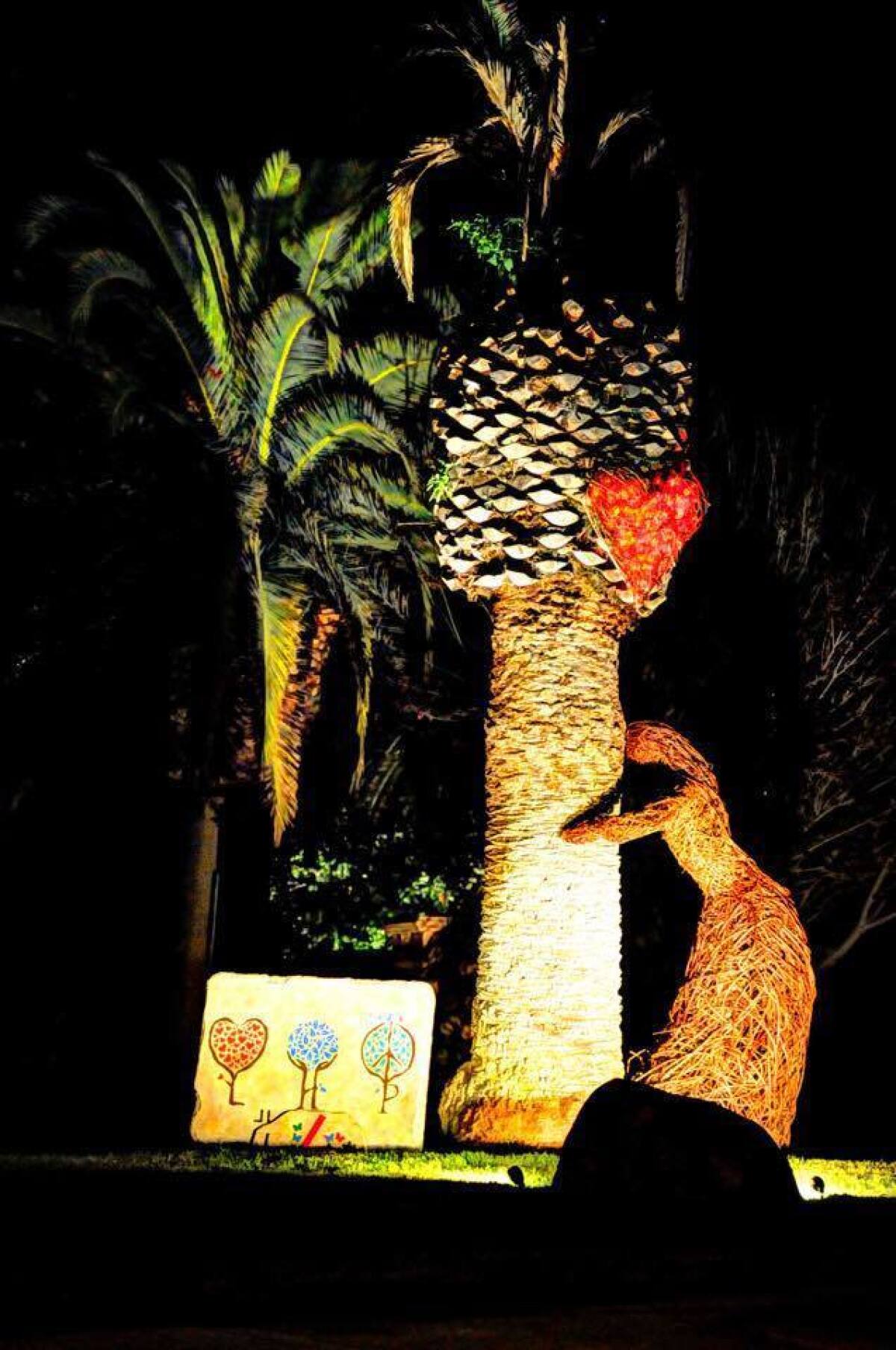 While thinking through this art piece, my buddy and I kept coming up with more and more ideas and over a 10-month period we suddenly had nine projects underway. This friend and my family helped me bring the best seven of these nine art pieces come to life. For example, in art piece #6, "Hope and Peace," my kids painted every one of the 700 fluorescent butterflies by hand. We ended up dropping two of the of the art projects as they were just not good enough to display. I could not get the vision to really work. I almost dumped the air duct hearts (#4) also but, at the last second, ended up keeping them in the lineup (even though they are completely different from the original version using palm fronds). These were really tough decisions because I get so close to each project that it becomes difficult to decide if the piece is good, bad, lame or just plain awful. I am not an artist.
Have you had any close calls getting caught during your middle of the night work? Any interactions with local wildlife?
We typically use a privacy screen and go out very late at night so very few people see us. The only wildlife we have encountered are bugs. We keep a can of bug spray with us at all times.
Can we expect you to return again for more art?
Not likely to ever happen again. This was a one-time thing and I haven't slept in nine months.
Stay tuned for the seventh and last piece, slated for Calzada del Bosque.
"It will be for those who we've lost too early in life," said the artist.
Get the RSF Review weekly in your inbox
Latest news from Rancho Santa Fe every Thursday for free
You may occasionally receive promotional content from the Rancho Santa Fe Review.