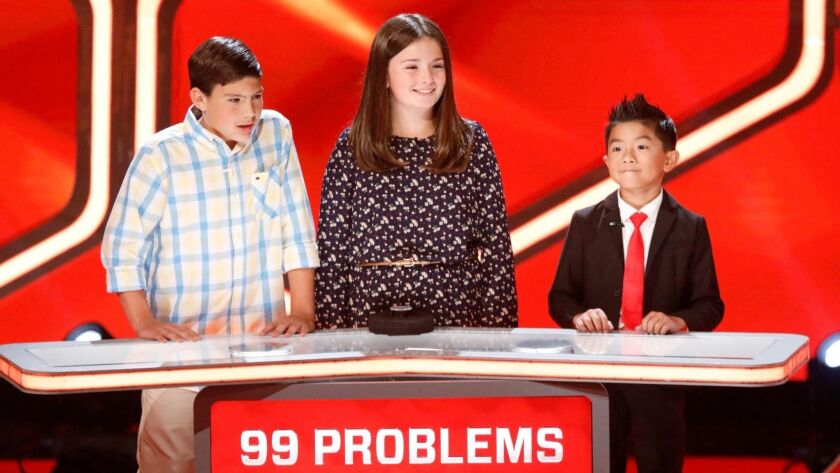 Rancho Santa Fe's Christopher Lee showed off some serious brainpower on the NBC show "Genius Junior." The new NBC show hosted by Neil Patrick Harris shines a light on America's brightest and quick-witted youngsters, including 11-year-old Christopher who has an IQ of 153.
Christopher made his debut on the show's April 8 episode when his team "99 Problems But Brains Ain't One" won its heat, including $35,000 and a chance to move on to the semi-finals. The semi-final will air on Sunday, May 6 at 9 p.m., when Christopher's team will match up against "Geeks on Fleek," which includes another young San Diego genius Michi Synn, a Carmel Valley fifth grader.
NBC sought out Christopher for the show as he has been a member of Mensa since he was 6 years old. Mom Shannon Lee said they had Christopher's IQ tested young at the encouragement of his teachers. With his high IQ, traditional school was not challenging enough for him and he could skip several grades, so his parents decided to home school him so he could learn at his own pace. At this point he has completed all middle school and high school math and science classes already but maturity wise, he is still only 11.
The family works with an education specialist and he takes online courses from Stanford University. His parents work to keep him social and around his peers with groups such as San Diego Math Circle and debate team—he has shown a talent for public speaking and came in first in last year's San Diego County Fair speech contest.
"Math is my strongest subject and I'm absolutely obsessed with chess," said Christopher, who also closely follows the stock market, "I like numbers and I like watching money grow."
Christopher is also an accomplished fencer, which he considers "physical chess" because of the amount of strategy involved to outsmart opponents. He trains two hours a day with the San Diego Fencing team, competes regularly in national competitions and is top ranked in his age group.
On the show, Christopher said his future goal is to "become a tycoon and buy the moon" but closer to earth his goals are "Harvard of course" and he would also like to work in the field of artificial intelligence, to help make life easier for people while also ensuring robots don't take over the world.
NBC cast 36 kids for "Genius Junior" and divided them into 12 teams of three to compete.
Christopher's team includes 11-year-old Lance from Lafayette Hill, Penn., a star athlete who can do extremely complex math computations in his head, and Silvia, a 10-year-old from Corpus Christi, Texas, who has an "awesome" memory and placed first in a national science competition.
On the April 8 show, Christopher's team "99 Problems" went up against team "The Cheese Cabinet" with Christopher nattily attired in a suit and red tie. Host Neil Patrick Harris remarked on Christopher's focus and complimented him for "suiting up" like Harris' character Barney famously did on the show "How I Met Your Mother."
The contestants were tested in a memory challenge memorizing the order of a randomly shuffled deck of cards and a "Human GPS" competition on the 3,100 counties across the country—Christopher nailed questions correctly identifying counties in Vermont and Iowa.
Christopher's team selected him as the "Super Brain" to compete alone on a backward spelling challenge.
"I'm excited because it gives me the opportunity to win the whole thing except I'm nervous," he said on the show. "I'm nervous because I really want to do well."
Christopher was able to spell 14 words backward in the 90-second time limit including: raspberry, flummox, deluded, backgammon, werewolves, oblivion, delicatessen, quicksilver, grammatical, misadventures, polarity, keyboardist, taxonomic and gentrification.
"That was amazing!" Harris exclaimed on the show, giving Christopher a hug.
"One of my better days," quipped Christopher.
The Lee family doesn't own a TV so Christopher hasn't even seen the episode but he said he enjoyed the experience. He said being the Super Brain for the spelling challenge was "extremely exhilarating" and he was happy with his performance in the Cortex.
"The best part was meeting all of the brilliant kids and making friends with them," said Christopher.
Since the taping, Christopher has become close friends with Michi—together they formed a debate team and he has even gotten Michi into the sport of fencing.
"They inspire each other," said mom Shannon, noting it is also unbearably cute to see them together as they are both so small in stature.
As Harris noted on the show, both Michi and Christopher may be small but they are mighty.
"I want small people to know that success is not limited by their size. I'm small but I can do big things like 'Genius Junior'," Christopher said. "The most important message I would like to share with the reader is not to ever let your physical condition limit you and your dreams. Dream big, work hard, and there will be nothing you cannot achieve."
---