RSF School District 'committed to reaching agreement' with teachers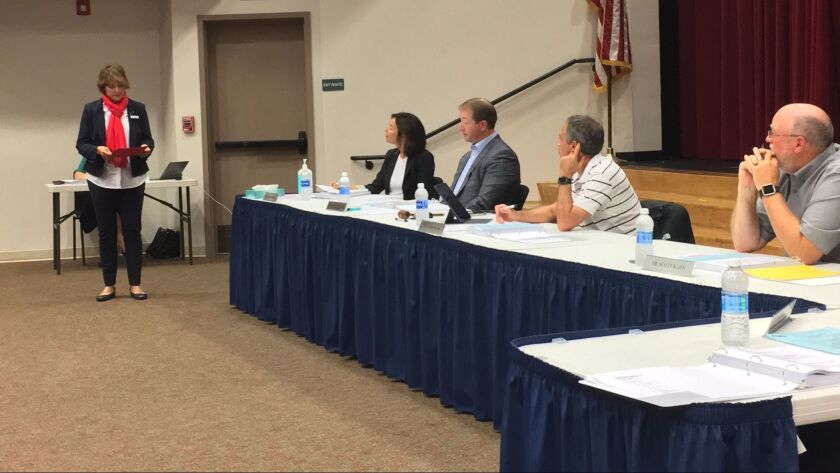 R. Roger Rowe teachers again spoke out about their continuing contract negotiations at the Rancho Santa Fe School board meeting on Oct. 12. Many teachers in attendance wore black buttons that read "Respect."
Teachers spoke about the importance of feeling valued, respected and competitively compensated like teachers in neighboring school districts.
"I ask you to consider what the staff is asking for anew with the frame of mind of feeling proud of what happens each and every day — embracing the high levels of student achievement, a staff of teachers with 75 percent of us holding an advanced degree or degrees and a community of students that love their school and teachers," second grade teacher Jessica Henke said. "I feel proud to be a part of this school and encourage the board to set the rhythm for us teachers just as we set the rhythm for our students. I've always believed that a good school is very easy to be a part of but a fantastic school is one in which everyone works together and is heard."
Rancho Santa Fe Faculty Association President Amanda Valentine said she misspoke last week when she said the teachers were working on an expired contract. RSF School Board President Todd Frank said the agreement is not expired and the district is negotiating "limited reopeners" for the 2017-18 school year, including salary and benefits.
Teachers would also like the opportunity for their children to attend the school. Previously teachers' children were allowed to be enrolled per Board Policy 4111. That policy was amended at the end of the school year in 2016, limiting the enrollment to only teachers' children previously enrolled and their siblings.
"I'm not in a position to walk away from my job at this point, despite the board's continued resistance to provide an irreplaceable staff with reasonable wages and benefits," said teacher Darcy Gleisberg. "However, in two years time, I will be forced to leave because teaching in a place where my child cannot attend puts an undue strain on both my career and my family."
The district's negotiation team and the RSF Faculty Association have met four times to negotiate regarding these limited reopeners — the next scheduled session is on Oct. 18.
In a statement at the board meeting, Frank said the faculty association's most recent proposal includes a 5 percent on schedule increase to the salary schedule and an increase of $125 per month to the district's health benefit contributions for a total annual contribution of $10,200.
The faculty association's proposal also includes additional release time for members, a provision requiring agency fee and automatic dues deduction from teachers' paychecks and association access to new employee orientations.
Frank said the district's current proposal includes a 1.5 percent on schedule increase and a 1.5 percent off schedule increase, plus a $25 per month increase to the district's health benefit contribution for a total annual contribution of $9,000.
"The district's salary schedule has always been highly competitive with other local comparable school districts," Frank said. "Just last year the district gave the teachers a 4.5 percent on schedule increase plus an additional $50 per month in health benefit contributions.
"As board president, I support the district's negotiation team and believe the district's proposed increase ensures the salary schedule will continue to be highly competitive. The district values its teachers and remains committed to reaching an agreement in negotiations this year."
---
Get the RSF Review weekly in your inbox
Latest news from Rancho Santa Fe every Thursday for free
You may occasionally receive promotional content from the Rancho Santa Fe Review.