RSF veteran conquers Kodiak Ultra for wounded warriors
Rancho Santa Fe veteran Ben Brown was willing and determined to run the 102-mile Kodiak Ultra Marathon for his fellow wounded warriors. In the end, he went above and beyond his goals, running a total of 107 miles thanks to a wrong turn on the course and bringing in nearly $20,000 to support 9 Week Warrior, a program he runs with his wife, Chondra, to support wounded veterans, police officers and firefighters.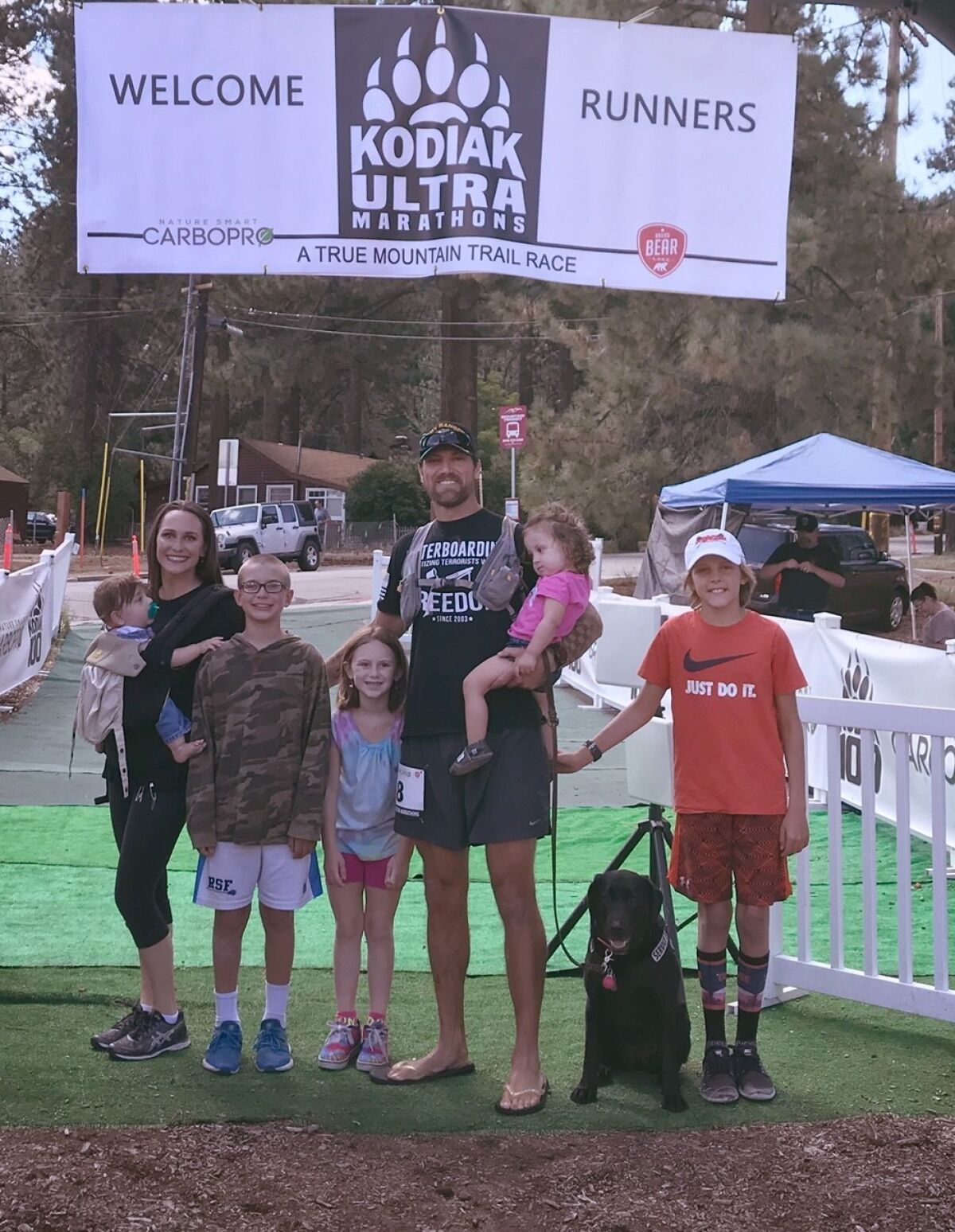 Brown, a United States Army Ranger and Purple Heart, finished the Kodiak Ultra Marathon in Big Bear Lake on Aug. 17-18 in 29 hours and 21 minutes, the sixth place male after fighting all the way back from being dead last early on in the race.
The race was Brown's third ultra and his longest to date. Last year he ran the 81-mile Badwater Ultramarathon, also in support of wounded warriors. When the running hurts, as it did around mile 70 of Kodiak, he sets his mind on those who are no longer able to run. As he has learned from his experiences, ultra running is mostly a mental challenge: your mind leads you and hopefully your body keeps up.
"I had so much support behind the goal and who I was doing this for, the vets and first responders. It's just such an honor to run for them," said Brown, a Rancho Santa Fe native and father of six. "The support was incredible, to have that kind of power behind us was amazing."
Funds raised will put wounded warriors through nine weeks of free personal training, yoga, massage, acupuncture and homeopathic treatment at the Browns' Carlsbad facility. Personally, exercise and movement has helped Brown conquer the physical and emotional challenges he faces as a result of his deployment in Iraq, including Traumatic Brain Injury and PTSD. In the eight years that he has been out of the military, he has used various forms of exercise and long (long) distance running to heal and has found his purpose in helping others accomplish the same.
The Kodiak Ultra features "a brutal, hellish, punishing course that is technical and rocky", with racers running at an elevation of 7,000 feet and doing over 17,000 feet of vertical climbing.
"It was a very up and down, hilly course and a lot of it was super rocky," said Brown, noting at times you could not see the dirt of the trail as it was almost entirely rocks.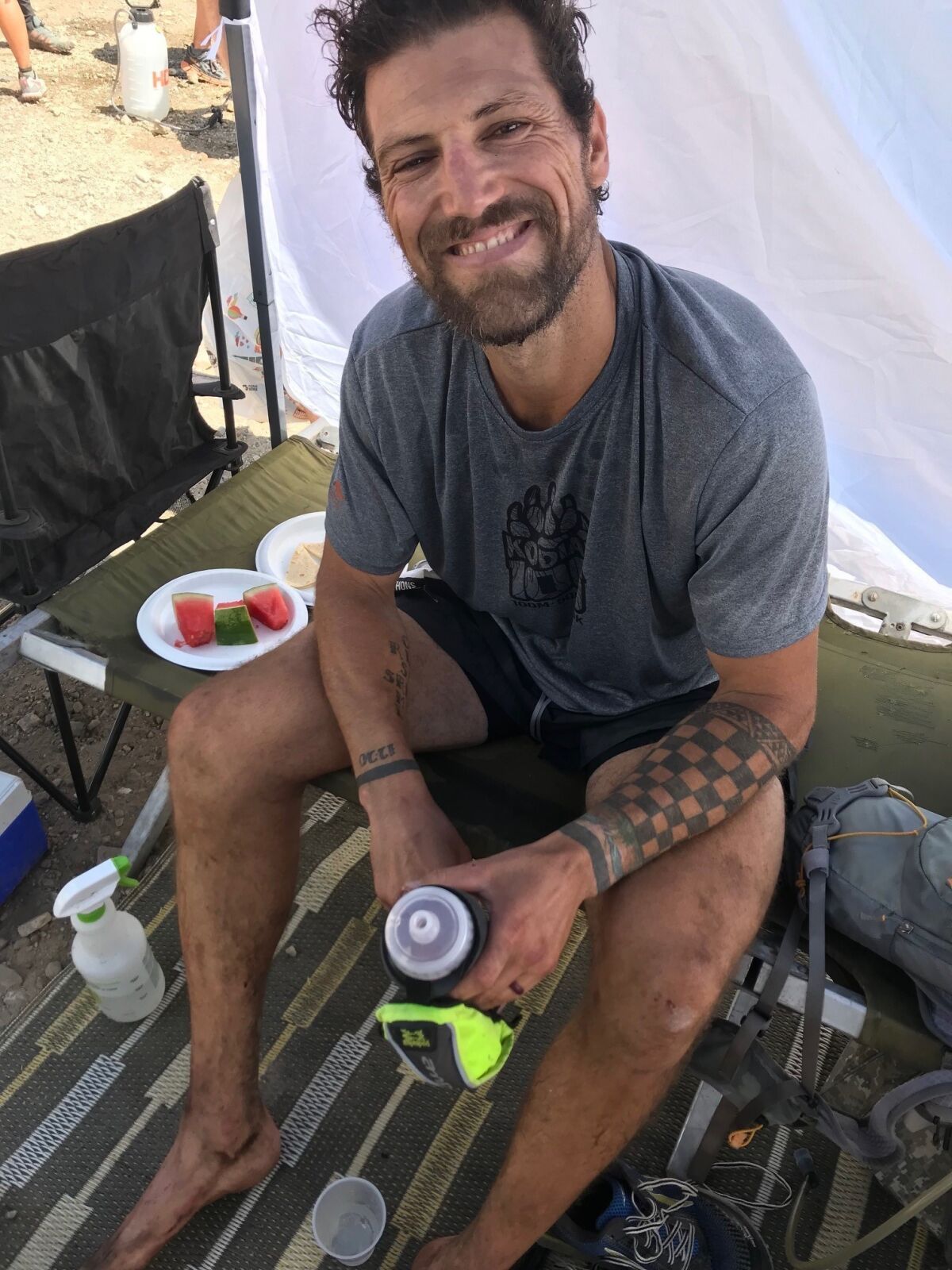 The course loops around Big Bear Lake but the runners actually never see the lake because they are so deep in the forest. On some parts of the course they double back and run through the same aid station several times. After the five-mile aid station, Brown came to a split in the road and saw one guy run right so he followed him but then grew confused when he saw the guy behind him had gone straight instead.
"I should've just stopped, quieted my mind and heard what God was telling me but I ran like a horse and followed this guy down the hill," Brown said.
The hill in question was Dead Man's Pass, one of the hardest sections of the course that runners are supposed to hit at mile 82 but Brown and others who followed him were running erroneously at mile five. At the next check point, he learned he had taken a wrong turn, added five miles to his race and an extra 3,000 feet in elevation and punishment on his quads.
A race director informed Brown and three others who had made the wrong turn that they wouldn't be qualified for the $10,000 prize purse and that not continuing the race was an option. The three others quit. Brown's legs were "smoked" and the task ahead felt overwhelming as he was now in dead last. But to quit was not an option for him.
Later in the race, the three race leaders also took a wrong turn around mile 60 and all quit, as would 60 percent of the field.
"That's a testament to what happens a lot in life. When things get hard for people, it can be so easy to quit on themselves because they don't believe in themselves or they don't have people behind them that believe in them either," Brown said.
Brown believed in himself and knew he had his wife, his kids, his warriors and everyone who had donated to support his quest behind him, not to mention a pacer waiting to run with him at mile 70.
"I had a huge foundation of people who believed in me so I kept going," Brown said.
The race was at times extremely painful for Brown. His wife Chondra was part of his support team and she knew that she would likely be taking Ben to the hospital following the race as he was experiencing symptoms of dehydration and a risk of rhabdomyolysis, which can lead to kidney failure.
"At mile 70, he leaned his whole body into me and said 'I really want to quit'," Chondra said.
"I was full on crying, I was a mess," Brown said. "I told her this was the hardest thing I've ever done."
Brown's pacer was able to pick him up physically and mentally at that point of the race. His pacer was 23-year-old Taylor Esoledi, a Naval Academy graduate and the son of Brown's service dog trainer. Chondra stayed in contact with Esoledi via cell phone. She connected with a physician and had Esoledi ensure that Brown was getting salt tablets, hydrating and consuming calories.
With Esoledi at his side from mile 70 on, they began passing people despite the fact that miles 70 to 80 are spent summitting Sugarloaf Peak, the biggest climb of the race, passing cruel false peak after false peak up to nearly 10,000 feet. The plan was for Esoledi to run with Brown for 10 miles (the longest he had ever run) but he ended up doing 17, helping Brown get into 40th place.
After Esoledi left, Brown got to 30th place with 4.8 miles to go.
The plan was for Brown's 11-year-old son Boaz, a sixth grader at R. Roger Rowe School, to run with him for the last three miles and that kept Brown pushing forward despite the pain.
"I plugged away with my head down, I was really hurting at this point, I was just trying to get in," Brown said. "I'm in my zone and I hear 'Daddy!' Boaz comes running up and I said 'Set a fast, hard pace and being me in.' I just traipsed after him. He almost killed me."
The pair were running nine-minute miles to the finish, miles 104 through 107 for Ben. To put that into perspective at how much they were humming, Brown said, the course record is 20 hours, equaling a 12- minute mile over the challenging terrain.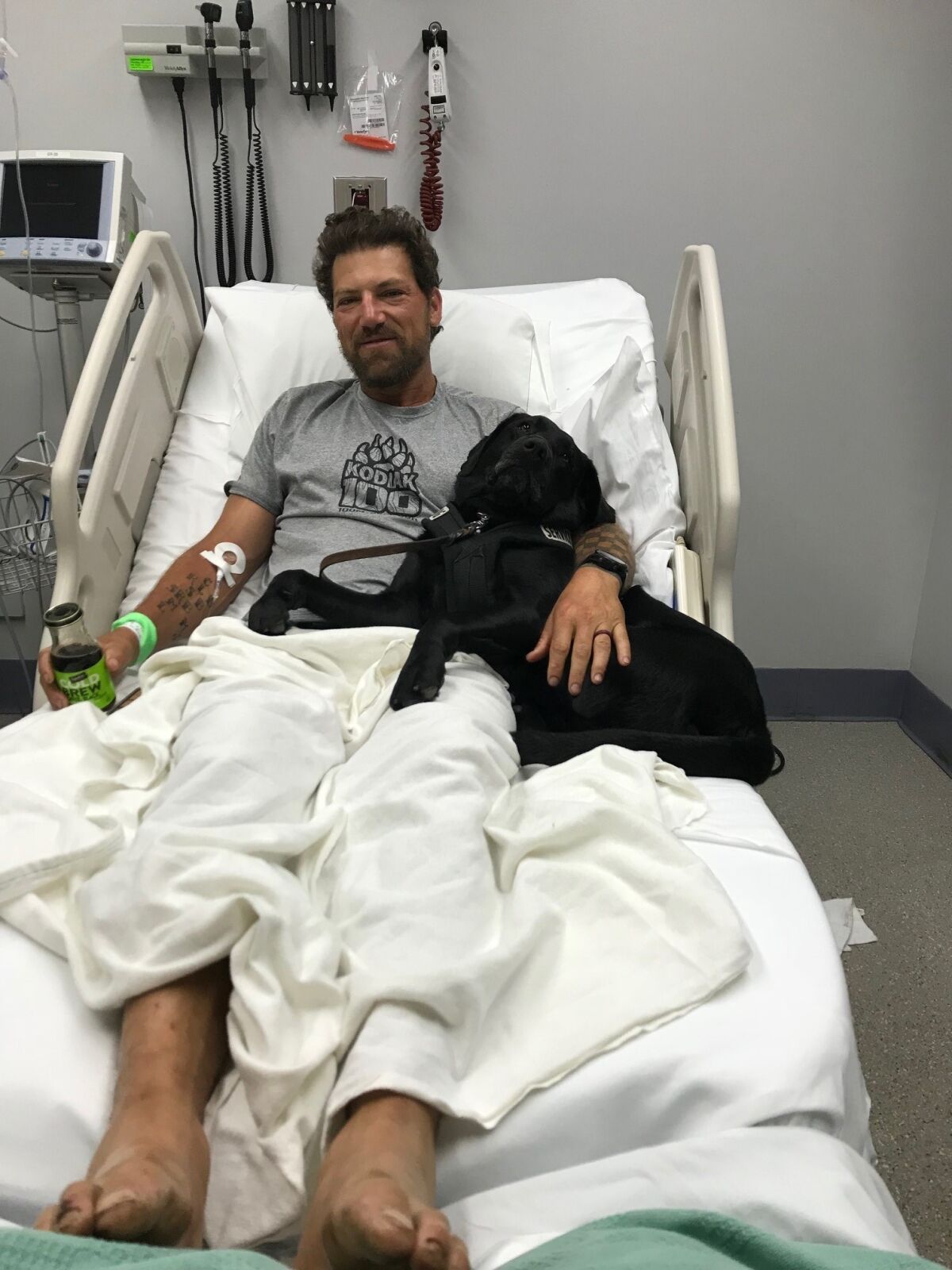 The father-son team passed 16 people and crossed the finish line hand in hand. Brown had finished 14th overall and the sixth male.
Last year Brown ran Badwater at a "muscle-bound" 225 pounds, this year he was lighter at 190 pounds, courtesy of a plant-based diet. As a result, he said his recovery has been much easier, following the post-race hospital visit that Chondra had predicted.
"My body is a lot happier and recovering faster than last time even with a much harder course," Brown said.
Brown said he planned to take about 10 days of rest and is gearing up for his next big run: running for the Rancho Santa Fe School District board.
---
Get the RSF Review weekly in your inbox
Latest news from Rancho Santa Fe every Thursday for free
You may occasionally receive promotional content from the Rancho Santa Fe Review.