Veteran conquers 81-mile Badwater race for fellow wounded warriors
It was Ben Brown's feet that gave him away as a runner.
As he built gingerbread houses in his daughter's classroom at R. Roger Rowe School last December, fellow gingerbread craftsman and ultrarunner Mike Trevino noticed the signs of feet that had put in some serious mileage. Trevino asked Brown "Do you run?" and the two stuck up a conversation, finding out that they both took to running late at night when they had trouble sleeping.
A former Army Ranger and Purple Heart recipient, Brown's sleepless nights came when he couldn't block out the sounds and images of IED explosions, fire fights and putting his brothers-in-arms in body bags. He would throw on his shoes in the middle of the night and run around the golf course until he got tired and his mind quieted, sometimes for three-hour spells.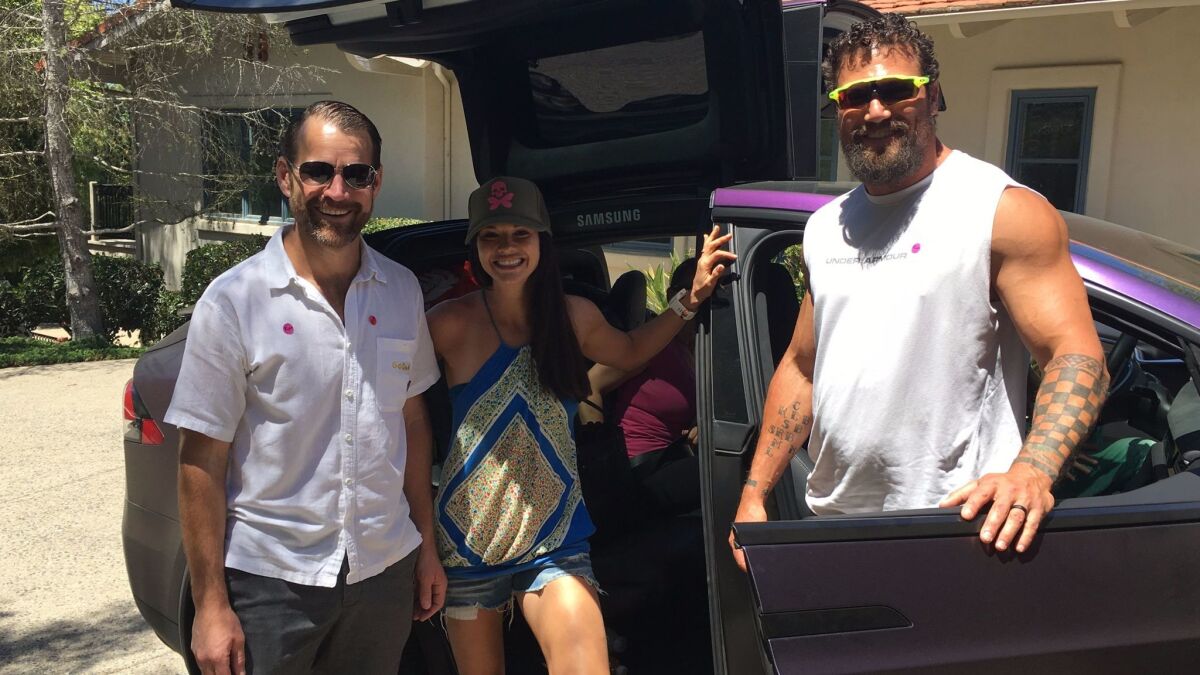 On their first eight-mile running "date" together, Trevino, who once ran 275 miles nonstop down the coast of California and was the winner of the 2001 Badwater 135-mile ultramarathon, asked Brown if he would be interested in running April's 81-mile Badwater Salton Sea race with him. The difficult route covers 81 miles through desert and mountains, from below sea level in Salton City, over Anza-Borrego Desert State Park and finishing with a climb up Palomar Mountain, a total elevation gain of over 9,000 feet. Brown had only run a 50 mile-ultra before but nonetheless he agreed with an "OK cool," figuring he could get himself into shape over the next few months.
Three weeks before the race, the two-man team roped in "someone even crazier" than the two of them: Katya Meyers, a 36-year-old professional triathlete and ultrarunner from Solana Beach. It was a wild idea for Meyers, as well, since the longest run she'd ever done was 50 miles (one 50-mile race came just weeks after giving birth) and she was set to fly to India the morning after the Badwater finish but, nonetheless, she was in.
The lead-up training to Badwater was not ideal for all three runners. Meyers only had the three weeks to train and Brown had to take off the month of February after hurting his achilles tendon. In his six weeks of training Brown got in a 26- and 30-mile run but only two more runs with Trevino, who came down with pneumonia before the race and had to take off the month of March.
The team was able to battle together and finished third in the mixed division and seventh overall in 19 hours and 38 minutes.
For Brown, 35, the race was a chance not only to cross an item off his ultrarunning bucket list but it was also an opportunity to raise awareness and funds for his nonprofit, the 9 Week Warrior Challenge.
At no cost to the veteran, they get nine weeks of personal training, massage, nutritional support/planning, constitutional homeopathic treatment, yoga and acupuncture. After his military service, Brown struggled with Post Traumatic Stress Disorder (PTSD) and traumatic brain injury and at his lowest low was suicidal. He was able to find his "why" that helped bring him out of his lowest point in life-- his wife Chondra, his five beautiful children, coaching sports, running, weight training and helping others.
"Not everyone has had the ability to find their 'why.' I am committed to helping our nation's heroes find their 'why.' We have lost too many, we continue to lose too many, and too many are lost trying to find any solid plan of how to care for their minds and bodies. They need to heal," Brown said. "My whole goal to run the race was to do it because I can. More than a handful of great guys don't have two legs and can't run this race, why not do it for them?"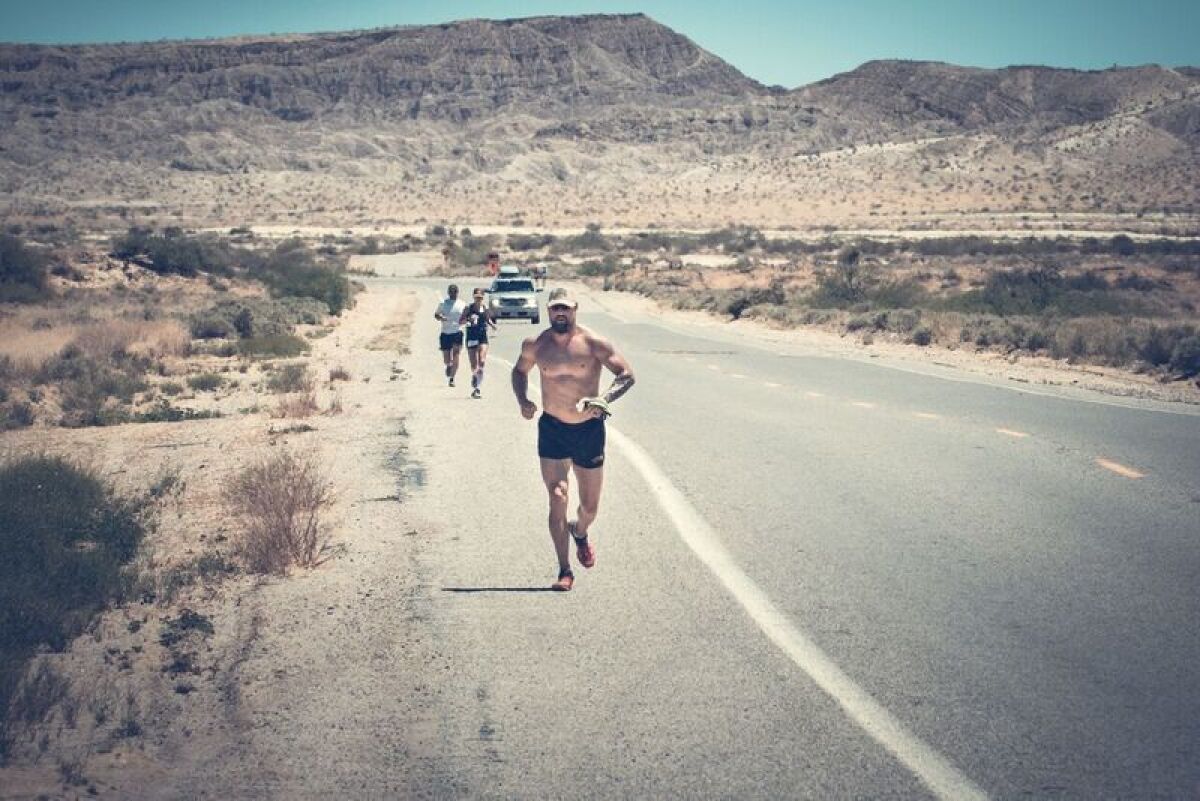 With the Badwater race, Brown raised over $27,000 for 9 Week Warrior.
Fitness has always been a big part of Brown's life. After graduating from Torrey Pines High School, he played lacrosse and participated in Reserve Officers Training Corps (ROTC) at Providence College--he was drawn to the Army's opportunities to jump out of planes at Airborne School, become an expert with demolitions and receive small unit patrol tactics at the prestigious U.S. Army Ranger School.
"Not only did I want to serve, but I felt this calling to serve in the most challenging and dangerous capacity that I was able, as a Ranger," Brown said. "After successfully graduating Army Ranger, Sapper, and Airborne schools, I realized at that point, I had learned more about myself and life in general within that short year than all of my previous 21 years lumped together. I felt confident in any situation that I was placed in."
Brown served as an officer in Iraq, leading a platoon of soldiers, some of whom had been in the Army longer than he was alive. Brown deployed in 2004 and was in Iraq for 15 months straight--he led extremely tough missions that involved removing roadside bombs, enduring daily detonations on his vehicle and patrol. In one incident, he lost his driver after an IED exploded and his patrol came under a small arms fire ambush; in another he had to pull his squad leader out of a burning Bradley assault vehicle. His squad leader survived but he lost his leg.
After he got out of the military in 2010, Brown struggled with flashbacks and PTSD and at his lowest point was considering suicide. He credits his wife Chondra as being his "angel," helping to pull him out of his darkest depths, building him back up and finding his "why" in his family. He has five children and one on the way and is devoted to coaching his kids' sports teams and volunteering at R. Roger Rowe, where he attended himself and his mother Barbara was a teacher for 37 years.
"My 'why' is to be the best dad that I can be and make sure my kids go into this world with confidence and honesty and a concept of service above self, to give back to the community and give back to the planet," Brown said.
Running became an important tool for Brown to cope and heal and find peace.
When not training for an event, he never has a set distance in mind when he goes out for a run, sometimes with his service dog Stella. He just listens to his body and what feels good at the time.
"Running has became a mental, holistic soul-cleansing thing," Brown said. "That's what fitness has turned into for me, more of a mental-type therapy than physical."
After Trevino found about the 9 Week Warrior Challenge, he felt it would be a good 'why' to suffer through the Badwater. This was Trevino's second time running the Badwater Salton Sea---he ran the 81 miles last year as a member of a two-member team.
"Mike told me after the first 20 miles you're not running with your body you're running with your mind," Brown said.
The race started around 6:30 a.m. on April 30. The elevation of the first 40 miles of race is flat but hot--it reached 105 degrees on the road and Brown said the Salton Sea smells of fish bones. The race then goes for about 10 miles on a trail section before the ascent up Mount Palomar.
The team dynamic of the race added complexity because they have to stick together and run the same pace. As Trevino was still feeling the effects of pneumonia, he basically could not breathe by the time the group was about 20 miles into the race.
"He was in bad shape but he rallied. He felt every step of that race," Brown said. "There's no quit in him, he's the most mentally tough person that I know. That guy amazes me."
He described Katya as a "total beast" and also the team's mother--always setting the pace.
"It was cool to see the team dynamic come into play, we stuck together as a team," Brown said. "I felt pretty good. If I was by myself I would've ended up in a lot of trouble because,like a lot of runners,I make the mistake of going out way too fast and hitting the wall. We had a pretty good pace and we slowed down after Mike started puking."
As the rules of the race are that the team members can't be more than 25 meters from each other, they had to work together to finish. They plied Mike with Pedialyte and salt tablets and used a run-walk method as he recovered.
The run-walk was killer on Brown's feet--it hurt more to walk than to run at that point.
At 6'3" and 225 pounds, Brown doesn't have a typical distance runner build. While during the race Trevino and Meyers didn't eat much food, Brown said "What didn't I eat?"---for a man his size, he needed to restore about 400 calories every hour. He slammed about 25 peanut butter and jelly sandwiches and turkey sandwiches, countless Oreos, gummy bears, bananas, dates and avocados--at one point he even ate a cheese pizza rolled up like a burrito.
They all had about 50 salt tablets and went through about five or six gallons each of Pedialtye and water.
Their support crew vehicle on the race included his wife Chondra.
"I was really grateful that my wife could be out there with me," Brown said. "I feel like I'm centered and grounded when she's with me."
It got dark on the racers around 8 p.m. and they strapped on mandatory reflective gear and lights. They crossed the finish line a little after 2 a.m. and earned their Badwater belt buckles and bragging rights. Seven teams that had started the race weren't able to finish.
It's now on Brown's bucket list to run the Badwater 135. Just to get into the race he has to complete two 100-mile races that Badwater recognizes---he is shooting to get into Badwater 2019. He has his friend Trevino to help him get there.
Brown is excited about launching the 9 Week Warrior Challenge and about helping others. The goal is for participants to become certified personal trainers themselves so they can start working for 9 Week Warrior and continue to pay it forward.
"There's nothing else that motivates me more than breathing life into people who come to us completely broken and hopeless. I get emotional talking about it because it's my passion. I love it. There's nothing else that I'd rather be doing," Brown said.
After the race, Brown experienced a lot of swelling and pain in his feet--he lost four toenails and after a late night trip to the emergency room on May 1 was given six IV bags in 45 minutes and nerve blockers from the ankle down, causing him to be on crutches the first day after finishing.
By Thursday, he was finally able to get his blistered and roughed-up feet back into shoes again. He was hurting but it wasn't anything he couldn't handle. He had a lacrosse practice to coach.
For more information, visit 9weekwarrior.com
Get the RSF Review weekly in your inbox
Latest news from Rancho Santa Fe every Thursday for free
You may occasionally receive promotional content from the Rancho Santa Fe Review.