A shop around the corner: Amy Meier opens in Rancho Santa Fe village
Amy Meier, an eclectic new home and gift boutique, has opened up shop in the Rancho Santa Fe village. The shop, located on the corner of Avenida de Acacias and La Flecha, offers bespoke items in a variety of price points and specializes in the unique and one-of-a-kind pieces from exclusive collaborations with artists.
Owner Amy Meier expects the inventory to be ever-evolving but currently her thoughtfully curated selections include furniture pieces, Busatti linens and hand-blown glass vases from Italy, custom art work and lighting, jewelry, ceramics, a large selection of coffee table books, and the very popular and fragrant Maison Louis candles and hand soaps.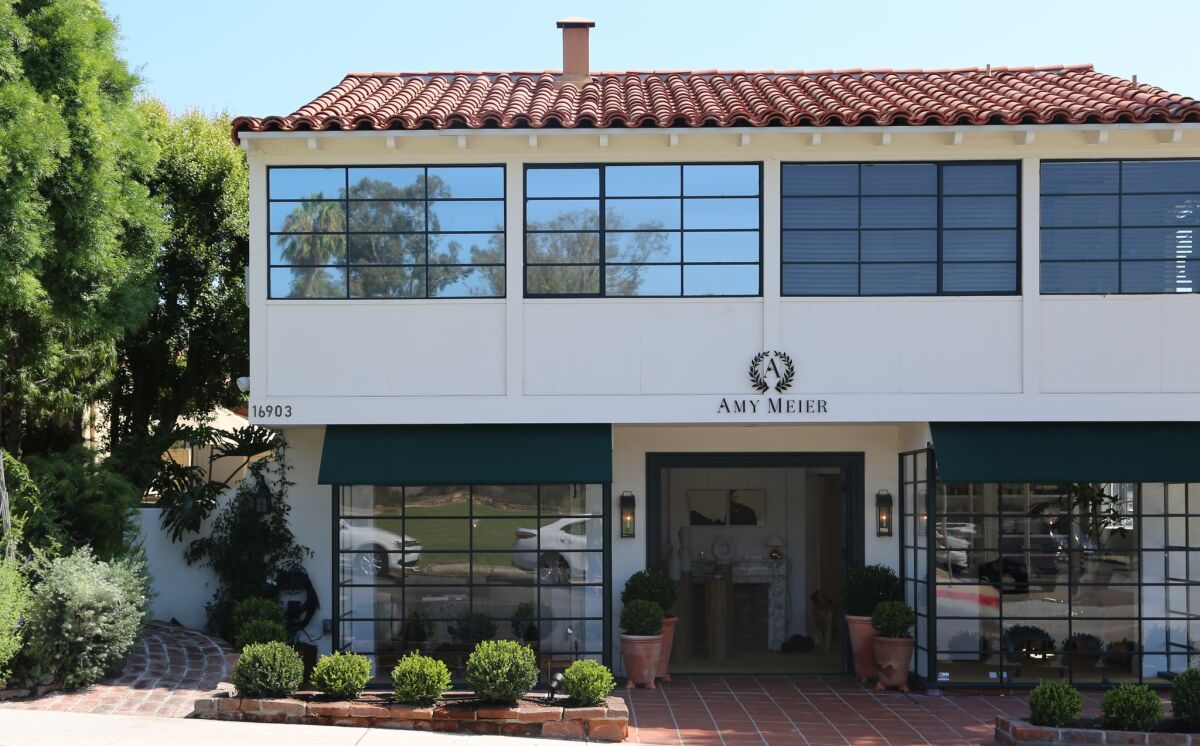 Meier is a local, having lived in Rancho Santa Fe for seven and a half years. Her home is blocks from the village, her two daughters attend R. Roger Rowe School and for many years she had a smaller office for her design firm Amy Meier Design off Via de Santa Fe.
"I love this community and will never leave," she said.
One weekend earlier this year riding bikes with her girls in the village, Meier spotted the "For Rent" sign on the window of the corner space and gasped.
"I immediately went home and started sketching the interior," said Meier, who had always wanted her own shop.She was sold on those big floor-to-ceiling bay windows and the perfect spot next to the flowering Thyme on the Ranch.
Meier comes from a background of fine art and fashion; she earned her bachelor's degree from University of Colorado Boulder and a master's degree in fashion from Parsons School of Design. She switched from fashion to interior design in 2007 when an opportunity arose to work in a Boston design firm, going off on her own as Amy Meier Design in 2009.
Meier said the main reason for the switch from fashion to interiors was for the connection with people. In fashion, she never got to see the people put on the clothes she designed and love what they were wearing. In contrast, designing people's homes from the ground-up, doing renovations and remodels is all about the connections and conversation, "listening leading design."
"Interior design is so relationship driven. Every design is so special for each and every client," Meier said.
Having her own shop allows her to build on those connections she craves and to become a part of her community.
Meier signed the lease for the space in March and took three months to completely redesign the space, formerly a real estate office with navy walls and windows sealed shut. She opened up the windows to bring in more natural light, redid the flooring and walls, and added an antique mantelpiece from McNally's to serve as a focal point of the store.
"It's just a happy space with so much warmth and light," Meier said.
The front serves as the retail space while the back houses her design studio, with its own separate entrance on La Flecha through a welcoming Dutch door.
The arrival of new retail in the village has not gone unnoticed.
On the day Meier moved into the new space on Aug. 1, she noticed a man sitting outside sketching her storefront. The artist, Roger Kyle Lindland, told Meier that his wife Doris had been watching the new boutique as it completed its transformation and thought it would make for a scenic subject for her painter husband. Lindland returned later to gift Meier with his beautiful completed painting, including a note: "We have missed having this kind of establishment that once existed in Rancho Santa Fe," he wrote. "Happy times ahead for Amy Meier and the Ranch."
"It's been so great to feel that community support," Meier said of the sweet exchange.
Meier said she hopes that her arrival will help start a trend for more retail tenants moving into the village that she loves.
Rancho Santa Fe resident Janet Lawless Christ echoed that sentiment, calling Meier's store a "bright shining star" in a village "woefully bereft of retail."
"In creating a beautiful space for interior design and retail, Amy has brought a precious spark of life back to our heretofore fallow village," Lawless Christ said. "I applaud her and will be a huge supporter of her endeavor. May her tribe increase, may other retailers also stake their claim in our village and may our community all support our handful of retail businesses!"
A grand opening celebration for Amy Meier will be held on Thursday, Sept. 27 from 4-7 p.m. For more information, visit amymeier.com
---
Get the RSF Review weekly in your inbox
Latest news from Rancho Santa Fe every Thursday for free
You may occasionally receive promotional content from the Rancho Santa Fe Review.