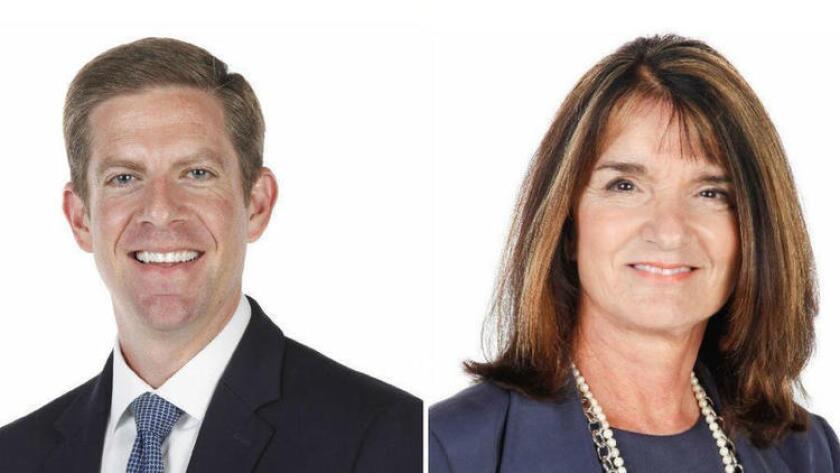 Republican state Board of Equalization member Diane Harkey and Democratic environmental lawyer Mike Levin are running to replace incumbent Rep. Darrell Issa, R-Vista, who decided not to seek re-election, in California's 49th Congressional District, which includes Rancho Santa Fe. Below are interviews with the candidates (in alphabetical order):
Diane Harkey said she initially had no intention of running for the House of Representatives' 49th District seat, despite being urged to do so by the incumbent, Darrell Issa, after he decided against running for re-election.
"I never wanted to run for Congress because I like California," said the Dana Point resident who is the state Board of Equalization's District 4 representative and the group's chairwoman. "I love my home and I love my district, and I also didn't want to move to Washington, D.C."
She changed her mind about entering the campaign, however, based on her feeling that her leadership is needed as well as her success in getting elected. She was voted onto the tax board in 2014 after winning three terms to the state Assembly from 2008 to 2014.
The district she represents on the tax board encompasses the boundaries of the 49th, which stretches along the Southern California coastline from Torrey Pines to the south to Dana Point and San Juan Capistrano to the north.
"I decided it was something I probably could do," Harkey said. "I decided to give it my all because I think we need a real strong person in this district so California gets the representation it needs."
She also believes that the majority of voters in the region do not identify with the message of her opponent, Mike Levin, and other Democrats that the current administration's reign is a disaster.
"People are tired of dysfunction and chaos," she said. "They want to know something is getting done, and they don't like a lot of the negativity. They would like to vote for a candidate they like instead of voting against a candidate they don't like.
"Life is really good in the 49th District. People are working and the economy is great. I'm not so sure it's an easy sell for them that everything is terrible and we've got to impeach and resist."
It would be hard to argue with Harkey's assessment of her chances based on the results of the June primary, when she was the leading vote getter among 16 candidates.
Skeptics, however, point out that Issa's decision not to run motivated a flood of Democratic candidates to enter the primary in a district that had traditionally been a Republican stronghold. As a result, the Democratic turnout was split among that party's candidates.
Harkey won the primary with 25.5 percent of the vote and a lead of a little more than 8 percentage points over Levin, who finished second.
Since no candidate won the primary outright, Harkey and Levin were required to face each other in a runoff election to be decided Nov. 6.
Some polls agencies have shown Harkey trailing Levin in some cases by as many as double-digit percentage points, but she contends her campaign's own assessments of the numbers paint a different picture.
"Considering I'm being outspent (nearly) four to one by my opponent, I think it's going marvelously," she said. 'I'm still in the hunt, which is good. We've done our own internal polling and it's not grim. I'm energized quite frankly."
Billing herself as a tax fighter, Harkey said she will strive in Washington to control and lower taxes, while promoting regulatory policies that promote economic growth, innovation and entrepreneurship.
A change in party leadership, she contends, will be disruptive to the region's economy, which is largely tied to its military presence.
"The economy is booming, and all the impacts that a strong economy can have are benefitting residents and spurring innovation in this district," Harkey said.
She opposes creation of a single-payer health-insurance system and believes it would stifle investments in groundbreaking biomedical and life-science industries that are thriving in the region.
"This district is the Petri dish of everything that is going to be new in medicine," she said. "We don't want to crimp that by starting a single-payer program. ... Doctors are in fact adamant about not wanting a single-payer program."
She would also like to see a sensible immigration reform bill finally approved by Congress.
"We need to stop the drug-running and cartel activity," said Harkey, who had a 30-year career in corporate financing and banking.
Harkey is realistic about the challenge her campaign faces in overcoming anger and animosity generated by many of the president's seemingly tone-deaf statements, particularly about women and minorities.
"I know the president is not well-liked here, but you have to take the good with the bad," she said. "As long as the policies that are rolling out are good, I can handle that. I think if people can enjoy their lives and where they live, that makes a big difference."
Mike Levin had been involved in politics for years.
He had volunteered for campaigns and served as executive director of Orange County's chapter of the Democratic Party.
It wasn't until President Donald Trump's election that Levin decided to run as a Democratic Party candidate for the 49th District House of Representatives seat.
"After the women's (protest) march following Trump's inauguration, my wife Chrissy turned to me and said, 'We're all in,'" the 40-year-old San Juan Capistrano resident said. "Soon thereafter, I announced my candidacy and put together the team."
That was before the district's incumbent Congressman Darrell Issa, R-Vista, the district's representative since 2001, decided against running for re-election.
In 2016, Issa experienced his tightest contest when he barely edged out Democrat Doug Applegate, serving notice that the district was no longer a Republican stronghold.
The 49th stretches along the Southern California coastline from Torrey Pines at its southernmost reach to Dana Point and San Juan Capistrano at its northern border.
Issa's announcement set up a primary election in June in which 16 candidates participated. While the Republican candidate, Diane Harkey of Dana Point, collected the most votes, Levin came in second, setting up the Nov. 6 runoff.
The primary and 2016 election results have fueled optimism among Democrats that their party could claim victory in the upcoming contest. The 49th is one of many seats expected to be hotly contested in a midterm election in which stakes are high in the quest for control of the House and Senate.
To date, polls have been trending in Levin's favor, though Harkey disputes the results.
"We're encouraged," Levin said. "Our message is getting out there and people are paying attention. We're quite pleased by the direction our campaign is heading. We have to continue to be very proactive in executing our strategy and leave no stone unturned between now and Election Day."
Levin has received strong support in both endorsements and financial contributions from Democrats, including former President Barack Obama and the party's political action committee.
In total his campaign had raised nearly $5 million, including the primary, and his committee reported having $1.5 million left to spend as of Oct. 15, the deadline for reporting third quarter expenditures.
"The key here is that we have the resources we need to win and to finish strong," Levin said.
A major thrust in Levin's campaign is his support for developing clean and sustainable energy practices. The plank is a natural tie-in to his career as an environmental attorney and his involvement in several companies promoting clean energy technologies.
"That is so critical because there are those on the other side, whether it's Trump or Republicans, who don't want to acknowledge that you can protect the environment and grow the economy at the same time. Here in California, we've shown that you can have growth while cleaning the air and water."
Levin contends it is critical to have more representatives in Congress fighting for the environment, given what he says is the lack of regard so many of Trump's federal appointees have shown for the issue.
"This president now has an Environmental Protection Agency that doesn't believe in environmental protection, and is trying to bring back asbestos, mercury, lead paint, cancer-causing pesticides and radiation," Levin said. "Somewhere along the way, environmental policy has become partisan politics and it didn't used to be that way."
Another goal of Levin is to strengthen the nation's health care system while opposing the current administration's policy of undoing the mandates for health-care insurance instituted during Obama's reign
"We've got to protect health care," Levin said. "We've got to protect the Affordable Care Act and make sure we have quality and accessible health care available for more people. ... Trumpcare failed. The bill didn't pass, but the damage that they're trying to to the Affordable Care Act continues."
Gun violence prevention is another message point in Levin's campaign, and unlike his opponent, he is not endorsed by the National Rifle Association.
"It's absolutely critical that we get to the bottom of what is causing the epidemic of gun violence in our country," Levin said. "We need fully funded research and we need to promote common sense in gun violence. We do not need another member of Congress who is bought by the NRA."
---