The best things to do this weekend in San Diego: Aug. 24-27
Thursday
"A Weekend With Pablo Picasso": New Village Arts presents Herbert Siguenza in his solo play about the famed Spanish painter reflecting on his life as he paints six canvases. 7:30 p.m. Thursdays, 8 p.m. Fridays, 2 and 7:30 p.m. Saturdays, 2 p.m. Sundays. Through Sept. 3. The Dea Hurston New Village Arts Center, 2787 State St., Carlsbad. $28-$48. (760) 284-4393. newvillagearts.org
"Cry It Out": Moxie Theatre presents Molly Smith Metzler's play about two women facing the challenges and celebrations of new motherhood. 7:30 p.m. Thursdays, 8 p.m. Fridays and Saturdays, 2 p.m. Sundays. Through Sept. 10. 6663 El Cajon Blvd., Suite N, San Diego. $25-$50. (858) 598-7620. moxietheatre.com
Marisi hosting prix-fixe anniversary dinner: Marisi Italian restaurant in La Jolla will celebrate its first birthday with a Prima Festa de Marisi dinner next week. The multi-course meal will be priced at $85 plus optional wine pairings for $45. reservations are limited. 5 p.m. Thursday Aug. 24. 1044 Wall St., La Jolla. marisilajolla.com
Peohe's Duckhorn Vineyards wine dinner: Peohe's restaurant in Coronado will host a five-course dinner with pairings of white and red wines from Napa Valley's Duckhorn Vineyards. Courses for the $135 meal will include fire-charred shrimp, salmon with heirloom tomatoes, short-loin noisette, braised short rib and flourless chocolate torte. 7 p.m. ThursdayAug. 24. 1201 First St., Coronado. Peohes.com
Friday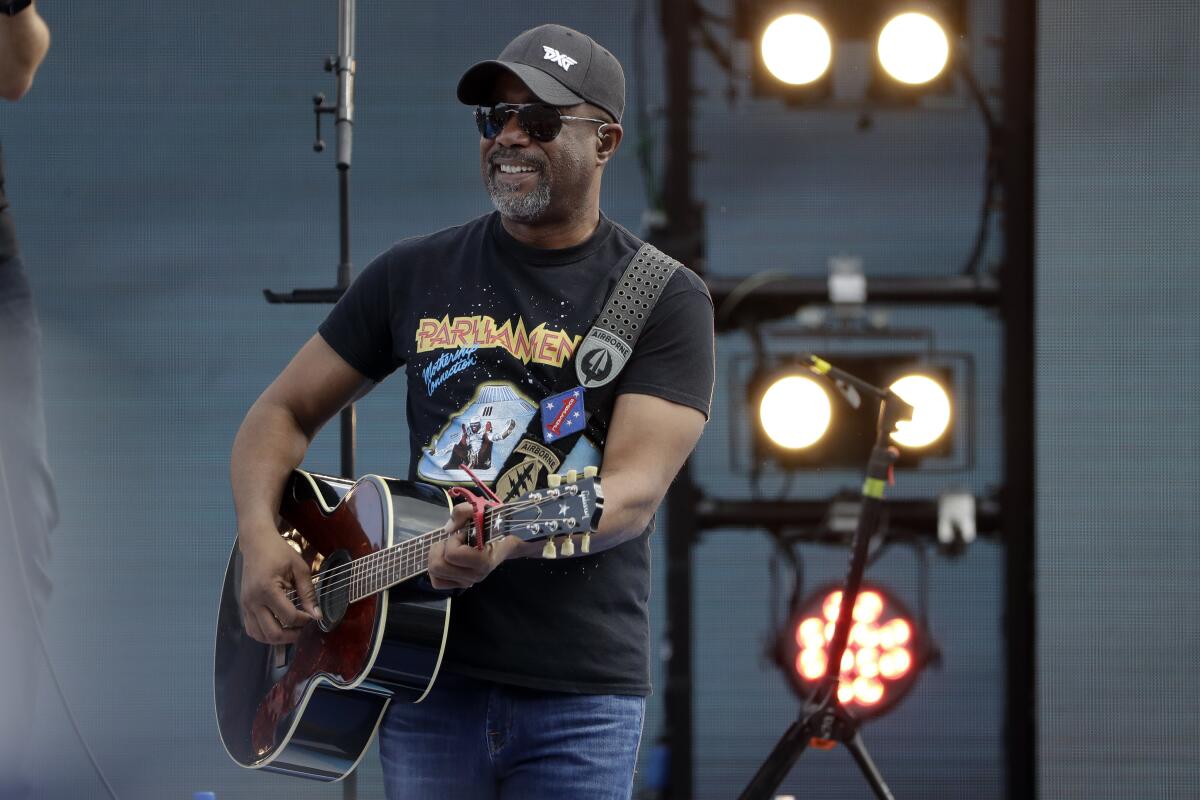 Darius Rucker's Starting Fires Tour: Rucker will bring a combination of new songs and classics to his tour stop in San Diego. His new album "Carolyn's Boy" will be released on Oct. 6. 8 p.m. Friday. Gallagher Square at Petco Park, 840 K St., San Diego. $55-$155.75. ticketmaster.com
The longtime country rocker brings his Starting Fires Tour to Gallagher Square at Petco Park on Friday
Ramona Rodeo: The 42nd annual Ramona Rodeo continues Friday and runs through Saturday night with events like mutton bustin', bareback riding, bull riding and team roping. Each day's competitions will be followed by an after-party. Parking opens at 4:30 p.m., gates open at 5:30 p.m. $20 admission for ages seven and older on Friday, $5 for children ages two to six. $25 for anyone older than two on Saturday. Fred Grand Arena, 421 Aqua Lane, Ramona. ramonarodeo.com
San Diego International Kids' Film Festival: This three-day festival will feature screenings of more than 150 films for family audiences from 30 countries. Events include a red carpet opening and special events. 11 a.m. to 9 p.m. Friday, Saturday and Sunday. Carlsbad Senior Center, 799 Pine Ave., Carlsbad; Schulman Auditorium, 1775 Dove Lane, Carlsbad; MiraCosta College Concert Hall, 1 Barnard Drive, Oceanside; $5 and up. Full schedule of events at sdkidsfilms.org
Taste San Diego Craft & Community Culture: San Diego History Center hosts this ongoing exhibition celebrating local craft beer brewers and featuring beer tastings on the weekends. 11:30 a.m. to 4:30 p.m. today through Sunday. 1649 El Prado, Suite 3, Balboa Park, San Diego. $10.
Italian Summer bar pop-up at L'Auberge: L'Auberge Del Mar and Gallery Blu are hosting two Italian summer-themed paint-and-sip experiences where ticket-holders can paint an Italian coastal landscape and enjoy an an Italian-style drink. Brushstrokes & Bellinis will take place from 5:30 to 7 p.m. Aug. 25, and Palette & Prosecco is scheduled from 5:30 to 7 p.m. Sept. 15. $120 each. laubergedelmar.com
"August: Osage County": Backyard Renaissance Theatre presents Tracy Letts' Pulitzer Prize winning play about a dysfunctional family's problems coming home to roost when the father goes on a walk and never returns. Previews Friday through Sept. 1. Opens Sept. 2 and runs through Sept. 16. 7:30 p.m. Thursdays through Saturdays. 3 p.m. Sundays. Tenth Avenue Arts Center, 930 Tenth Ave., downtown. $18-$40. (760) 975-7189. backyardrenaissance.com
"Nunsense": Coronado Playhouse presents this comic farce about a group of nuns hosting a fundraiser to bury their fellow sisters who died in a toxic soup poisoning. Opens tonight and runs through Sept. 9. 8 p.m. Thursdays and Fridays. 2 and 8 p.m. Saturdays. Through Sept. 9. 1835 Strand Way, Coronado. $24-$30. (619) 435-4856, coronadoplayhouse.org.
"Blurred Vision: Painting in Layers by Gerhard Richter": Oceanside Museum of Art presents a "taste of art" wine reception hosted by Robin Douglas, featuring the artist's multicolored and multilayered paintings. 5:30 to 7:30 p.m. Friday. 704 Pier View Way, Oceanside. $65. (760) 560-6434, oma-online.org
"Broadway Romance": The San Diego Symphony, conducted by Rob Fisher, presents show tunes from "West Side Story," "Carousel," "Brigadoon," "Guys and Dolls" and more with Broadway performers Rob McClure Mikaela Bennett, Corey Cott and Elizabeth Stanley. 7:30 p.m. today. Rady Shell at Jacobs Park, 222 Marina Park Way, Downtown. $22-$100. (619) 235-0804, theshell.org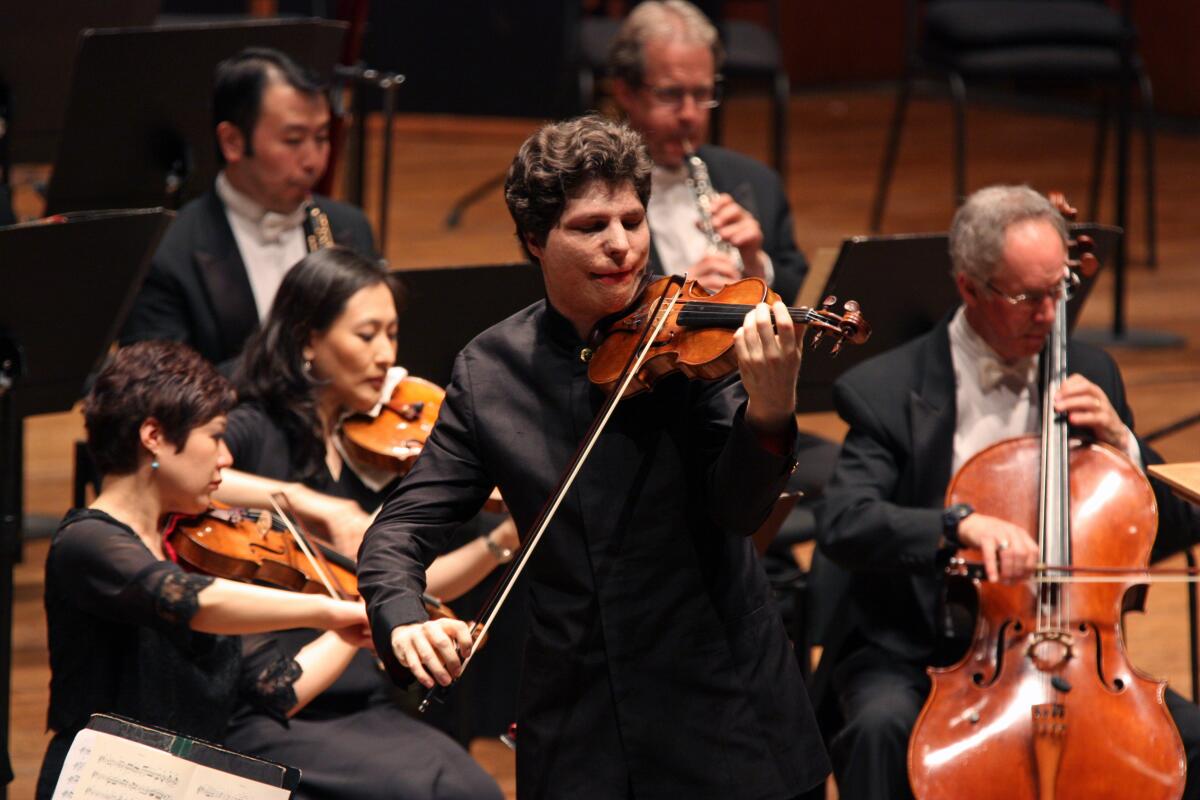 'Unsilenced Voices' featuring violinist Augustin Hadelich
La Jolla Music Society's SummerFest presents works by Schulhoff Mendelssohn, Messiaen and Montgomery composed during times of trial, imprisonment and lockdown, with Anthony McGill, Andrew Wan, Clive Greensmith and more. 7:30 p.m. Friday. Conrad Prebys Performing Arts Center, 7600 Fay Ave., La Jolla. $43-$100. (858) 459-3728. theconrad.org
Saturday
Philippine Cultural Arts Festival: This one-day festival celebrates Filipino culture, entertainment and art. Performances throughout the event will include Rondalla and Kulintang (gong) music ensembles, as well as contemporary dancers, vocalists and martial artists. There will also be visual arts, crafts, books and other vendors and Filipino and Asian fusion food options. 10:30 a.m. to 6 p.m. Saturday. Located in Balboa Park, at the Presidents Way Lawn on Park Boulevard. Free. samahanarts.org
In the Air Tonight: A Symphonic Celebration of Genesis and Phil Collins: San Diego Symphony conducted by Stuart Chafetz, presents rock and pop songs by the English music artists, featuring vocalists Aaron Finley and Brook Wood and drummer Brian Kushmaul. 7:30 p.m. Saturday. Rady Shell at Jacobs Park, 222 Marina Park Way, Downtown. $22-$7-$87. (619) 235-0804, theshell.org
Brick Fest Live: Lego fans are invited to an exhibit and merchandise event at the San Diego Convention Center, where life-size models made with more than 1 million Lego brings, as well as hands-on attractions like a 200,000-brick crawl pit, Lego car derby races, and hard-to-find Lego sets. During the event, there will be an attempt to set the Guinness World Record for creating the world's largest mosaic out of Lego bricks. 9 a.m. to 5 p.m. Saturday and Sunday. 111 Harbor Drive, San Diego. $16.99-$37.99. brickfestlive.com
Taste of Barrio Logan: Barrio Logan Association and All for Logan present this first-time event with a tasting and experience self-guided tour of 36 restaurants, coffee houses, bakeries, breweries, museums and galleries. Noon to 4 p.m. Aug. 27. $40 in advance, $50 on day of event. (619) 519-0765, allforlogan.com
San Diego Fall Home Show: Browse through dozens of home improvement booths with interactive elements to learn about state-of-the-art products and meet with professionals. 10 a.m. to 6 p.m. Saturday and Sunday. 111 Harbor Drive, San Diego. Free. Reserve tickets at https://tinyurl.com/4mv9j3kf
Yoga at the San Diego Botanic Garden: Surround yourself with plant life while stretching your body and senses at this yoga class. Bring your own mat, towel and sunscreen and be mindful that this is an outdoor class with limited shade. 9 to 10 a.m. Saturday. San Diego Botanic Garden, 300 Quail Gardens Drive, Encinitas. $10 for members, $24 for general admission. https://tinyurl.com/yzrcxdhm
San Diego Children's Poetry Festival: San Diego Public Library will host a free poetry workshop for children ages 6 to 12. 1:30-2:30 p.m. Saturday. San Ysidro library, 4235 Beyer Blvd., San Diego. Registration required by 6 p.m. today. (209) 988-3270 or lhinrichs@sandiego.gov.
Summer Surf Fest at One Paseo: This annual event celebrates surf culture with a surf rock band, life surfboard shaping, surf and more. Kids beach games, a craft beer garden, classic car show and beach merchandise will also be available. 11 a.m. to 4 p.m. Saturday. Caminito Court. Free. onepaseo.com/events/summer-surf-fest
Free dance classes: Connect with different styles of contemporary dance at these free classes from The Rosin Box Project and San Diego Dance Theater. Noon to 2 p.m. Saturday. San Diego Dance Theater's Light Box Theater, 2590 Truxtun Road, Suite 205. Register online: wellnessliving.com
Sunday
Santosha Food Festival: Helia Brewing Co. will offer unlimited tastings of vegan dishes prepared by local chefs, live music, sustainable vendors and more. 1 to 5 p.m. Sunday. 1250 Keystone Way, Vista. $37-$40. santoshanutrition.com/upcoming-events
Ongoing events
'The Merry Wives of Windsor': The Old Globe presents William Shakespeare's comedy about Falstaff's failed attempts to seduce two married women for their money presented in the style of a 1950s TV sit-com. 8 p.m. Tuesdays through Sundays. Through Sept. 3. Lowell Davies Festival Theatre, The Old Globe, 1363 Old Globe Way, Balboa Park, San Diego. $29 and up. (619) 234-5623, theoldglobe.org
"Cotton Patch Gospel": Lamb's Players Theatre presents Tom Key, Russell Treyz and Harry Chapin's musical adaptation of Clarence Jordan's translations of the New Testament set in modern-day Georgia. 7 p.m. Tuesdays, Thursdays and Fridays; 2 and 7 p.m. Wednesdays and Saturdays; 2 p.m. Sundays. Through Sept. 3. 1142 Orange Ave., Coronado. $28-$82. (619) 437-6000, lambsplayers.org
"Evita": Cygnet Theatre presents the Andrew Lloyd Webber musical about the life story of Argentinean first lady Eva Peron. 7 p.m. Wednesdays through Saturdays, 2 p.m. Saturdays and Sundays. Through Oct. 1. Cygnet Theatre, 4040 Twiggs St., Old Town State Historic Park. $37 and up. (619) 337-1525, cygnettheatre.com
Get the RSF Review weekly in your inbox
Latest news from Rancho Santa Fe every Thursday for free
You may occasionally receive promotional content from the Rancho Santa Fe Review.