March 9: Local and regional events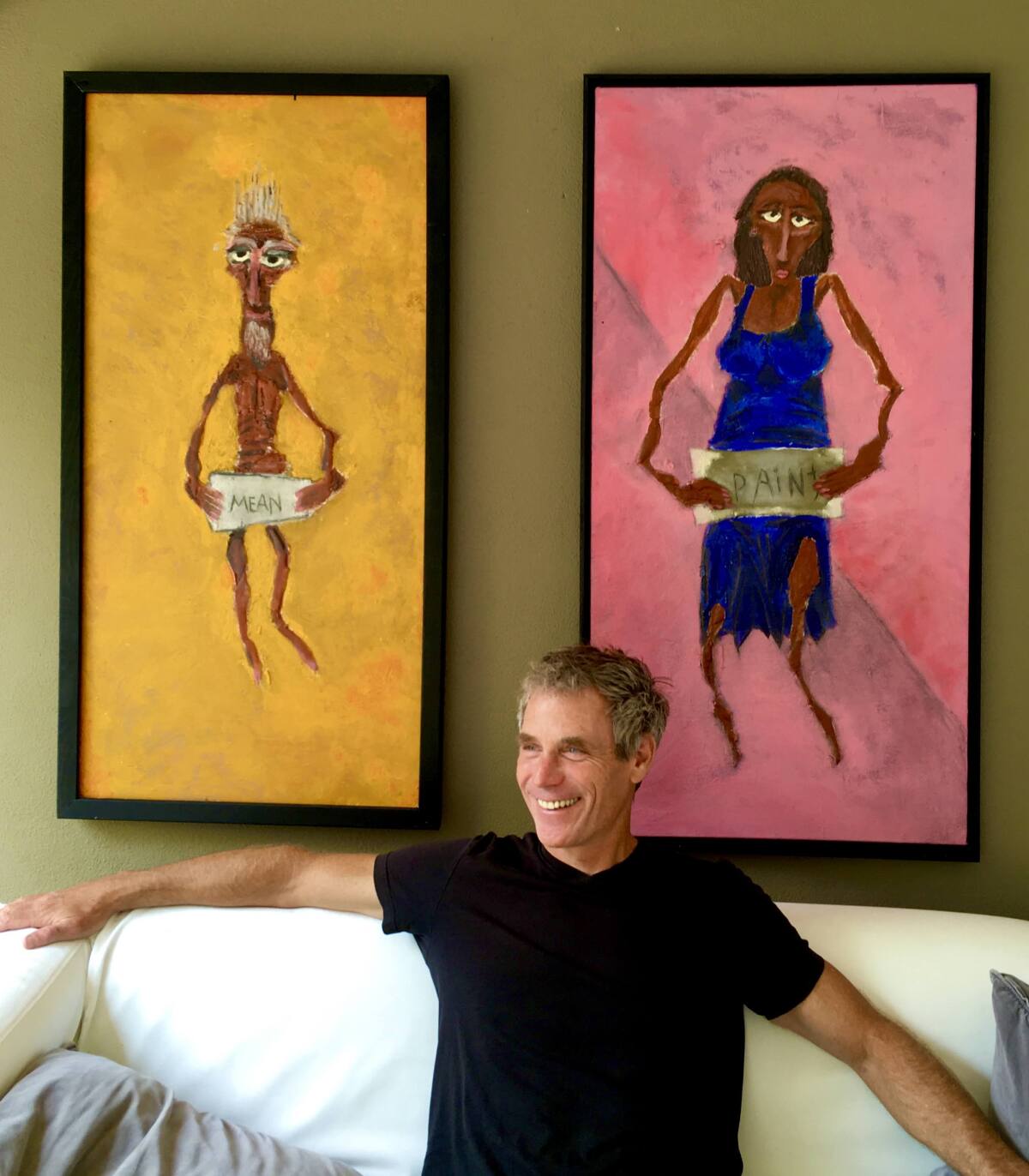 New art show by The Creative Collective features work by accomplished artist Max Roemer
The Creative Collective presents work by renowned Encinitas-based artist Max Roemer, the latest show by the artist group that has become an exciting addition to San Diego's art and gallery scene.
Roemer is a German-born contemporary painter and sculptor who is known for his expressive use of found materials and natural objects. Roemer describes his work as "letting things become what I imagine them to be: trees turned to figures and animals, portraits and icons from sawdust and sand."
The artists' reception is held Saturday, March 11, from 1 p.m. to 6 p.m., with a live raffle. The Collective hosts new shows monthly and openings the second Saturday of each month.
The gallery is located at Flower Hill Promenade, 2720 Via De La Valle, Del Mar, 92014, and open Friday, Saturday, 1 p.m. - 6 p.m. or by appointment. To arrange for your private tour, TEXT Nicholas 858-205..4731
Visit www.sdcreativecollective.org for more information.
RSF Republican Women to hold meeting featuring guest speakers and more
Rancho Santa Fe Republican Women Federated invites like-minded women to attend its monthly meeting on March 15 at 12 p.m. (check in is at 11:30 a.m.). Join the event for lunch as attendees hear from George Hernandez, community liaison for the North County Sheriff's Dept., where he will address many of today's concerns for the community such as safety, the fentanyl crisis, homelessness, crime, and more.
The event will also feature guest speaker Michelle Rotsheck, regional director, California Federation of Republican Women. Learn more about the CFRW/NFRW, the largest women's organization in the United States and how you can get involved. The next presidential race is approaching quickly. To get involved and make a difference, attend the next meeting.
RSVP by March 13 at RSFRepublicanWomen@gmail.com
Location: Morgan Run Club & Resort located at 5690 Concha de Golf, Rancho Santa Fe.
Lunch Program: Check in at 11:30 a.m. Cost: $35 (healthy salads and wraps, fruit, deserts, and beverages).
Learn about climate change, how it is impacting water supplies, and more at event in Solana Beach
Solana Beach Friends of the Library and Solana Beach Community Connections will again co-sponsor a very timely and important topic on March 21, 6 p.m. at the Solana Beach Library.
The presenters will be Alex Tardy, senior meteorologist at National Oceanic and Atmospheric Administration (NOAA) and Al Lauw, PE, general manager, at Santa Fe Irrigation District.
Water is a precious resource. Without water there is no life. The changing climate will have long-term impacts on this vital resource, both locally and statewide. Climate change is exacerbating "weather whiplash" in California – where the state will increasingly suffer years of prolonged, extreme drought followed by great biblical gushers of precipitation. Residents will need to adjust to a climate of opposing calamities – a climate of both megadroughts and atmospheric rivers, of far too little and far too much. At the March 21 "Friends Night Out" event, learn about how climate change is impacting weather and water supplies, and how local water agencies are preparing for the challenge and what you can do to help.
There is no charge for this event. Free parking is available in the Earl Warren Middle School lower parking lot at 157 Stevens Avenue. No reservation is required.
Local author to present fun storytime event for kids
Phyllis Schwartz, author of "When Mom Feels Great, Then We Do Too", will hold a fun-filled story circle event for kids of all ages and their caregivers at the Encinitas Library (Community Room) on Saturday, March 11, at 10:30 a.m. All are welcome to enjoy this heartfelt story of when parents don't feel too well and how children can shine bright on cloudy days. Following the reading, children will have the opportunity to create their own wacky hats and partake in a Motown dance party.
The Encinitas Library is located at 540 Cornish Drive, Encinitas; 760-753-7376.
Intro to Pickleball
The Pacific Highlands Ranch Recreation Center is hosting an Introduction to Pickleball series, a chance to come learn everything you need to begin playing the sport. The first sessions will be held March 13 and 20, session two on April 17 and 24 and session three on May 15 and 22. Bring a paddle if you have one, if not they will have paddles to spare. All sessions will be 5:30-6:45 p.m. in the gym. $20. Registration is required at SDRecConnect.com. PHR Rec Center is located at 5977 Village Loop Road.
Date Night for a Cause
The Belly Up will host the 11th annual Date Night for a Cause on Saturday, March 11, Featuring Atomic Groove, the concert benefits the Orthopedics Institute and Scoliosis Research at Rady Children's Hospital. The show will be 6:30 to 11 p.m. for ages 21 and up. For tickets, visit bellyup.com.
The War and Treaty at the Belly Up
Trailblazing husband-and-wife duo The War And Treaty will perform at the Belly Up on Thursday, March 23. The bluesy, soul, gospel, country and rock-and-roll duo composed of Michael Trotter Jr. and Tanya Trotter will stop in Solana Beach on their nationwide tour promoting their new album "Lovers Game". The War and Treaty have partnered with PLUS1 so that $1 per ticket goes to supporting the Alzheimer's Association and their work leading the way to end Alzheimer's and all other dementia.
For tickets, visit bellyup.com
Civic Youth Orchestra to present two upcoming events
The Civic Youth Orchestra (CYO) will hold two big events for the month of March. The CYO Spring Showcase Concert will take place on Sunday, March 19, at the California Center for the Arts, Escondido, featuring all of its ensembles. The CYO High School Orchestra Invitational Festival will follow on Tuesday, March 28, at the California Center for the Arts, Escondido Concert Hall, featuring five high school orchestras and the CYO Symphony.
Visit www.civicyouthorchestra.org for tickets and more information.
Batiquitos Lagoon presentation: 'The Great Pacific Garbage Patch'
Batiquitos Lagoon will hold a presentation on March 11 at 10 a.m. titled "The Great Pacific Garbage Patch" by Dr. Jenni Brand, who is a climate scientist at King Philanthropies. Her research reveals there is a lot more plastic waste out there than known. Learn about the lasting impacts of daily use of plastics. This free family event is good for ages 12+. Meet at the Nature Center, 7380 Gabbiano Lane, Carlsbad. For more information, visit www.batiquitoslagoon.org.
'A Mindful Walk' starts at Torrey Pines State Natural Reserve
The Torrey Pines Docent Society will hold "A Mindful Walk" at Torrey Pines State Natural Reserve every Sunday from 8 a.m.-10 a,m, starting March 12. This free guided walk invites visitors to slow down, connect to their senses, breathe and be fully present in nature.
Participants will meet at the Visitor's Center near the Torrey Pines State Natural Reserve upper parking lot. Visit torreypine.org for more information.
All vegan food market to be held in Encinitas
Moonlight Marketplace, @moonlightmarketplace, in conjunction with Vegan Depot, @vegandepot_events, will host the inaugural all vegan market featuring vendors who specialize in vegan food, organic produce and vegan food products. Vegan Depot will take place on Saturday, March 11, at Moonlight Marketplace, 459 South Coast Hwy. 101, Encinitas, from 10 a.m. to 4 p.m. Vegans and non-vegans are all welcome. Free of charge.
Moonlight Marketplace is the outgrowth of the Los Angeles Silverlake Flea and Vegan Depot, an offshoot of Corona's popular vegan eatery, Organic Junkie. After the closing of Organic Junkie, owner Christina Bohannon started Vegan Depot with the intent to bring the world of vegan food to various Souther California communities.
Photo contest calling for submissions
The nonprofit San Diego Floral Association is running a photo contest on "The Power of a Single Flower" for both amateurs and professionals. The winning photo will be featured on the front cover of San Diego Floral's magazine California Garden in the July/August 2023 issue. Deadline for submissions is March 31. Entry fee supports the nonprofit's programs. Visit sdfloral.org —SD Union-Tribune report
Rooftop Cinema Club presents new season of events
Rooftop Cinema Club Embarcadero at the Manchester Grand Hyatt, San Diego's iconic outdoor cinema with never-ending views of the downtown skyline, will reopen its doors to the public on March 16. Tickets are on sale and opening night will showcase one of RCC's most-popular films of all-time, the San Diego-set Top Gun, featuring the ageless Tom Cruise. It's the first of more than 100 films queued to light up the LED screen at Rooftop Cinema Club in March and April. Tickets and information are available at rooftopcinemaclub.com/embarcadero.
Operation HOPE-North County golf tournament fundraiser
Operation HOPE-North County will hold its 1st annual golf tournament, Swing into HOPE", celebrating 20 years of service to the community providing safe shelter to families experiencing homelessness and food insecurity.
Join the event on Friday, March 17, at the St. Mark golf course in Lake San Marcos. Registration is open and includes a cart with GPS, lunch and a gift bag. Fun contests include "Longest Drive, Closest to the Pin, and a Putting Contest." Fun silent auctions and raffles will be available. All proceeds will benefit families with children and single women in shelter at Operation HOPE-North County and after care services through the Pantry of HOPE.
For more information and to register for the event visit operationhopeshelter.org
'World of Orchids' showcase at San Diego Botanic Garden
San Diego Botanic Garden (SDBG) will hold the third annual spring orchid showcase, World of Orchids, running Saturday, March 11 through Sunday, April 9. The exhibition will be staged in the state-of-the-art, 8,000-square-foot, glass-enclosed facility, the Dickinson Family Education Conservatory, by SDBG's highly-awarded Artist-in-Residence René van Rems, AIFD, who serves as creative director for the exhibit for the third year in a row.
Reservations are required. Entrance to the exhibition includes access to the vendor booths and the rest of the Garden's 37 acres during the same visit. For more information and to reserve an entrance date and time, visit sdbg.org/world-of-orchids
TinyFest California shows off small homes
The Del Mar Fairgrounds hosts TinyFest California from 10 a.m. to 5 p.m. Saturday, March 11, and March 12. Meet tiny-home builders and van conversion specialists, talk with homeowners who have "gone tiny," hear expert speakers and tour tiny houses, van conversions, backyard cottages (ADUs) and more. The event includes vendors, live music and entertainment. Tickets $20 adults, free for ages 15 and younger. Visit tinyfest.events/california-san-diego-2023
Poway Symphony Orchestra Concert to feature American music and the Chestnut Brass Company
The Poway Symphony Orchestra (PSO) recently announced that its first concert of 2023 will take place on Sunday, March 19, at 4 p.m. at the Poway Center for Performing Arts. It will offer a program of all American music with a special appearance by the Chestnut Brass Company.
"American Extravaganza" will feature Five of a Kind for Brass Quintet and Orchestra, an upbeat piece composed by Peter Schickele, renowned composer and parodist, perhaps best known for his humorous fictional alter ego P.D.Q. Bach. To open the concert the orchestra will play An American Salute by Morton Gould and Appalachian Spring by Aaron Copland.
"This will concert will be very light and fun," said PSO Conductor John LoPiccolo in a news release. "The program includes some of the most popular American music and a unique opportunity to hear a brass quintet and full orchestra playing together. We're delighted to be joined by the Chestnut Brass Company – they're absolutely fantastic."
Tickets for the March 19 concert are now on sale at powaycenter.com or by contacting the Poway Center for the Performing Arts box office at 858-748-0505.
For more information about the Poway Symphony Orchestra and upcoming concerts, visit www.powaysymphonyorchestra.org.
Events at the Del Mar Fairgrounds
A variety of events are being held this month at the Del Mar Fairgrounds. For more information, visit delmarfairgrounds.com/events-calendar/
San Diego Symphony presents three Music Connects Concerts this spring
The San Diego Symphony is bringing back its Music Connects series this spring with three unique concert offerings that will focus on topics like music of the Americas, the connections of music across time, and folk traditions. Each year, as part of its commitment to the region, the San Diego Symphony presents free one-hour concerts in local theaters and community centers. This spring's events will feature conductors Andrés González and John Lidfors, and musicians from the San Diego Symphony Orchestra performing classical works, interspersed with conductor-led musicological introductions.
Music Connects Concerts this March and April will take place at The Front Arte Cultura gallery amidst their current exhibition by artist Katie Ruiz, on the campus of Southwestern College in Chula Vista, and at the Live & Up Close Theater at Sycuan Casino Resort.
For more information on the concerts, visit www.sandiegosymphony.org. To reserve a seat for a Music Connects performance, visit www.sandiegosymphony.org/performances/list/

Get the RSF Review weekly in your inbox
Latest news from Rancho Santa Fe every Thursday for free
You may occasionally receive promotional content from the Rancho Santa Fe Review.