Jennifer Brokaw to speak on 'values-based' medical care at Rancho Santa Fe event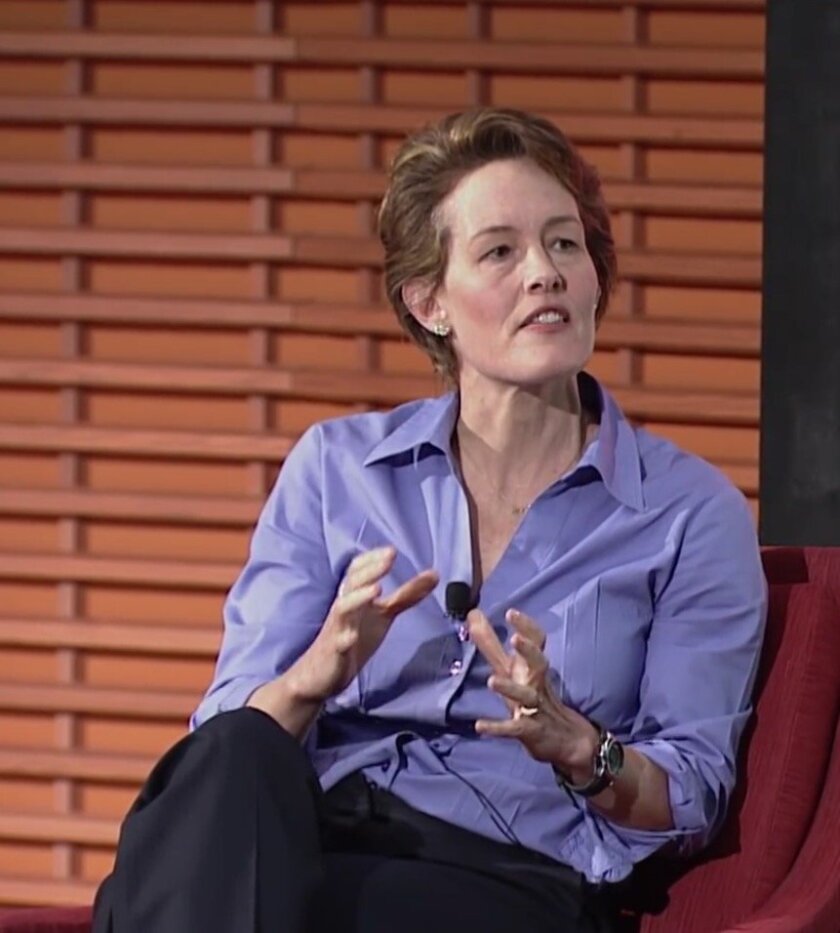 Jennifer Brokaw, M.D., a board-certified emergency care physician, patient advocate and daughter of award-winning television anchor and author Tom Brokaw, will speak at the Rancho Santa Fe Golf Club at 2 p.m. Oct. 1.
Her presentation speaks to the importance of having those important "What If?" conversations with our friends, our children and our own parents.
Dr. Brokaw was invited to speak by Cora Tellez of AmazingCARE Network (ACN), an organization that encourages people to plan for, talk about, and thrive through the health challenges that we encounter as we move through our lives.
Tickets are available for the event, an afternoon tea, at www.AmazingCareNetwork.com or on Facebook/amazingcarenetwork. Tickets are free for ACN members, $38 for a Friend of ACN or $50 for the public. Information is also available by calling 858-756-1480.
Interviewer Erin Weidner has heard Brokaw speak before, has seen her TEDx talks on YouTube (search for Jen/Tom Brokaw, as there are several) and wanted to talk with her about her upcoming visit to Rancho Santa Fe. Her hope was that if RSF locals have a better idea about her topic, her presentation won't be missed by those who so need to hear her message — to hear the terminology and structure we can use with our loved ones:
Can you tell us a little bit more about values-based medical care, and how this is changing the landscape?
Brokaw: Value-based medical care has two meanings. The government now has a push for "value-based" medical care, not the "values-based" term that I've used. Value-based medical care is a term that is being bandied about, because Medicare is trying to change, or realign, the incentives for hospitals and physicians to give better quality of care. They're not just paying for procedures, or for hospital days, they are actually paying for outcomes now. That is the general, "value-based" medical care term in use. Unfortunately, this has turned into more of a financial term, an economic tool to reimburse Medicare — a lump sum with penalties. It's certainly related to values-based medical care, but quite different.
When I am speaking about "values-based" medical care, this is the idea that your individual values, your persona, and your individuality should be taken into account when you are seeking treatment. Your provider, the people who are offering options for your medical treatment and care, should be aware of what you want to accomplish — what your fears are around your life and the direction your health may go; what compromises you would be willing to make; and what compromises you would not be willing to make.
These decisions need to be made before any treatment plan is recommended, because we're not (all alike). What bothered me a few years ago when the human genome was elucidated, was the talk about "personalized medicine." This meant, according to the people who were coining the phrase, that you would be treating disease according to the genes that you have. San Diego is a hotbed for genomic medicine. Thankfully, this terminology has now shifted to a "precision medicine" label, which is much more appropriate.
To me, personalized medicine means that you're looking at the whole person, their values, their goals, their fears and their past experiences. You're providing counsel and shared medical decision-making according to those values. And that's well beyond what you can discover from looking solely at a genomic sequence.
Yes, the person as a whole. Can you tell me about what a day might look like in your patient advocacy work?
Brokaw: I am not currently doing patient advocacy ... so I am referring that to other practitioners. Good Medicine (my patient advocacy practice) was open for about 5 1/2 years. People usually came to me in a moment of crisis or urgency. It was either someone close to the patient, or the patient. It was often the caregiver for a loved one that would contact us. Generally it was around either a feeling the doctors they were seeing were not quite "getting it," were not understanding what their goals were. The family felt like something was missing, and that is often what created the paranoia and fear within the family unit, around the quality of the medical care they were receiving. Ninety percent of the time, when I would review what was being done medically for our clients, it was spot-on. It was a rare thing for me to find that someone was actually negligent, very rare.
They needed the comfort of knowing that someone who "knows what's going on" is taking a look at it, and thinks the care was appropriate, a confirmation?
Brokaw: Yes, but the breakdown was really in the communication, not the care. I think that most physicians have not had formal training on how to communicate well with families and patients around difficult topics like a serious medical illness, or end-of-life issues. Communicating a prognosis or guidance to families needs to be at the right time, when they are ready and able to hear it. That's just not taught in medical school, so most physicians are not skilled in it. This leads to the breakdown in communication and trust. This is where people feel like they need a physician advocate, when really what they need is a communication facilitator. That's a lot of what I did.
What are you doing now?
Brokaw: I am speaking quite a bit. I've had a couple of high-profile talks, one in 2010 at TED and then I was invited to Chicago Ideas Week two years ago, their version of TED, and gave a talk there. I've subsequently been invited to do a lot of speaking. My dad and I were just the featured speakers at Chautauqua Institution, a 100-year-old academic retreat in the Berkshires. We somewhat repeated what we'd done in 2010, but in the interceding years my dad was diagnosed with cancer, and has written a book about his experience ("A Lucky Life Interrupted: A Memoir of Hope"). We had an updated conversation on stage in front of about 1,500 people. We spoke about his illness and his journey, my role as an advocate, and what I feel every family should be doing before illness strikes.
The "What if?" conversation? How have you seen this important conversation change lives?
Brokaw: I feel evangelical about this message. I'm also working on a web-based platform to give people access to advocacy and advocates, so this is where ACN and my efforts dovetail nicely. My focus is to help people get organized for care, and we're getting them to local providers of services. We're getting them to geriatric care providers, an elder care attorney and financial advisers to help families get organized around care and be able to execute their wishes in calm fashion; to be able to take control early on and not find themselves in a hair-on-fire moment.
While they're dealing with the trauma of a diagnosis and an illness?
Brokaw: There's an article in JAMA in 2013 that looked at 1,000 people who were admitted to the hospital over age 55, and the findings were dramatic. Within 48 hours of getting admitted to the hospital, almost half of these patients needed help with a major medical decision; of those, another half needed help with that decision, they were unable to make that decision for themselves; and a quarter of those seniors needed every decision made for them.
Those figures really reflect my experience in health care (as an emergency room physician). I felt that JAMA article alone was a call to action. I use it as my personal motivator to get this platform functioning. I think people are unprepared to make decisions, and when they have to make decisions on behalf of someone else, it's an incredibly emotionally packed decision — with lasting ramifications for the decision-maker also, not just the patient.
I'm really clear that we need to do a better job of helping families and caregivers make those decisions. Let's face it, it's always the women. Seventy-five percent of the time it is the woman who is put in that position, and usually it was a daughter.
I agree that we need to begin to have these conversations, and I am excited for others to hear you.
Brokaw: I'm an OK speaker, but the topic is so rich, what I find is that the interaction with the people listening, there are always such good questions and people offering insights that always enhance what I have to say.
What do you hope attendees will take away from the tea, from the afternoon?
Brokaw: I hope that people will walk away feeling more engaged, more empowered with their health care, and motivated to take the steps needed to get organized, or at least review what directives they have in place often for decades. Maybe take the time to augment those directives, make them a little more meaningful for the decision maker, to review who their medical decision maker is. I'm going to speak to what makes a good medical decision maker. I think a lot of people have named their spouse, and often as we age, our spouses are aging with us and that person is not necessarily going to be the best able to make decisions.
We'll walk through the criteria for what makes a good "agent," as I really want people to think about who their decision maker is, beyond what is written on their living will, often a document written with their attorney many years or decades ago. I hope I motivate people to write a letter or a note to their decision maker that incorporates some of the important facets people need to make clear, in the case of their inability to make their own health care decisions.
My last question is personal. As a daughter of a dad who watches my work as well, I wanted to ask you, what does your dad think about the work that you do?
Brokaw: Oh, he's unbelievably proud. I think he's taken it on himself, particularly since he's become ill, to use his disability, and his stature, to get the message out. He's been truly incredible and opened the door to great opportunities. When he published his book, he talked about the work I do when he was being interviewed in a national forum. I'm truly grateful to my dad for having the courage to expose his own fragility and his ordeal in a way that has humanized this for a lot of people. Hopefully, it will motivate people to think about what they would want.
Tickets are available for the 2 p.m. Oct. 1 Afternoon Tea at the RSF Golf Club online at www.AmazingCareNetwork.com or on Facebook/amazingcarenetwork. Tickets are complimentary for ACN members, $38 for a Friend of ACN or $50 for the general public. Additional information is available locally by calling Erin Weidner at 858-756-1480.
---
Get the RSF Review weekly in your inbox
Latest news from Rancho Santa Fe every Thursday for free
You may occasionally receive promotional content from the Rancho Santa Fe Review.