Feb. 16: Event briefs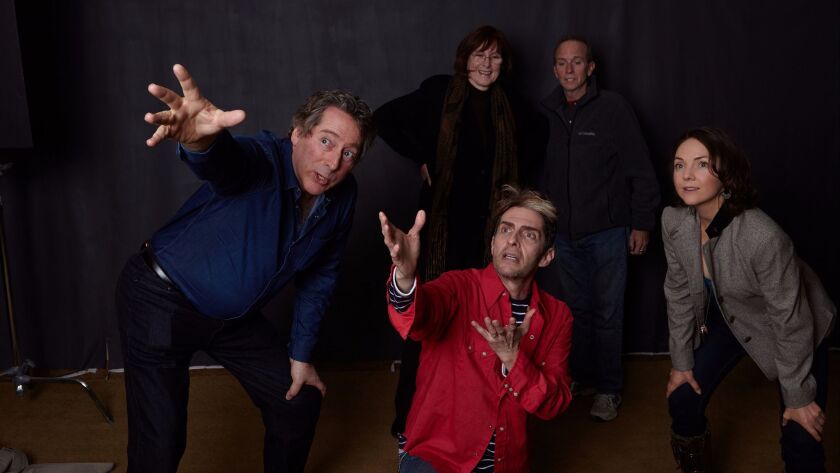 'The Illusion' coming to North Coast Rep
North Coast Repertory Theatre will present The Illusion, hailed by The New York Times as "Fantastical…takes your breath away." Legendary playwright Tony Kushner (Angels in America) displays his brilliance in this wildly inventive tour de force, which celebrates the magic and illusory nature of theatre.
The Illusion previews begin Wednesday, Feb. 22. Opening Night is Saturday, Feb. 25 and the show runs through March 19. North Coast Repertory Theatre is located at 987 Lomas Santa Fe Drive, Solana Beach, 92075. Call 858-481-1055 or visit www.northcoastrep.org to purchase tickets.
Women's Health Symposium Feb. 25
The public is invited to attend a complimentary Women's Health Symposium that will provide valuable insight on important women's health issues. The event takes place on Saturday, Feb. 25, starting at 9:30 a.m. at Saint Spyridon Greek Orthodox Church, Cypress Room, 3655 Park Boulevard, San Diego. A light lunch will be served.
The event begins with a "Mindful Movement." Attendees interested in participating should dress in active wear and bring a floor mat.
At 10:30 a.m., Susan G. Komen San Diego will offer a presentation on the many free services they provide benefiting women with breast cancer and where the money goes raised from their fundraising and sponsorship efforts. Breast cancer survivors will share their personal and inspirational stories.
Following, Dr. Althena Philis-Tsimikas, vice president of the Scripps Whittier Diabetes Institute at Scripps Health and director of Community Engagement for the Scripps Translational Science Institute, will discuss metabolic disorders, pre-diabetes, diabetes and thyroid disease.
Reservations are required. Please RSVP by Feb. 21 to 858-405-8592 or imylonas7@gmail.com.
Seaport Village presents Spring Busker festival
Seaport Village invites visitors from near and far to experience the most bizarre, colorful and entertaining street performers at its 11th annual Spring Busker Festival. On Saturday, March 4 and Sunday, March 5, fire breathers, sword swallowers, stilt walkers and contortionists will travel from all over the world to excite and amaze during a spectacular weekend of live street entertainment. The free festival runs from noon to 6 p.m. each day, bringing incredible energy and unforgettable acts to San Diego's historic waterfront.
Come nightfall, Seaport Village will let performers loose for Buskers After Dark on Saturday, March 4 from 7 to 10 p.m. This untamed show will feature a DJ, food and drink specials and busker acts best suited for those over 18.Visit www.seaportvillage.com
Walking Tour of Historic Encinitas set for Feb. 18
The Encinitas Historical Society will hold a free walking tour of Historic Encinitas on Saturday, Feb. 18. The tour, which is led by a volunteer docent, begins at the 1883 Schoolhouse at 10 a.m. at 390 West F Street.
During the tour, the participants will find out about the history of how Encinitas came to be known as the "Flower Capital." They will also learn why early settlers came to town in the 1880s and hear the background about buildings that were built in the 1920s by Encinitas' first "recycler," Miles Kellogg. The most photographed buildings in Encinitas are also a stop on the tour. The tour finishes around noon.
For more information about the walking tour, call the Encinitas Historical Society President Carolyn Cope at (760) 753-4834.
Bees topic at Feb. 23 Del Mar Rose society meeting
Del Mar Rose Society will host Hilary Kearney and Janet Wilson, members of the San Diego Beekeeping Society and Girl Next Door Honey.com, Feb. 23. They will share their experience and love for bees and discuss the proper use of pesticides. Education on this subject and understanding about bees and what the world would be like without them makes this meeting particularly vital to attend. All are welcome.
Del Mar Rose Society will meet Feb. 23 at 6:30 p.m. for a wine and cheese social. The lecture starts at 7 p.m. at the Powerhouse Community Center, 1658 Coast Blvd., Del Mar. The group meets the last Thursday of each month. Call 760-809-6860 or visit DelMarRoseSociety.org
Furry Friends hike at San Dieguito Lagoon
Bring your dog(s) and join other animal lovers and the San Dieguito River Valley Conservancy for an easy and family-friendly Furry Friends Hike at the San Dieguito Lagoon (approximately 3.5 miles) Saturday, Feb. 18 at 9 a.m. This out-and-back hike will take you along the Coast to Crest Trail and onto the new river Path Del Mar extension ending at the Grand Avenue Overlook.
This hike provides unique vantage points and the closest access to the sensitive marsh areas of the lagoon, which serve as a stopover for migratory birds on the Pacific Flyway, a fish hatchery, and an important nesting and foraging habitat for threatened and endangered species.
Cost: Free. Hikers are encouraged to bring a donation of dog and cat food to support the Helen Woodward Animal Center. Register: https://form.jotform.com/61445600270143
San Diego Museum of Art, North County Chapter meeting to be held Feb. 27
The topic of the Feb. 27 San Diego Museum of Art, North County Chapter meeting will be "Quiet Philanthropy: Legacies of the Putnam Sisters in San Diego." Derrick Cartwright, professor of Practice, Art Architecture and Art History at USD and director of the University Galleries, will present the story behind the gifting by wealthy but reclusive Putnam Sisters of their world-class art in San Diego. The lecture will be held in St. Peter's Episcopal Church, Parish Hall, Del Mar, 15th and Maiden Lane (across from he Del Mar Plaza). Registration and refreshments at 9:30 a.m. and meeting at 10 a.m. - 11:30 a.m. Free for San Diego Museum of Art, North County Chapter members. $10 for others. Information: 858-523-1411 or 858-259-5232.
Free introduction public speaking class for children
The Academy for Public Speaking offers fun, interactive courses, camps, and coaching sessions to empower children to become confident, effective communicators.
During the free introduction class, your child will learn why public speaking skills are important, how common the fear of public speaking is, and how he or she can quickly overcome the fear of public speaking.
The next free public speaking class will be offered on Feb. 25 from 11 a.m. to 12 p.m. at the Hampton Inn Del Mar. A limited number of seats are available, and advance registration is required. Please visit www.AcademyForPublicSpeaking.com.
Scripps Health's 45th Annual Mercy Ball Set for March 11
The 45th Annual Mercy Ball will be held on Saturday, March 11, at 6 p.m. at the San Diego Marriott Marquis & Marina. Featuring fine cuisine, live musical entertainment and a high-energy live auction, the fundraising gala will benefit cancer care at Scripps Mercy Hospital.
Scripps Mercy Hospital has a deep-rooted heritage of providing high-quality patient care for the communities of central and south San Diego County. It was founded in 1890 by Mother Mary Michael Cummings and the Sisters of Mercy.
The San Diego Marriott Marquis & Marina is located at 333 West Harbor Drive, San Diego, 92101. For tickets and to learn more about the 45th Annual Mercy Ball, visit www.scripps.org/MercyBall or call 858-678-7346.
San Diego Opera presents 'Falstaff'
San Diego Opera's mainstage season continues with four performances of Verdi's "Falstaff" on Saturday, Feb. 18. An international cast of opera stars brings the story of Falstaff, Shakespeare's beloved character from his plays "The Merry Wives of Windsor" and "Henry IV," to life in Verdi's final opera he composed and only his second comedy. Additional performances are 7 p.m. Feb. 21 and 24 and 2 p.m. Feb. 26. Tickets $37. San Diego Civic Theatre, 1100 Third Ave., downtown San Diego. (619) 533-7000. sdopera.org
Great Train Show
The Great Train Show will be held Feb. 18-19 at the Del Mar Fairgrounds The nation's largest model train show, featuring dealers from across the country and operating train layouts of different sizes and scales. Many of the local clubs will be offering workshops and demonstrations, covering a variety of topics for both beginners and experienced modelers. There is also a riding train for kids. Visit trainshow.com
---
Get the RSF Review weekly in your inbox
Latest news from Rancho Santa Fe every Thursday for free
You may occasionally receive promotional content from the Rancho Santa Fe Review.