Christmas Eve Worship at the Village Church lights up Rancho Santa Fe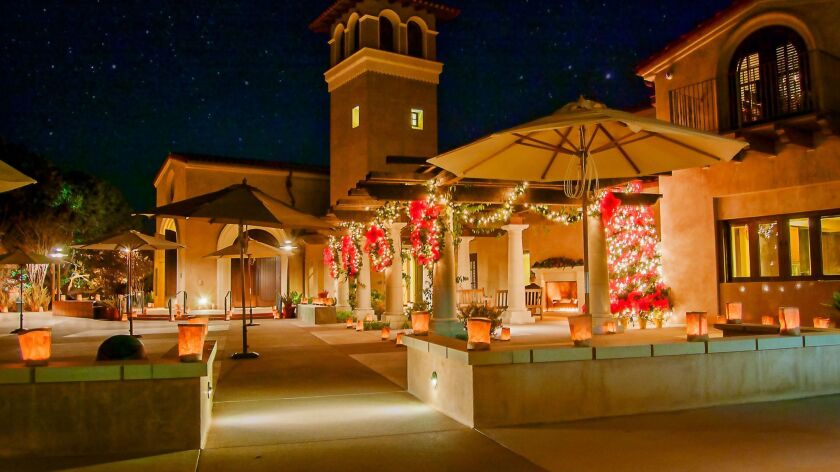 The joy of the Christmas season will be on glorious display Christmas Eve as 1,500 luminarias will ring the Village Community Presbyterian Church campus along Paseo Delicias and Paseo Plateada in Rancho Santa Fe. The festive paper lanterns are a Village Church tradition borrowed from New Mexico where luminarias are commonly displayed on Christmas Eve to welcome the Christ child into the world.
The much-loved holiday tradition depends on dozens of faithful volunteers who work hours to fill 1,500 paper bags with candles that will be lit on Christmas Eve. Volunteers from La Costa Glen Retirement Community prepared more than 1,000 plastic candle holders that are held by those attending Christmas Eve worship services inside the church. Each worship service will feature different choirs and special music with child care provided until 7 p.m. The final worship service ends just after midnight on Christmas Day with Holy Communion.
"Into a world seemingly filled with bad news, and a world in which we are unsure of what is even real, come celebrate with us some good news, that God loves the world and has come to be with us in this world, through the birth of Jesus, the Savior," said the Rev. Dr. Jack Baca, senior pastor of the Village Church.
All services will be held in the sanctuary of the Village Church located at 6225 Paseo Delicias, Rancho Santa Fe, 92067. For more information and directions, visit villagechurch.org
Christmas Eve Worship schedule: 9 a.m. Contemporary Worship; 11 a.m.: Lessons and Carols with Children's and Youth Choirs; 4 p.m.: Traditional Lessons & Carols with Chancel Choir; 6 p.m.: Traditional Lessons & Carols with Chancel Choir; 11 p.m.: Traditional Worship with Communion and the Village Church Choral Group
---