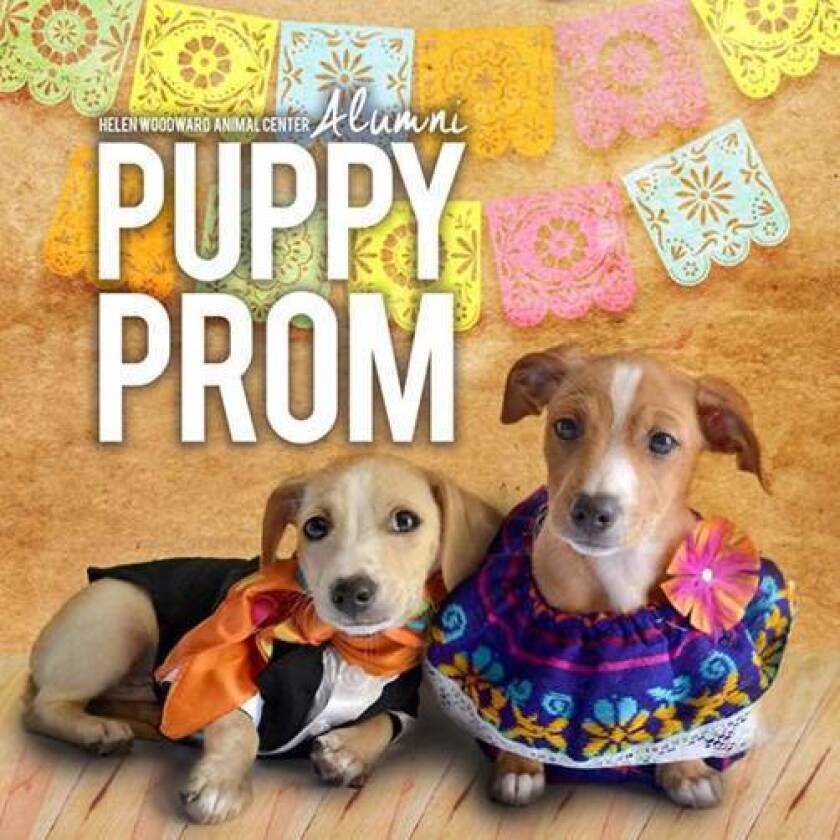 Helen Woodward Animal Center welcomes perros and their people to the Sixth Annual Puppy Prom back at the perfect festive location. To celebrate the Cinco de Mayo holiday weekend, the tail-wagging event invites canine adopters and adoptees to Casa Sol y Mar in the Del Mar Highlands Town Center for the uniting of former orphan alumni and the crowning of a 2018 Best Dressed Prom King and Queen. Grab your favorite fuzzy love and rub hairy shoulders with other pups at Helen Woodward Animal Center's Sixth Annual Puppy Prom Sunday, May 6, from 10 a.m. to noon at Casa Sol y Mar at 12865 El Camino Real, Carmel Valley, 92130.
The Cinco de Mayo-themed Prom is free to all Helen Woodward Animal Center alumni, as well as other rescue-supporting guests, with a variety of fun festivities for all. Junior and senior pooches will gather around the punch bowl (and chips and salsa) and to participate in such time-honored activities as corsage making, opportunity drawings, and picture-perfect prom photos against a variety of classic prom backdrops. Prom cookies and agua will be available for the pups and Casa Sol y Mar will provide free light Mexican appetizers along with drink specials (nonalcoholic "Puppy Prom Punch" and margaritas) for the humans. Pooches who wish to compete for the title of Best Dressed Prom "Rey y Reina" may do so with a $10 entry fee which supports the pets and programs at Helen Woodward Animal Center. A group alumni photo of all guests will be taken for display on the Center website to honor our beloved extended family of puppies and people.
In previous years, Helen Woodward Animal Center's prom-themed "paw-ty" has united former orphans and their families from "graduating classes" as far back as 2004. Decked out in adorable doggy dresses, tuxes, boutonnieres and painted paw-nails, the rescued canines returned to their old barking grounds to show off their forever families and reunite with former Center "pupmates."
Helen Woodward Animal Center Operations Director Jennifer Shorey stated, "This event means so much to us each year. It's an opportunity to show our gratitude to all the wonderful families who open their homes to orphan pets. Best of all, we get to see those fuzzy faces again. We don't forget them and we love seeing how happy they are with their new families."
For more information, check out www.animalcenter.org/events/alumni-puppy-prom/. To RSVP or to register your pup for the Best Dressed King and Queen, please contact Mindy Wright at Helen Woodward Animal Center at: 858-756-4117 ext. 379.
---