Feb. 23: Community events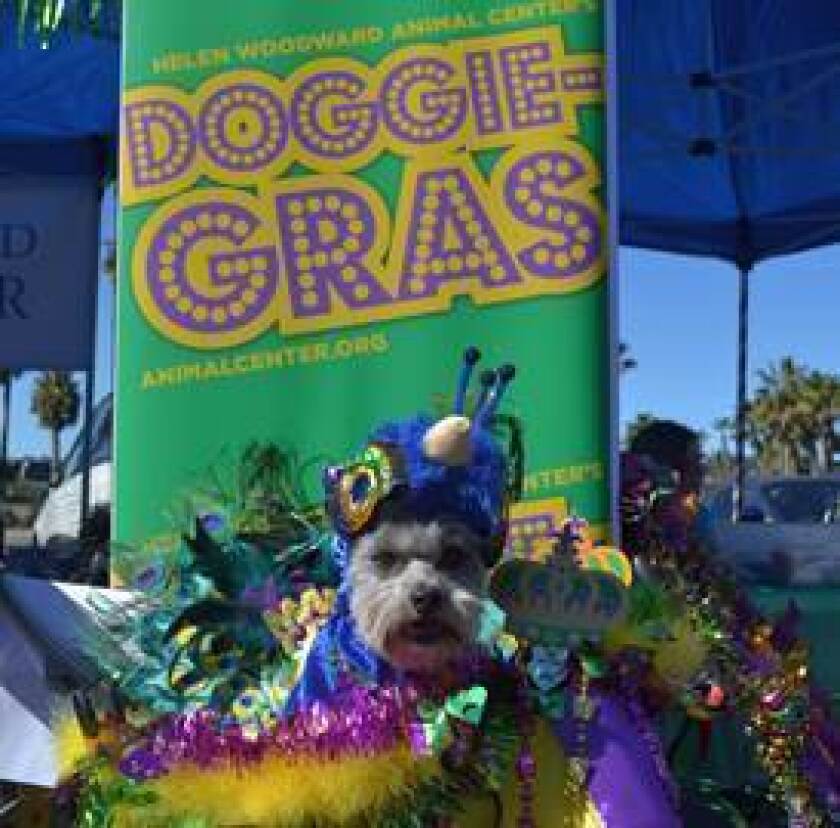 Woodward Center Doggie Gras Parade Feb. 26
Helen Woodward Animal Center is marching its most colorful event back to Rancho Santa Fe Farmers Market. On the last weekend in February, the free fifth annual Doggie Gras Parade will once again stretch its furry legs down an imaginary "BourBONE Street" in "CATon Rouge." The festivities shine a light on Center orphan pets by inviting participants to join a parade supporting animal rescue and celebrating Mardi Gras traditions. Don't miss the kickoff to all other Mardi Gras festivities on Sunday, Feb. 26 from 10 a.m. to noon at the Farmers Market in the Del Rayo Village Shopping Center in Rancho Santa Fe (16079 San Dieguito Rd, Rancho Santa Fe). Visit www.animalcenter.org/events/doggie-gras or call (858) 756-4117 x 379.
Art experts to discuss 'Hidden Masterpieces' Feb. 23 at RSF Garden Club
A reception and lecture titled "Hidden Masterpieces," presented by the San Diego Museum of Art, Great Masters and Guru, will be held Thursday, Feb. 23, 6 p.m., at the RSF Garden Club.
Featured speakers will be Roxana Velasquez, Maruja Baldwin executive director of the San Diego Museum of Art, and Maurizio Seracini, founder of Great Masters Art. This event unveils "The Digital Clinical Chart," a revolutionary way to explore and study art using virtual and augmented reality.
The Rancho Santa Fe Garden Club is located at 17025 Avenida de Acacias, Rancho Santa Fe, 92067
Refreshments and hors d'oeuvres will be served with musical entertainment by the Wayne Foster Band.
North Coast Symphony Orchestra concert March 5
The North Coast Symphony Orchestra, under the direction of Daniel Swem, will hold a Sunday, March 5, concert featuring Isaac Allen, violin soloist, in Piazzolla "Four Seasons of Buenos Aires." He currently is the first violinist with the Hausmann Quartet and frequently appears on San Diego's Art of Élan series. The concert will be held at Seacoast Community Church, 1050 Regal Road, Encinitas at 2:30 p.m. The program includes Brahms' Symphony No. 4 in E Minor, and the overture to Rossini's opera "Semiramide." The orchestra is funded in part by the City of Encinitas and the Mizel Family Foundation. More information is available at www.northcoastsymphony.com.
Solana Center composting workshop
Solana Center will hold a composting workshop on Sunday March 12, 1 p.m.- 3 p.m. San Diego Botanic Garden, 230 Quail Gardens Drive, Encinitas, 92024,
Solana Center's composting experts will teach you all about how to compost your food waste with red wriggler worms (also known as vermicomposting) at this interactive presentation. A raffle will also be held of a compost bin, worm bin, or kitchen scrap caddy to two lucky attendees.
Visit www.solanacenter.org
Read & Romp event for kids Feb. 25
A parent is their child's first, and best, teacher. One of the most important things new parents can do, according to the American Academy of Pediatrics, is read aloud to their young children. Whether it's a classic like "Goodnight Moon" or to make up a story together while getting ready to go to sleep. Reading can incorporate play time and be creative and fun. So to inspire read-aloud time for young kids and families, Reach Out and Read San Diego puts on an annual fundraiser at Point Loma's Liberty Station called Read & Romp. This year's event will be held Saturday, Feb. 25 from 9 a.m. -noon at Liberty Station, McMillin Event Center, 2875 Dewey Road, Point Loma.
The 8th annual fundraiser, happening Saturday, makes popular storybooks come to life through crafts, songs, story times and costumed characters. Visitors are greeted by "Clifford the Big Red Dog" and "Thing 1" and "Thing 2." Children's author Scott Sussman will be on hand to read his books "Weird the Beard" and "Silly the Seed." Best for children ages 8 and under, but all are welcome.
Tickets: Online presale is $8 (children) $10 (adults); $30 for family of four; tickets at the door are $12 per person, or $40 for a family of four at the door. Free for children ages 2 and under. Online: rorsd.org
'The Festival of Spring Flowers'
"The Festival of Spring Flowers" annual flower show will be held March 4-5, 11 a.m.-4:30 p.m. at Balboa Park, Casa del Prado (Room 101). Presented by San Diego Wabu Study Group of the Ohara School of Ikebana and co-sponsored by San Diego Botanical Garden Foundation. Free admission. The event includes Ikebana Arrangement demonstrations at 12:30 p.m., 1:30 p.m. and 2:30 p.m.
Bestselling author to speak March 24
Seaside Center for Spiritual Living continues its series of annual presentations featuring relevant and inspirational speakers with an appearance by Anita Moorjani, New York Times bestselling author, speaker and cancer survivor. Moorjani will share her story of healing and the insights she gained from her near-death experience and her time in the other realm. The event is on Friday, March 24, at 7 p.m. All are welcome to attend. VIP and General Admission tickets are available at www.SeasideCenter.org. Location: 1613 Lake Drive, Encinitas, 92024.
Adult Coloring Group at the Del Mar Library
Coloring has come a long way since we were little ones. Now, there are detailed coloring books of all styles along with multiple types of markers, colored pencils, and pens.
Adult Coloring is a great way to spend time visiting with others, getting creative, it's therapeutic and relaxing. Writes local Debbie Friedkin, "I'm very passionate about coloring and can't wait to share this passion with all off you!"
Bring your own supplies or use supplies provided to get you started, all free of charge. Must be 18 or older. First and third Saturdays monthly at the Del Mar Library from 10 a.m. till 12 p.m. Stay the whole two hours or come and go as you please. The Del Mar Library is located at 1309 Camino Del Mar, Del Mar, 92014. (858) 755-1666.
San Dieguito River Valley Conservancy Exec Trek
Join the Executive Director of the San Dieguito River Valley Conservancy, Trish Boaz, for an easy-to-moderate hike at Del Dios Gorge on Saturday, Feb. 25 at 8:30 a.m.
Though the San Dieguito River's flow is minimal most of the year due to the Lake Hodges dam, constructed in 1918, the narrow canyon's riparian vegetation is complemented by coast live oak. The natural landscape here is made even more dramatic by the granite outcroppings covering the canyon floor. Visitors can spy the historic Hodges Flume winding along the north slope of the gorge, partially on trestles. The flume transported water by gravity from Lake Hodges to the San Dieguito Reservoir four miles to the west until 2003. Though Lake Hodges is actually higher than the San Dieguito Reservoir, an optical illusion makes it look like the water is traveling uphill.
Cost: Free for member; $15 donation suggested for non-members.Register: www.form.jotform.com/SDRVC/exectrekdeldios
Lecture: The electoral college
A lecture on the electoral college will be held Friday, Feb. 24, 1 p.m.-3 p.m. San Elijo Campus of MiraCosta College, 3333 Manchester Ave, Cardiff, 92007, Room 201. Free
Political Science Professor Joe Chirra will talk about why the electoral college was proposed in the first place, the pros and cons to keeping it in place today, and "who the hell cares about those flyover states anyway?" He'll also cover what would need to happen to get the electoral college abolished. For more information, contact lifesanelijo@gmail.com
Seaport Village presents Spring Busker festival
Seaport Village invites visitors from near and far to experience the most bizarre, colorful and entertaining street performers at its 11th annual Spring Busker Festival. On Saturday, March 4 and Sunday, March 5, fire breathers, sword swallowers, stilt walkers and contortionists will travel from all over the world to excite and amaze during a spectacular weekend of live street entertainment. The free festival runs from noon to 6 p.m. each day, bringing incredible energy and unforgettable acts to San Diego's historic waterfront.
Come nightfall, Seaport Village will let performers loose for Buskers After Dark on Saturday, March 4 from 7 to 10 p.m. This untamed show will feature a DJ, food and drink specials and busker acts best suited for those over 18.Visit www.seaportvillage.com
Bees topic at Feb. 23 Del Mar Rose society meeting
Del Mar Rose Society will host Hilary Kearney and Janet Wilson, members of the San Diego Beekeeping Society and Girl Next Door Honey.com, Feb. 23. They will share their experience and love for bees and discuss the proper use of pesticides. Education on this subject and understanding about bees and what the world would be like without them makes this meeting particularly vital to attend. All are welcome.
Del Mar Rose Society will meet Feb. 23 at 6:30 p.m. for a wine and cheese social. The lecture starts at 7 p.m. at the Powerhouse Community Center, 1658 Coast Blvd., Del Mar. The group meets the last Thursday of each month. Call 760-809-6860 or visit DelMarRoseSociety.org
San Diego Museum of Art lecture
The topic of the Feb. 27 San Diego Museum of Art, North County Chapter meeting will be "Quiet Philanthropy: Legacies of the Putnam Sisters in San Diego." Derrick Cartwright, professor of Practice, Art Architecture and Art History at USD and director of the University Galleries, will present the story behind the gifting by wealthy but reclusive Putnam Sisters of their world-class art in San Diego. The lecture will be held in St. Peter's Episcopal Church, Parish Hall, Del Mar, 15th and Maiden Lane (across from he Del Mar Plaza). Registration and refreshments at 9:30 a.m. and meeting at 10 a.m. - 11:30 a.m. Free for San Diego Museum of Art, North County Chapter members. $10 for others. Information: 858-523-1411 or 858-259-5232.
Scripps Health's 45th Annual Mercy Ball Set for March 11
The 45th Annual Mercy Ball will be held on Saturday, March 11, at 6 p.m. at the San Diego Marriott Marquis & Marina. Featuring fine cuisine, live musical entertainment and a high-energy live auction, the fundraising gala will benefit cancer care at Scripps Mercy Hospital.
Scripps Mercy Hospital has a deep-rooted heritage of providing high-quality patient care for the communities of central and south San Diego County. It was founded in 1890 by Mother Mary Michael Cummings and the Sisters of Mercy.
The San Diego Marriott Marquis & Marina is located at 333 West Harbor Drive, San Diego, 92101. For tickets and to learn more about the 45th Annual Mercy Ball, visit www.scripps.org/MercyBall or call 858-678-7346.
'Larry Himmel Day' at Free Flight Feb. 26
The Larry Himmel Foundation will present a $5,000 check to Free Flight bird sanctuary in Del Mar on Feb. 26 at "Larry Himmel Day," a fundraising event. During the two-hour event, from noon to 2 p.m., guests are invited to meet Free Flight's 50 parrots, as well as a canary and African Crowned Crane, while donating toward veterinary costs for the birds. Children 12 and under. It is free to Larry Himmel Foundation donors.
Donations can be made at arryhimmelfoundation.org/freeflight. For more information on Free Flight visit www.freeflightbirds.org. Free Flight is located at 2132 Jimmy Durante Blvd., Del Mar, 92014
Expert to speak on succulents Feb. 27
Jeff Moore, owner of Solana Succulents, will speak at the Del Mar Garden Club Community Outreach meeting Feb 27, 9 a.m. at the Del Mar Powerhouse. The event is free to the public. Moore will be introduced by Pat Welsh, bestselling garden expert and longtime Del Mar resident.
Moore's talk and powerpoint will follow the flow of his book, Under the Spell of Succulents, which shows how we engage with succulents — growers, collectors, landscaping, container gardening, specialty niches, etc.
Susie Walton to present 'Bully Proofing Your Child'
On Tuesday, Feb. 28, author and parent educator Susie Walton will present Bully Proofing Your Child, a parent education workshop for San Diego parents. The presentation will begin at 6 p.m. at the Powerhouse Community Center in Del Mar (1658 Coast Blvd., Del Mar, 92014). Walton will take a close look at bullying behavior, its causes and share what parents can do about bullying. Participants will learn tools that will help break the bullying cycle and identify ways to bully-proof their child whether they are a victim, bystander or bully.
This event is free and open to the community. Space is limited. Attendees are asked to reserve their seat at www.tcslj.org/rsvp. To learn more, visit www.indigovillage.com.
Two generations of musical styles at North Coast Rep
North Coast Repertory Theatre is presenting a variety show "Hey! I'm Tha Mama," two generations of musical styles and showbiz experience with Angela Teek and Spanky Wilson. The show will run Feb. 27-28 at 7:30 p.m. "Hey! I'm Tha Mama" is a musical journey of a showbiz mother and daughter, The internationally-renowned Jazz recording artist Spanky Wilson (Mama) and her $100,000 "Star Search" winner and Broadway Star daughter Angela Teek. Visit www.northcoastrep.org to purchase tickets.
---
Get the RSF Review weekly in your inbox
Latest news from Rancho Santa Fe every Thursday for free
You may occasionally receive promotional content from the Rancho Santa Fe Review.