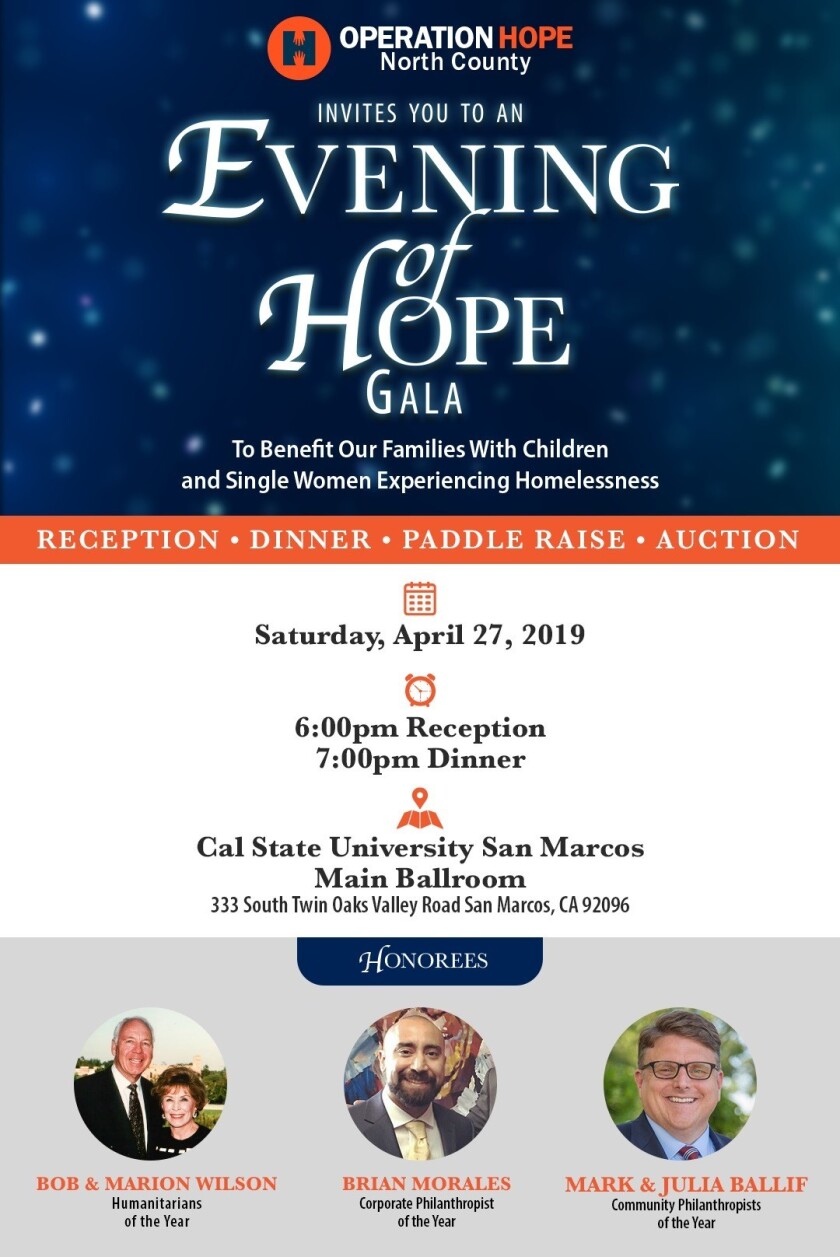 Operation HOPE-North County, a nonprofit organization that serves families with children and single women who are experiencing homelessness, is hosting its first annual Evening of HOPE Gala on Saturday, April 27, at 6 p.m.at the California State University San Marcos Ballroom, 333 South Twin Oaks Road, San Marcos. The evening will begin with a reception followed by dinner, auction and paddle raise. The evening will honor partners in the community who have balanced community involvement, professional endeavors and philanthropy as Operation HOPE-North County celebrates its third year of year-round services.
Bob and Marion Wilson, Rancho Santa Fe residents and long-time supporters of Operation HOPE-North County, are being honored as Humanitarians of the Year for their lifelong contributions of providing support to charitable causes especially in the areas of education and to those who are experiencing homelessness. The impact of their selfless commitment to others has given hope and provided opportunity to countless individuals.
Brian Morales, Vista resident, president of Pro-Cal Lighting and community leader, is being honored as Corporate Philanthropist of the Year. His focus on corporate philanthropy and integrity has enabled the company and its staff to support local community concerns such as homelessness, disadvantaged businesses, aging out foster youth and victims of trafficking.
Mark and Julia Ballif, Fallbrook residents, are being honored as Community Philanthropists of the Year for their commitment to providing support, visionary guidance and exceptional leadership to build community partnerships that advance the quality of life for others.
Tickets are available online at www.operationhopeshelter.org. For more information about tickets or sponsorships, please contact info@operationhopeshelter.org or 760-536-3880, Extension 304.
---