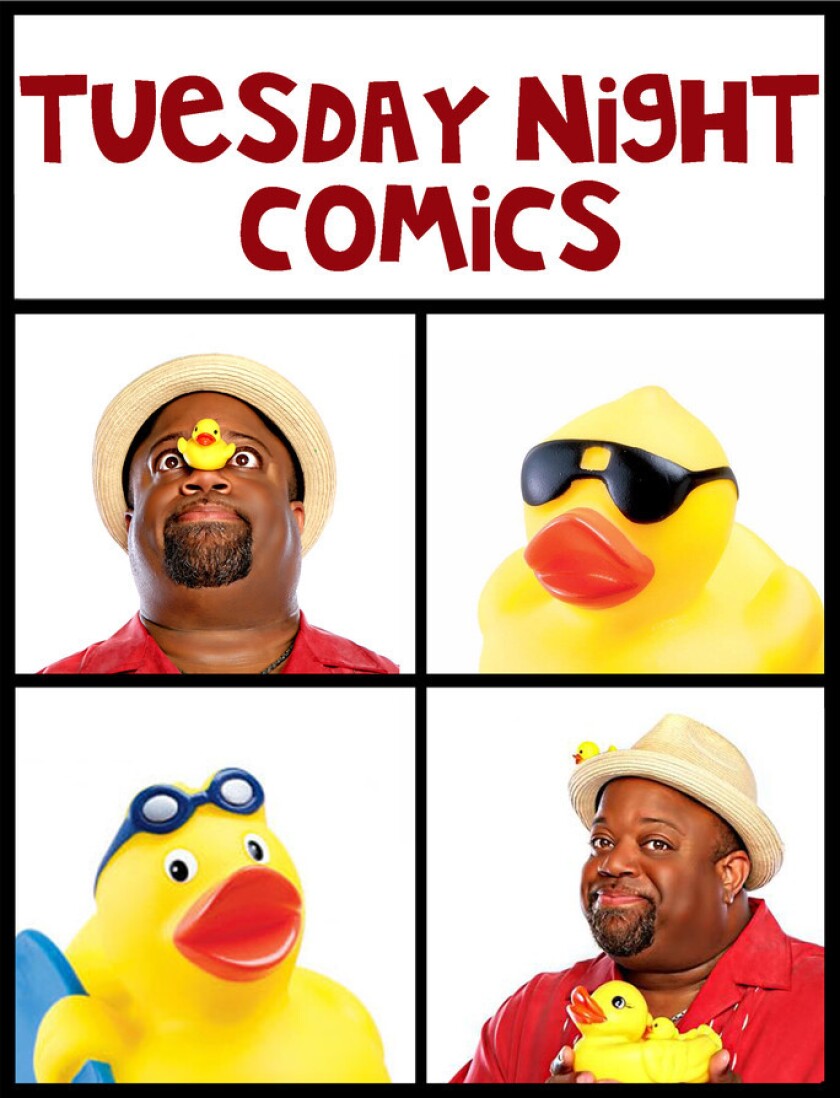 An Evening with Robert Dubac
North Coast Repertory Theatre will present An Evening with Robert Dubac, Feb. 26 - 27 at 7:30 p.m. Dubac, star of The Male Intellect / The Book of Moron, returns to workshop new characters and new material with his usual razor-sharp wit.Visit northcoastrep.org
North Coast Rep presents Tuesday Night Comics
Prayer Dudz presents Tuesday Night Comics March 6 at 7:30 p.m. at North Coast Repertory Theatre. Hosted by Mark Christopher Lawrence, San Diego Critic's Circle 2012 Outstanding Actor Of The Year. Happy Hour at 6:30 p.m. with $3 beers and free appetizers.
Tuesday Night Comics is arguably the funniest night of comedy in San Diego. MCL taps into his extensive list of talented comedian friends and shares the North Coast Rep stage with them. The show is comprised of talent from all over the country with late night television credits as well as credits from Comedy Central, HBO, Showtime, tec.
Visit northcoastrep.org/variety_night/tuesday-night-comics/
'Art of East Asia' topic at lecture in Del Mar
Diane Chou, associate curator of Asian Art, San Diego Museum of Art, will talk about the current exhibition "Art of East Asia" Monday, Feb. 26. It animates the philosophical and creative traditions that inspired Asian luminaries and everyday people throughout China, Japan and Korea. The lecture will be held in St. Peter's Episcopal Church, Parish Hall, Del Mar, 15th and Maiden Lane (across from the Del Mar Plaza). Registration and refreshments at 9:30 a.m. and meeting from 10 a.m. to 11:30 a.m. Free for San Diego Museum of Art, North County Chapter members. $10 for others. Information: 760-704-7636.
Meditation expert to speak at RSF Library
Life in today's world is stressful. People are anxious about their health, their finances, their relationships, their safety and their work. Doctors' and medical practitioners are promoting the benefits of meditation to relieve stress and anxiety. By sitting in meditation, we can calm the body and the mind. Once we connect to a place of happiness and peace within us, we experience a reduction in our anxiety. Meditation helps us replace anxiety with joy and peace. Join Doug Frankel, long-time meditator for this informative lecture at the RSF Library on Saturday, Feb. 24 at 10:30 a.m. There will even be a short meditation sitting.
RSF Library is located at 17040 Avenida de Acacias Rancho Santa Fe, 92067; 858-756-2512 (RSVPs appreciated).
'Oscars in the Ranch --Academy Awards Viewing Party'
San Diego International Film Festival presents "Oscars in the Ranch --Academy Awards Viewing Party" to benefit the nonprofit San Diego Film Foundation. The event will be held Sunday, March 4 at a private estate in Rancho Santa Fe. The event begins at 4:30 p.m. with the Red Carpet arrival of guests, followed by the live broadcast of the Academy Awards, great food and beverages and more.
Learn more/tickets: sdfilmfest.com/oscar-awards-party/
Now in its ninth year, the family and dog-friendly 5K event returns to a pup-ular location, transforming San Diego's stunning bay park into the EmBARKadero. Sunday, March 18, Helen Woodward Animal Center's 9th Annual Puppy Love 5K presented by Blue Buffalo will celebrate San Diego's love for pets and the good fortune of pup-rechauns finding their forever homes. Golden-hearted supporters are forming teams to raise more life-saving "green" than ever before on behalf of orphan pets. The Puppy Love 5K pre-events kick off at 7 a.m. at Embarcadero Marina Park South with runners hitting the course at 7:30 a.m.
The festivities will also feature St. Patrick's Day-themed fun at the "After Paw-ty" in the BARKetplace
For more information or to register, visit animalcenter.org or call 858-756-4117 x 350.
Bipolar support group meeting
The Del Mar branch of Depression Bipolar Support Alliance will meet from 2-4 p.m. Tuesday, Feb. 20, at Pacifica Del Mar restaurant in the Del Mar Plaza. Family and friends are welcome. Parking is validated for the underground garage.
For information about the group, contact Roger Alsabrook at 858-525-1509 or rogeralsabrook@yahoo.com.
Auditions to be held for 'Little Women'
The Village Church Community Theater in Rancho Santa Fe will hold auditions for its upcoming production of "Little Women" Sunday, Feb. 18, 1-3 p.m., and Monday, Feb.19, 5-7 p.m. Roles for: Girls and women ages 12 through 80, men ages 18-80. Performances will be: Friday through Sunday, April 27, 28 and 29. For more details visit villagechurchcommunitytheater.org
The Romeros to perform concert in Solana Beach
The Romeros are known to millions as one of history's great musical families, "The Royal Family of the Guitar." The Romeros will make a rare in concert performance benefiting the retirement fund for the Congregation of Jesus and Mary, a group of Catholic priests, who have provided charity work across the U.S. for over 180 years, Sunday, Feb. 25, at 2 p.m., at St. James Catholic Church, 625 South Nardo Avenue, Solana Beach.
Tickets: ($70 adults/$30 children 15 and under): Maria McEneany 858-442-6047 or Debbie Derderian 858-755-2545 (112) or purchase online at: rebrand.ly/romeros
Bunny Ball fundraiser for Cruise 4 Kids
The annual Bunny Ball wil be held Saturday, March 10, from 7:30 p.m.-1 a.m.at the Town and Country San Diego Resort Hotel 500 Hotel Circle N, San Diego, CA 92108. The Bunny Ball is a one-of-a-kind, black-tie spring celebration hosted yearly in San Diego by local nonprofit Cruise 4 Kids (cruise4kidssd.org).
The event brings together more than 1,500 San Diegans to raise funds for Cruise 4 Kids. The event also gathers around 1,500 new, stuffed teddy bears for distribution to multiple organizations (Autism Tree Project Foundation, Boys & Girls Clubs of San Dieguito, Miracle Babies, Easter Seals, Creative First Impressions, Promises2Kids, Father Joe's Village, Jewish Family Services, and other local churches and orphanages) in time for Easter gifting.
Visit www.thebunnyball.com/tickets/
'This Random World' at North Coast Rep
North Coast Rep explores the accidental nature of life in the West Coast premiere of "This Random World" by Steven Dietz at the North Coast Rep Feb. 21-March 18.
Through a swirl of nearly missed connections, "This Random World" follows a series of intersecting lives: A mother determined to maintain her independence, a daughter longing for adventure, two sisters seeking common ground, and an internet prank gone awry. Warmly humorous and lyrically bittersweet, this play by Steven Dietz investigates what it is to love, to lose, and be touched by the serendipity of life. It's an evening of theatre that is certain to provoke sweet memories and perhaps some unrecognized yearnings.
Call 858-481-1055 or visit www.northcoastrep.org for more information and to purchase tickets.
North Coast Repertory Theatre is located at 987 Lomas Santa Fe Drive, Ste.D, Solana Beach, 92075
New T.E.A.M. Training Session - Learn how to debate Israel's critics
Dr. Mike Harris, author of the best-selling Winning a Debate with an Israel-Hater, will train attendees how to debate opponents of Israel on Sunday, Feb. 25 at 3 p.m. at the Carmel Valley Library, 3919 Townsgate Drive, San Diego 92130. Co-sponsored by T.E.A.M. (Training and Education about the Middle East) and StandWithUs, the event is free and open to the public.
Using dialog and break-out sessions, Harris will provide insight into dealing with Israel's opponents using the tactics "answer, reframe, message." He is a riveting speaker who uses humor and facts to prepare and arm his audiences. He was one of the founders of the San Francisco Voice for Israel, which became the San Francisco StandWithUs chapter. Like T.E.A.M., StandWithUs educates and counters misinformation about Israel. RSVP requested: teamisraelsd@gmail.com.
Silver Bay Kennel Club AKC Dog Shows
Silver Bay Kennel Club of San Diego will hold AKC All-breed Dog Shows Feb. 23 - 25, 8 a.m.-5 p.m. at the Del Mar Fairgrounds (O'Brien, Bing Crosby and Exhibit Halls).Free admission. AKC All-breed Dog Shows, Conformation, Obedience, Rally and Agility Trials. AKC Canine Good Citizen Testing and AKC Trick Dog Title. Dog Show Tour at 10 a.m. Meet 50 AKC Breeds from 10 a.m.-2 p.m. There will be doggie boutiques to purchase pet supplies and gifts from. Visit silverbaykc.com
North Coast Women's Connection Leprechaun Luncheon
North Coast Women's Connection (NCWC), an affiliate of Stonecroft, will host a festiveLeprechaun Luncheon on March 13 from 10:30 a.m. to 1 p.m. at Lomas Santa FeCountry Club, Solana Beach.Pat Van Gorder, the event's motivational guest speaker, will be presenting her talk "Best ofFriends." She is author of View from the Water's Edge and Pebbles of Prayer andPonderings.Luncheon reservations are $25 per person (walk-ins, $30) and should be madeno later than March 6. Menu Selection: Celtic Cobb Salad, River Dance Reuben Sliders,or St Paddy's Fruit Plate.
To make a reservation send a check payable to NCWC. Indicate your food choice onyour check. If you are bringing a guest (s) please provide their name(s). Mail your reservation payment to: Dorothy Cuchna, 654 East Circle Drive, Solana Beach, 92075.
Harpist Sasha Boldachev to perform solo recital
The San Diego Chapter of the American Harp Society will present harpist Sasha Boldachev in a solo recital on Sunday, Feb. 18, at 5 p.m. at St. Paul's Lutheran Church at 1376 Felspar St., San Diego, CA 92109.
Official Artist of Salvi Harps (Italy), soloist at the Bolshoi Theatre (Russia), instructor and international harp expert, Boldachev's San Diego debut concert is part of a 15-country world tour, educating audiences and presenting the harp and the music played on the instrument in a new, modern way. Arranging his own music from Bach to Stravinsky and Adele to Red Hot Chili Peppers, Boldachev's recital program will include classical and pop/rock selections.
Advance $10 tickets can be purchased at bit.ly/2o0O96R Day-of tickets at the door will be a suggested donation of $15. All proceeds benefit the San Diego Harp Society, a nonprofit organization.
On Saturday, Feb. 17 from 3-5 p.m., Sasha Boldachev will also be giving a Master Class, open to auditors and students of all ages. Please contact the San Diego Harp Society at sandiegoharpsociety@gmail.com if you are interested in attending and/or performing at the master class.
For more information about Sasha Boldachev and his music, visit boldachev.info/
North Coast Symphony performs 'Master Impersonators' with Jisun Yang, solo violin
The North Coast Symphony Orchestra, directed by Daniel Swem, will perform "Master Impersonators" featuring solo violinist Jisun Yang, assistant concertmaster of the San Diego Symphony, on Sunday, March 4, at 2:30 p.m. at the Carlsbad Community Church, 3175 Harding Street, Carlsbad. Yang will be featured on Symphonie Espagnole by Édouard Lalo, and the orchestra will perform the Italian Overture by Franz Schubert and Symphony No. 4 (Italian)? by Felix Mendelssohn Bartholdy. The orchestra is funded in part by the City of Encinitas and the Mizel Family Foundation. Admission is $10 general, $8 seniors/students/military, $25/family max. For more information, visit www.northcoastsymphony.com.
Del Mar Rose Society meeting
Donald James Malcolm and Laura Eastman Malcolm, creators of "The Garden of Peace and Hope" in Kabul, Afghanistan, will speak at the Del Mar Rose Society meeting Feb. 22 at the Del Mar Powerhouse. A meet and greet begins at 6:30 p.m. and the lecture starts at 7 p.m.
While living in Italy, Donald began to create various gardens with a large emphasis on roses. In 2005, they were invited to Afghanistan by an NGO to assess the possibility of giving hope and help to the war-ravaged people of Kabul. This trip gave birth to the design and the creation of "The Garden of Peace and Hope." Come learn how and why this magnificent garden still exists and flourishes amidst the challenges of ongoing terrorism in Kabul.
SB Library: Professional organizers to offer tips
On Saturday, Feb. 17, from 2-4 p.m., professional organizers Kelly Nolan, April Merritt and Denise Levine will teach event participants how to bring order and efficiency to their lives. The topics included in their presentation are basics of digital organizing, taking control of paper, and favorite organizing products. So if it's time for you to simplify, reduce clutter and bring order to your life, home, or business, please attend the event at the Solana Beach Library, 157 Stevens Ave, Solana Beach, 858-755-1404.
---