Feb. 9: Event Briefs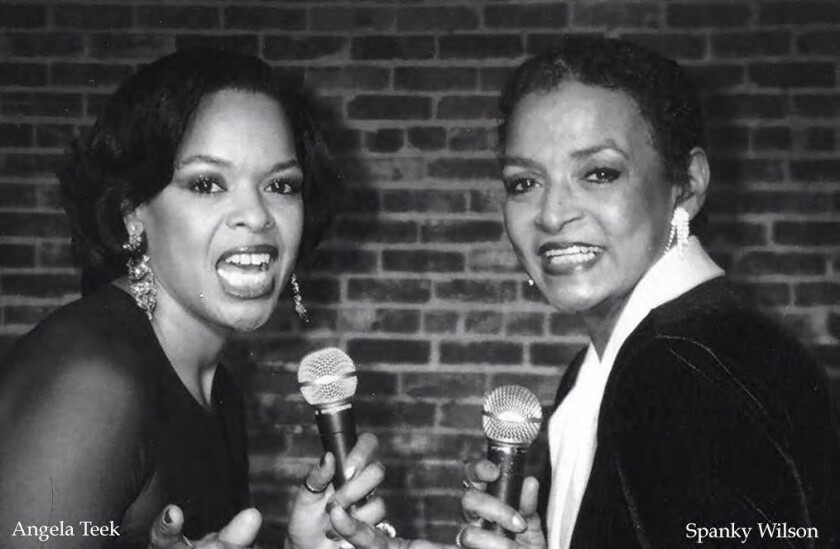 Two generations of musical styles come to North Coast Rep
North Coast Repertory Theatre is presenting a variety show "Hey! I'm Tha Mama," two generations of musical styles and showbiz experience with Angela Teek and Spanky Wilson. The show will run Feb. 27-28 at 7:30 p.m.
"Hey! I'm Tha Mama" is a musical journey of a showbiz mother and daughter, The internationally-renowned Jazz recording artist Spanky Wilson (Mama) and her $100,000 "Star Search" winner and Broadway Star daughter Angela Teek. If you think you like Broadway and not jazz or jazz and not Broadway this show will change your mind.
Call 858-481-1055 or visit www.northcoastrep.org to purchase tickets.
T.E.A.M. to present film 'The Forgotten Refugees'
T.E.A.M. (Training and Education About the Middle East) will present a film, "The Forgotten Refugees" on Sunday, Feb. 26, at 2 p.m., in the Lawrence Family Jewish Community Center Library, 4126 Executive Drive, La Jolla. The 50-minute film tells of the forced exodus of Jews from Arab countries and Iran during the last century - a mostly unknown, untold story. Afterwards, Dan Mahni, who was born and raised in Baghdad, will speak on Jewish refugees like himself and answer questions. After being imprisoned merely for being Jewish, he was able to leave Iraq and emigrate to Israel and eventually to the U.S.
The program is free and open to the public. Please RSVP to teamisraelsd@gmail.com.
John Thornton to speak at M&A Groundbreaker Series event
Join the Association for Corporate Growth San Diego Tuesday, Feb. 21, to hear the history of one of the region's most celebrated careers, that of M&A Groundbreaker John Thornton (Wavetek, Micom Systems, Mitek Systems, Thornton Winery and more.) This promises to be a discussion filled with revelations of company formations, growth and development prior to a number of successful exits.
The event will be held from 7-9 a.m, Tuesday, Feb. 21 at the Lomas Santa Fe Country Club.
Paul Thiel, regional managing director, BNY Mellon, will moderate the event. Register at www.acg.org/sandiego
'The Illusion' coming to North Coast Rep
North Coast Repertory Theatre will present The Illusion, hailed by The New York Times as "Fantastical…takes your breath away." Legendary playwright Tony Kushner (Angels in America) displays his brilliance in this wildly inventive tour de force, which celebrates the magic and illusory nature of theatre.
The Illusion previews begin Wednesday, Feb. 22. Opening Night is Saturday, Feb. 25 and the show runs through March 19. North Coast Repertory Theatre is located at 987 Lomas Santa Fe Drive, Solana Beach, 92075. Call 858-481-1055 or visit www.northcoastrep.org to purchase tickets.
The Spice Way to hold annual Tea Party event
The Spice Way in Encinitas will hold its 2nd annual Tea Party Sunday, Feb. 12, from 11 a.m.-5 p.m.
The event will feature over 60 types of teas and infusions to choose from. This free event, open to the public, invites patrons to learn about a wide variety of teas, their health benefits and tips for brewing the perfect cup of tea. Tastings will be available throughout the day with people being able to sample some of the new Spice Way teas for 2017.
To pre-register for The Spice Way Tea Party, go to www.eventbrite.com. For upcoming cooking classes and other events happenings at The Spice Way, visit www.thespiceway.com/sd. The store is located at 260 N El Camino Real, Encinitas, CA 92024. (760) 634-9709.
Paw Walk in the Garden
The San Diego Botanic Garden and Rancho Coastal Humane Society present the fifth annual 5K Paw Walk in the Garden on Feb. 18 from 8 a.m. to noon. The non-competitive event, which is open for people and their dogs, spans an optional 3.1-mile course.
There will also be pet products, food for people, treats for dogs, information and displays for animal lovers and a pet first aid station. Registered walkers will have access to the San Diego Botanic Garden until 2 p.m. Dogs must be kept on a leash at all times, leashes can not be longer than six feet, no dogs in heat are allowed, owners must clean up after their dogs and dogs must be up to date on their vaccinations. A maximum of two dogs per person is allowed.
To register for the event and for more information, visit sdpets.org or sdbgarden.org.
Day-of event registration starts at 7:30 a.m., with the first walk starting at 9 a.m.
Hospice of the North Coast seeks volunteers for shop
Hospice of the North Coast is looking for volunteers to work in its Resale Shop at 278-B N. El Camino Real (Homegoods Shopping Center). One four-hour shift per week is required.
Volunteers assist with customer purchases, pricing, sorting and processing donated merchandise. All proceeds go directly to Hospice, a nonprofit organization. If you are interested,
please contact Mary Jo Barry, manager, at 760-943-9921.
Four Concerts to Catch
*The final performance of La Jolla Music Society's 2016-17 jazz series will be the Branford Marsalis Quartet with special guest Kurt Elling, 8 p.m. Friday, Feb. 10 at Balboa Theatre, 868 Fourth Ave., downtown San Diego. The world-renowned quartet features Marsalis on saxophone, Joey Calderazzo on piano, Eric Revis on bass and Justin Faulkner on drums. The Quartet and Elling first collaborated on the 2017 Grammy-nominated album "Upward Spiral." Tickets from $25. (858) 459-3728. ljms.org
*"Beethoven, Rossini & Berio" are the subject of the La Jolla Symphony & Chorus' next concert series, 7:30 p.m. Saturday, Feb. 11 and 2 p.m. Sunday, Feb. 12 at the Mandeville Auditorium on the UC San Diego campus, 9500 Gilman Drive. Steven Schick conducts Beethoven's majestic "Violin Concerto," with soloist David Bowlin. Also on the program are Luciano Berio's "Sinfonia," with vocal octet Kallisti, and Rossini's Overture from "The Barber of Seville." Tickets from $15. (858) 534-4637. lajollasymphony.com
* La Jolla Music Society presents a duet of Leonadis Kavakos on violin and Yuja Wang on piano, 8 p.m. Saturday, Feb. 11 at Balboa Theatre, 868 Fourth Ave., downtown San Diego. Program includes Janacek's "Violin Sonata, JW.7/7," Schubert's "Fantasy for Violin and Piano in C Major, D.934," Debussy's "Sonata for violin and Piano in G Minor, L.140" and Bartok's "Sonata for Violin and Piano No. 1, Sz.75." Tickets from $20. (858) 459-3728. ljms.org
* La Jolla Music Society's Orchestra Series continues with Bamberg Symphony at Jacobs Music Center-Copley Symphony Hall on Saturday, Feb. 18 at 8 p.m. Bamberg Symphony traces its roots to the 18th century, when it premiered Mozart's masterpiece Don Giovanni in Prague. Tickets: (858) 459-3728. ljms.org
Murder-Mystery at the Fleet
A terrible crime has been committed and Victorian London's most celebrated detective needs your help to find out "whodunit." Starting Saturday, Feb. 11, "Sherlock Holmes and the Clocktower Mystery" is at the Fleet Science Center, 1875 El Prado in Balboa Park, San Diego. This immersive murder-mystery will test your powers of observation and deductive reasoning through Sunday, June 4. See it during Fleet hours: 10 a.m. to 5 p.m. Monday-Thursday, 10 a.m. to 6 p.m. Friday-Sunday. Admission: $19.95 with discounts. (619) 238-1233. rhfleet.org
---
Get the RSF Review weekly in your inbox
Latest news from Rancho Santa Fe every Thursday for free
You may occasionally receive promotional content from the Rancho Santa Fe Review.