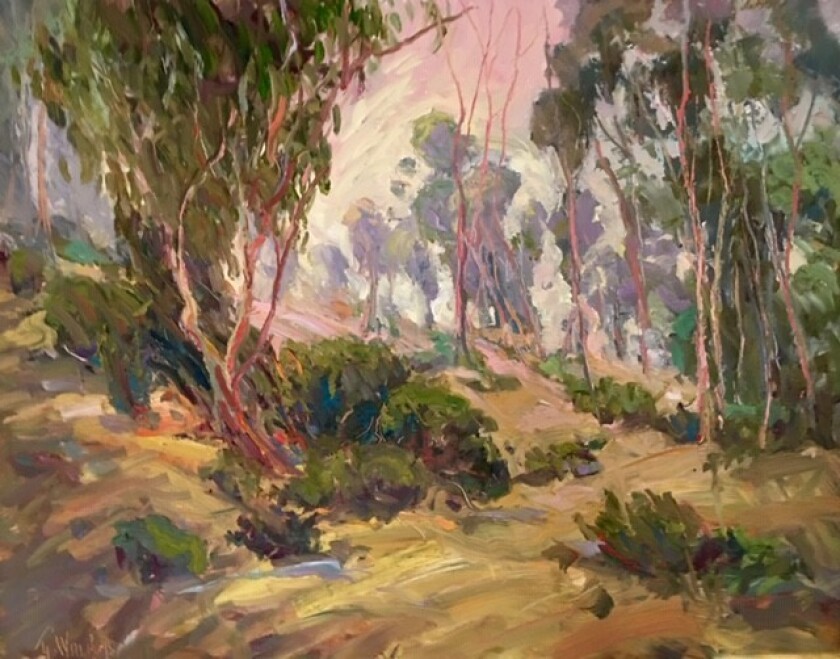 Outstanding local artist Toni Williams will present an oil painting demonstration, "From Field to Studio," on Wednesday, April 17, from 10 a.m.-2 p.m. that takes a field study into the studio for interpretation. Topics include: 1. Editing & Design; 2. Scale Decision; 3. Color & Value Match. The event will be held at the studio of Suzy Schaefer in Rancho Santa Fe.
The style will be Impressionism in use of color theory and brushwork. Williams, a native of New York, moved to San Diego in 1972 to attend UC San Diego and earned her bachelor's degree in visual arts in 1974. Being influenced by the landscape and painting styles of the California Impressionists at the turn of the century, Williams has pursued her love of the outdoors through en plein air work. She has won numerous awards and is affiliated with and a member of: American Impressionists Society, Signature member since 2009, Oil Painters of America, California Art Club, Laguna Plein Air Painters Association, Plein Air Painters of San Diego, San Dieguito Art Guild and Rancho Santa Fe Art Guild.
The demo costs $15 for RSF Art Guild members and $30 for non-members (including lunch provided by Thyme in the Ranch). Registration in advance is required because space is limited; so RSVP early to rsfartguild@gmail.com. Carpooling is advised because of the limited parking.
There will be a drawing for one of Williams' paintings. SF Art Guild is a 501(c)(3)
The demo is partially supported by a Community Grant from the RSF Foundation
---