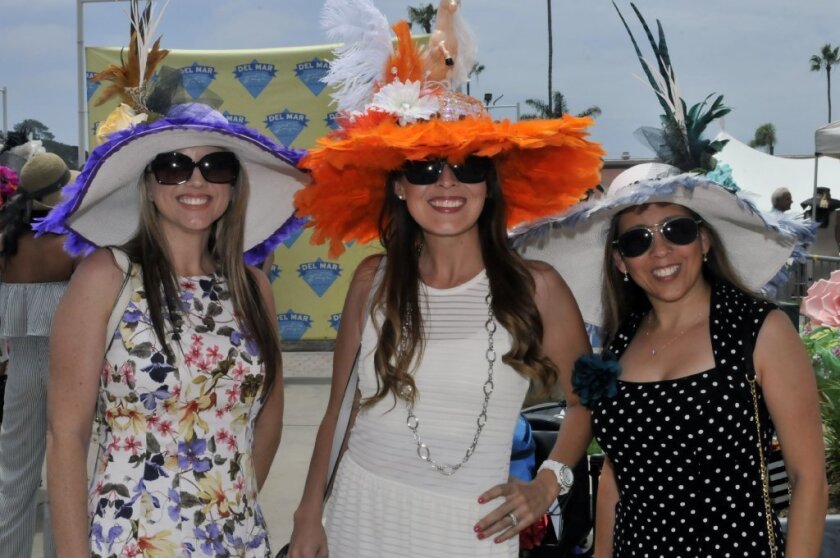 It's time to find a fabulous hat and get ready for The Party.
July 18 is Opening Day at Del Mar, one of the major events on the San Diego social calendar. The scene is jubilant and colorful, filled with over-the-top headgear, fashionable wardrobes, bright jockey silks and gleaming horses.
Traditionally, Opening Day draws a large crowd, although last year was the smallest since 2001, at just over 34,000. Chris Bahr, director of events and promotions, noted that the number was "comfortable," which allowed for service in a reasonable time and plenty of elbow room.
"We expect (Opening Day this year) to be as festive as ever, with skydivers and a lot of celebrities," Bahr said.
The skydivers are scheduled to land before the first turf race, while actors, athletes and other famous personalities can likely be spotted throughout the day in various locations.
But the spectacular hats can be seen everywhere. Between 11:30 a.m. and 3 p.m. in the Plaza de Mexico, patrons can enter their unique creations in the Opening Day Hats Contest to win a share of more than $5,000 in prizes. They are judged in the following categories: Best Racing Theme, Most Glamorous, Most Outrageous, Best Fascinator and Best Flowers. In each category, first place will receive $300 and a Studio Savvy gift basket, second place will net $200, and third place will get $100. The contest grand-prize winner will be presented with a one-night stay at the Fairmont Grand Del Mar and dinner for two at Addison restaurant, a package worth more than $1,000.
Everyone is a winner, though, as all participants will receive two free admission passes to the races.
Finalists will be announced after the fifth race, and winners will be recognized after the sixth race.
Meanwhile, at the Seaside Cabana, The Party will be in full swing. For $35, guests will be granted Stretch Run admission and have access to the event, which will have gourmet food trucks, jumbo video boards, a beer garden and cocktail bars, photo booths, prize giveaways, interactive activities, private wagering and the Red Bull Tour Bus with DJs. Shaded seating will be available on a first-come, first-served basis.
Guests who have never been to the races before may want to attend the Newcomers' Seminar an hour before the first race in the Plaza de Mexico. They can learn about odds and handicapping, and receive racing tips and selections.
Among the races on the card is the traditional Opening Day feature, the $100,000 Oceanside Stakes for 3-year-olds at a mile on the turf.
Those who want to get an early start on the celebrations can attend the Opening Day Pre-Party from 6 to 8 p.m. July 17 at L'Auberge Del Mar, 1540 Camino del Mar. Patrons can "mix and mingle" during cocktail hour; learn about Race Day Fashion 101; meet jockeys Gary Stevens and Mike Smith and receive betting tips from TV broadcaster Michelle Yu; and listen to a panel discussion with racing insiders. The cost is $79.99, and a portion of the proceeds will benefit The Bill Hartack Foundation. The foundation contributes to charities such as the Winners Foundation, The Permanently Disabled Jockeys Fund and the Racing Employees Assistance Program. Go to store.laubergedelmar.com.
L'Auberge will also host the Official Opening Day After-Party, from 5 p.m. to midnight July 18. There will be fare from Chef Nathan Lingle, craft beer and liquors, and music by Southern California DJs FishFonics and Gabe Vega on the pool deck. Tickets are $229 in advance (store.laubergedelmar.com) or $260 on the day of the event.
In addition, Hats, Heels & Hooves will be held from 5 to 10 p.m. at The Inn at Rancho Santa Fe, 5951 Linea del Cielo. General admission, which is $95, includes a welcome cocktail and culinary creations, and entertainment by DJ Ricci Rich and Ryan Hiller Music. A share of the proceeds will go toward After the Finish Line, a nonprofit organization that aids former racehorses. Go to https://bit.ly/HatsHeelsHooves18 or email dawn@afterthefinishline.org. To inquire about private VIP spaces, contact Kathy Reese at (858) 756-6297 or kreese@theinnatrsf.com.
---