March 29: Event briefs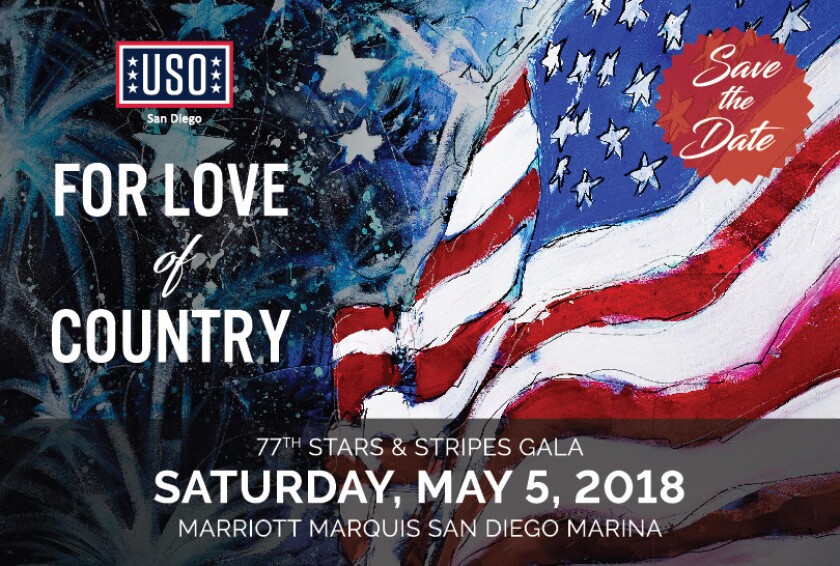 USO San Diego's 77th Annual Stars and Stripes Gala
USO San Diego's 77th Annual Stars and Stripes Gala: For Love of Country will be held May 5 at the San Diego Marriott Marquis and Marina.
The event honors and supports active duty military personnel and helps provide them with much-needed services. The signature gala has emerged as one of the top five gala events in San Diego and celebrates the strong, enduring relationship between San Diego and the Armed Forces.
Gala entertainment for the evening includes two-time Tony Award winner Brian Stokes Mitchell. A powerful baritone, Stokes has been one of the central leading men of the Broadway theatre since the early 1990s. He won the Tony Award for Best Actor in a Musical in 2000 for his performance in Kiss Me, Kate. For the second year, Joe Emerson, National Anthem singer, painter, and TV personality will lend his remarkable talents to the gala.
Co-Chairs for the event include Arlene and Richard Esgate, Hélène and George Gould, Reena and Sam Horowitz, Jeanne Jones and Don Breitenberg, and Stephanie Brown. Mark Larson of KFMB AM radio will serve as emcee. Mark Larson of KFMB AM radio will serve as emcee.
For ticket information, visit www.usosandiego.org/gala-2018. For sponsorship and underwriting opportunities, please contact Sharon
Torrey Hills Spring Egg Hunt
The Torrey Hills Annual Spring Egg Hunt will be held Saturday, March 31, from 9 a.m.-11 a.m. at Torrey Hills Neighborhood Park, 4262 Calle Mejillones, San Digeo, 92130. The event will also include, games, music, jumpers, face painting and more.
For more information, call 858-552-1687.
Solana Beach Children's Spring Festival & Egg Hunt
The City of Solana Beach will hold its Children's Spring Festival & Egg Hunt Saturday, March 31, at La Colonia Park, 715 Valley Ave, Solana Beach. Limited to children in third grade and under. 10:30 a.m.: Egg Hunt – Plastic eggs filled with treats (bring a bag or basket to collect your eggs). 10:45 a.m. to noon: Games and refreshments.
For more information, contact the Parks & Recreation Department at 858-720-2453.
Sean Penn to tout novel at D.G. Wills Books
Oscar-winning actor Sean Penn will read from his first novel, "Bob Honey Who Just Do Stuff," at 2 p.m. Saturday, April 7 at D.G. Wills Books, 7461 Girard Ave., La Jolla.
"We're absolutely ecstatic," said D.G. Wills owner Dennis Wills, who noted that this will probably be the biggest-drawing event in the bookstore's 27-year history.
Penn, will read from his novel — which press materials describe as about "a modern American man, entrepreneur and part-time assassin" — and then will take questions, submitted on 3x5 cards, that he pre-approves beforehand.
"This is something his publicist and I agreed upon immediately," Wills said. "He's a humanitarian, but he's a controversial person as well."
Penn will also appear at a similar reading for Warwick's on Sunday, April 8 at 5 p.m., but it will be held at University of San Diego's Kroc Institute for Peace and Justice Theatre at 5998 Alcala Park, not at the bookstore's La Jolla location.
Free bridge games for experienced players
Free bridge games for experienced players are held at the Carmel Valley Library every Tuesday from noon-3 p.m. and at the Del Mar Library every Thursday from noon-3 p.m.
For more information, contact Dr. Baxi at Baxicb1130@ Hotmail.com
Robin Henkel to perform at Zel's Del Mar
Robin Henkel will return to Zel's Del Mar to perform solo blues Thursday, April 5, 7-10 p.m.
Zel's Del Mar is located at 1247 Camino Del Mar, Del Mar, (858) 755-0076.
L'Auberge Del Mar hosts Italian water dog training team
L'Auberge Del Mar, in partnership with Puppy Prodigies, will host a meet and greet with trainers from the renowned Italian School of Water Rescue Dogs on Thursday, March 29, from 5 to 7 p.m. in the resort's amphitheater. Guests will meet Ricochet, a famed golden retriever who creates unique surfing experiences for the disabled, and feisty retriever mix Cori, with a keen natural instinct for water rescue.
Locals and their pups are invited to mingle with the trainers and dogs – and as part of the festivities, the event will include dog treats from Dexter's Deli and food and libations from L'Auberge Del Mar.
14th Annual La Jolla Concours d'Elegance
The La Jolla Concours d'Elegance will be returning to the shores of La Jolla Friday, April 6 through Sunday, April 8. The 14th Annual La Jolla Concours d'Elegance will showcase some of the most exquisite automobile displays in the world. For more information or tickets, visit www.lajollaconcours.com.
ArtFest at the Garden April 7-8, 9 a.m.-5 p.m., features some of the finest regional artists displaying their talents with the beautiful San Diego Botanic Garden as a back drop. This fine arts show features more than 20 artists displaying and selling their work at amazing prices just for Garden guests. Many of these fantastic sculptors, painters, glass artists, potters, gourd and fiber artists who participate in ArtFest will also provide interesting demonstrations of their craft.
San Diego Symphony Orchestra to perform April 8 in RSF
For the first time ever, the full San Diego Symphony Orchestra is coming to Rancho Santa Fe Sunday, April 8 at 2:30 p.m. to present "Rumanian Rhapsody," a Jacobs Masterworks Special Concert at the Village Church.
The program includes Edward Elgar's final significant composition, an orchestral concerto of Hungarian themes by Zoltán Kodaly and a blazing rhapsody of Romanian music by Georges Enesco led by conductor Cristian Macerlaru and featuring rising young Romanian cellist Andrei Ioni. For more information about the concert and tickets, visit bit.ly/2GRvtyr
Women's Film Festival San Diego
The Women's Museum of California will present the 2018 Women's International Film Festival San Diego, April 13 - 15. This annual film festival was created to celebrate women's stories and experiences through film. The weekend-long festival highlights the importance of female representation in the film industry, including women both in front of and behind the camera.
Festival passes can be purchased on the Women's Film Festival website at womensfilmfestivasandiego.com
This year's San Diego Horticultural Society Garden Tour will highlight gardens in Encinitas, an area rich in horticultural history. The tour will be held Saturday, April 7 from 9 a.m.-4 p.m. Several of the gardens are within large estates with multiple outdoor rooms, and some of the yards have raised beds and fruit trees, meadow-like areas, and unique plant cultivars. There will be eight full gardens and three front-yard gardens on the tour.
In keeping with past tours, the San Diego Horticultural Society has arranged to have local artisans offering their hand-crafted garden art as well as well as plein air painters capturing the lovely spaces.
Poetry & Art Series 2018 presents Cultures Connect
On Saturday, April 7, San Diego Writers, Ink and Poetry & Art Series 2018 present Cultures Connect in San Diego, featuring authors Sharon Elise, Pilar R. Aranda, Shadap Zeest Hashmi, Ted Washington, Francisco Bustos, Viet Mai and Alexis Ng. Hosted by Jim Moreno and Michael Klam. DJ Barry Thomas will provide music and sound throughout the show.
This interactive arts and culture experience will include beverages, snacks and time to mingle. Doors open at 6:30 p.m., and the show starts at 7 p.m. Members are free, nonmembers $6 at the door. The event takes place in the San Diego Art Institute, 1439 El Prado, Balboa Park. Visit bit.ly/2pKzayR
Set in a small Danish village around Christmas, this film follows a man who becomes the target of mass hysteria after being wrongly accused of sexually abusing a child in his kindergarten class. It will be screened March 30 from 1 to 3 p.m. on the San Elijo Campus of MiraCosta College, 3333 Manchester Avenue, room 204. For more information about this free event, email lifesanelijo@gmail.com.
Tickets are now on sale for Taste of Leucadia, which will be held Thursday, April 5 from 5:30-8:30 p.m.
The Taste of Leucadia will highlight local restaurants, retailers, craft brewers and local vintners. The event will be held at various locations along N. Coast Hwy 101 Leucadia, 92024.
Del Mar Mud Run 2018 will be held Saturday, March 31 from 9 a.m.-2 p.m. at the Del Mar Fairgrounds. Epic mud- and fun-filled obstacles are strategically placed throughout a 5K run/walk course, followed by Del Mar Mud Run's signature post-race FOAM FEST showers. This event and producer VAVi Sport & Social donate to the Challenged Athletes Foundation, raising $300,000 for CAF's Operation Rebound program since 2011. Visit www.delmarmudrun.com
The Old Globe Theatre's 2017-2018 season continues with the world premiere of José Cruz González's "American Mariachi," a comedy with live music. It runs through April 29 on the Shiley Stage, 1363 Old Globe Way, Balboa Park. Tickets from $30. (619) 234-5623. theoldglobe.org
• Athenaeum Jazz at TSRI opens 7:30 p.m. Wednesday, April 4 with Etienne Charles and his high-energy sextet, Creole Soul, known for its new jazz expression that taps into a myriad of styles rooted in Charles's Afro-Caribbean background, at the Auditorium at The Scripps Research Institute, 10620 John Jay Hopkins Drive. Early reservations advised. $30-$35. (858) 454-5872. ljathenaeum.org/jazz-at-tsri
• Camera Lucida, a chamber music collaboration between four musicians with diverse backgrounds, presents works by Beethoven and Brahms, 7:30 p.m. Monday, April 2 at the Conrad Prebys Concert Hall on the UC San Diego campus, 9500 Gilman Drive (at Russell Lane). Program includes Beethoven's "String Quartet 'Rasumovsky' in e minor, Opus 59 Nr. 2" and Brahms' "Piano Quartet in A major, Opus 26." Tickets from $28, students free. (858) 534-8497. musicweb.ucsd.edu
---
Get the RSF Review weekly in your inbox
Latest news from Rancho Santa Fe every Thursday.
You may occasionally receive promotional content from the Rancho Santa Fe Review.