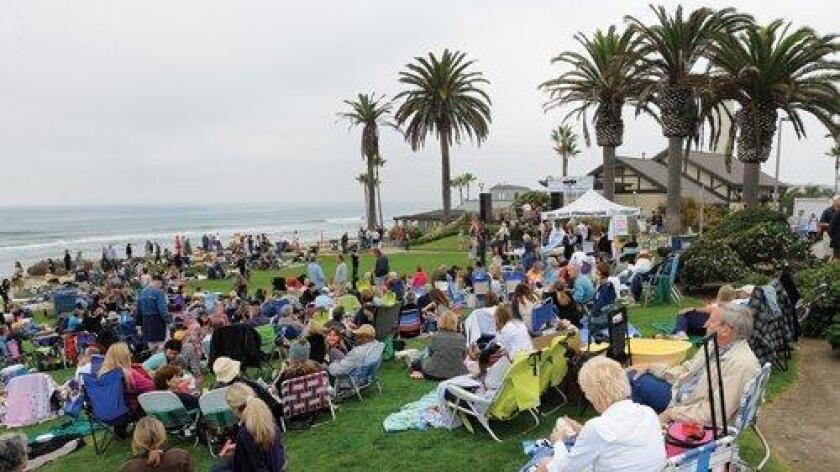 Summer Twilight Concert in Del Mar
The next Del Mar Foundation's Summer Twilight Concert will feature The Steely Damned 2 on Tuesday, Aug. 7 at Powerhouse Park. The concert begins with Zel's Opening Act Tim Wray at 6 p.m., followed by the main show at 7 p.m. For more information, visit delmarfoundation.org.
Great music, chili and more at Del Mar Racetrack
The Del Mar Racetrack's summer season is now in full swing! This week features a free performance by innovative reggae musician Matisyahu on Friday, Aug. 3, unlimited samples of award-winning chili during the Chili Challenge on Saturday, Aug. 4 and a Sunday dedicated to luxury during Ladies and Gents Day on Aug. 5. Guests can also participate some family fun during Del Mar's weekly Family Saturdays and enjoy foodie favorites with food and drink specials during the week, including Brigantine Wednesdays, Happy Hour Fridays and Taste of the Turf Club.
Racing at Del Mar happens Wednesday through Sunday with the exception of Closing Day on Labor Day Monday (9/3). First post is at 2 p.m. daily. First post on Fridays is at 4 p.m., with the exceptions of August 24 and 31 when first post is 3:30 p.m. For more information, call 858-755-1141 or visit www.delmarracing.com. You can follow Del Mar on Instagram, Twitter, and Snapchat at @DelMarRacing or like us on Facebook at Facebook.com/DelMarRaces.
Concerts at the Cove take place at Fletcher Cove Park in Solana Beach on Thursdays through Aug. 23, 6 p.m.-7:45 p.m. Bring beach chairs, blankets, picnics and friends. (No alcohol, pets, tobacco, BBQs/grills.) For more information, call 858-720-2453 or visit cityofsolanabeach.org
Outdoor concerts weekly in Carmel Valley
The Village at Pacific Highlands Ranch in Carmel Valley continues its annual "Summer and Songs" outdoor concert series from 6 to 8:30 p.m. Thursdays through Aug. 23 at 13490 Pacific Highlands Ranch Parkway. The concert series features headliners including Grammy-nominated Steven Cade, Lee Coulter, Justin Froese, Corey Leal, Gaby Aparicio, Lola, and Ariel Levine. Visit summerandsongs.com. — By Linda McIntosh/U-T
Del Mar Art Center Gallery to hold 'C-Note' sale, Aug. 4
The Del Mar Art Center Gallery, located in the Del Mar Plaza, recently announced its second annual "C-Note" sale – one night only in the gallery, Saturday Aug. 4 from 5-8 p.m. All "C" Note artwork will be priced at the low price of $100, $200 and $300. The C-Note artwork will be on display only for the night of Aug. 4. The rest of the exhibit will remain through Oct. 29, 2018. The Del Mar Art gallery is located at 1555 Camino Del Mar #314, in the Del Mar Plaza, on the plaza level. The gallery is Open Monday-Saturday, 11 a.m.- 7 p.m. and Sunday 11 a.m.-6 p.m. Visit DMACgallery.com
Encinitas and North Coast Democratic Club Meeting
The Encinitas and North Coast Democratic Club will meet on Saturday, Aug. 4, from 12:30 p.m. to 2:30 p.m. at the Dove Library, Gowland Room, in Carlsbad. Howard Wayne, co-chair and founding board member of the San Diego Lawyer Chapter of the American Constitution Society, will speak on " How Trump is Weaponizing the Courts with Judicial Picks that will Harm America for the Next 40 Years." There will also be a raffle and refreshments served. For more information, visit www.encdc.org.
36th Annual UCP Golf Classic
Be a part of the 36th Annual UCP Golf Classic to benefit United Cerebral Palsy of San Diego County. The event will take place on Monday, Aug. 20, with check-in at 11:30 a.m. A shotgun start will follow (1 p.m.) at the El Camino Country Club and festivities will continue with an awards dinner after tournament play is finished.
Entry fee is $325 per person - $1,180 per foursome and includes lunch, green fees, golf cart, dinner, tee prizes, and refreshments. For more information call (858) 571-5365 or sign up directly on the web at www.ucpsd.org or fundraise.ucpsd.org/golf2018.
Walk to End Alzheimer's New Team Kickoff event
All are invited to the Walk to End Alzheimer's New Team Kickoff event Thursday, Aug. 9 from 6-7:30 p.m. Attend the event to learn more about Walk, the mission of the Alzheimer's Association and how you can help by becoming a Team Captain. The event will include appetizers and a chance to network with others who are also passionate about the fight to #ENDALZ
The Alzheimer's Association is the leading voluntary health organization in Alzheimer's care, support and research. Its mission is to eliminate Alzheimer's disease through the advancement of research; to provide and enhance care and support for all affected; and to reduce the risk of dementia through the promotion of brain health.
Event address: Cocina del Charro, 890 W. Valley Parkway, Escondido, CA 92025. RSVP: Sarah at sgranby@alz.org or 858-732-1354. Link to the evite: evite.me/9N5vjPDmDU
Reading of 'An Ideal Husband' at North Coast Rep
The Oscar Wilde Society @NorthCoastRep will present a free reading of "An Ideal Husband" Sunday, Aug. 12 at 7:30 p.m. According to the North Coast Rep website, the Oscar Wilde Society @NorthCoastRep is being established as an auxiliary group for the LBGT supporters of North Coast Rep. To launch the Society, North Coast Rep will present "An Ideal Husband" by Oscar Wilde, directed by Richard Baird, featuring some of San Diego's top actors. Written in 1895, this comic play revolves around blackmail and political corruption and touches on public and private honor. Wilde was a leader in the effort to make plays accessible to the public. There will be a light social event after the reading.
Suggested donation $25 to establish The Oscar Wilde Society. Visit northcoastrep.org
Adult auditions in RSF for 'Death by Dessert'
The Village Church Community Theater announces auditions for "Death by Dessert" by Nathan Hartswick (a comedy mystery dinner theater). Parts needed are for men and women adult roles, ages 18 and up. Auditions will be held Sunday, Aug. 5, 2-4 p.m. and Monday, Aug. 6, 6-8 p.m. Performance dates are Sept. 21, 22, 23. For audition details and appointment: Email amyz@villagechurch.org or call (858) 756-2441, x110. Address: 6225 Paseo Delicias, Rancho Santa Fe, 92067. Visit villagechurchcommunitytheater.org
Harry Potter movie and concert
The next Bayside Summer Nights concert brings Hogwarts to San Diego, 7:30 p.m. Aug. 4 and Aug. 5 at Embarcadero Marina Park South, 200 Marina Park Way, downtown San Diego. The 2005 film "Harry Potter and the Goblet of Fire" screens while members of the San Diego Symphony Orchestra perform Patrick Doyle's film score. Tickets: $57-$109. Attendees are welcome to dress in their favorite Harry Potter outfits. sandiegosymphony.org
Mission Bay High School Class of 1978 40th reunion
The Mission Bay High School Class of 1978 is planning its 40th reunion to be held on Saturday, Aug. 25, at Mission Bay Yacht Club from 6 p.m.-10 p.m. Come join your classmates while overlooking the bay at the MBYC. Enjoy dinner, drinks, a photo booth and DJ with our very own Drew Miller. Find more details and tickets at mbhs1978.com/details.html
Held on the second Sunday every August, the Carlsbad Village Association's Art in the Village will return Aug. 12 from 9 a.m.-5 p.m., bringing 110 local and regional fine artists for a one-day, open-air art show. Address: 2907 State St., Carlsbad. More details at carlsbad-village.com/art.
Cardiff Dog Days of Summer
The 13th Annual Cardiff Dog Days of Summer will be held Sunday, Aug. 12, from 11 a.m.-6 p.m. at Encinitas Community Park (425 Santa Fe Drive, Cardiff-by-the-Sea). The event is presented by Cardiff 101 Main Street and the City of Encinitas. This free one-day event for dogs and dog lovers features over 100 dog-related vendors, rescue groups, pet adoption agencies, and a carefully curated "Maker's Market Row" with local handmade goods. There will be dog contests, live music, kids activities, beer & wine garden, food trucks and a special appearance by City of Encinitas Mayor Catherine Blakespear, Supervisor Kristin Gaspar and more. For more information, call (760) 436-0431 or visit cardiff101.com
ArtWalk @ Liberty Station
The 13th Annual Fine Arts Festival, ArtWalk @ Liberty Station will return to Ingram Plaza on Saturday, Aug. 11 and Sunday, Aug. 12 in the Arts District at Liberty Station. The free event's 2018 theme "Connecting Creative Communities" embodies ArtWalk's mission to bring San Diego together to enjoy art and cultural expression all weekend long. In addition to thousands of works of art, attendees can also expect food, wine and beer, live entertainment and interactive art projects. Visit artwalksandiego.org/libertystation
The Encinitas 101 MainStreet Association recently announced that tickets are on sale for the 30th Annual Taste of Encinitas. This year's event will be held on Tuesday, Aug. 7 from 5:30 to 8:30 p.m. along Coast Hwy 101 in downtown Encinitas. With the purchase of a $45 ticket, participants will be able to enjoy tastes from a number of local restaurants, sample wine and beer at Sip Stops, and enjoy a variety of live music. Tickets can be purchased online at visitencinitas.org and at the Encinitas 101 office located at 818 S. Coast Hwy 101.
Free health programs for seniors at Sharp
The Senior Resource Center at Sharp Memorial Hospital offers free health education and screening programs for seniors and their families each month. The Senior Resource Center also provides free information and assistance for health information and community resources, call 858-939-4790. For information on additional programs, call 1-800-827-4277 or visit www.sharp.com.
Sanford Burnham Prebys 2018 Gala
Join Sanford Burnham Prebys Medical Discovery Institute for a night at the Copacabana Nov. 3, 6 p.m.-11 p.m. at the Estancia Hotel in La Jolla. Experience an unforgettable evening, featuring delicious food, phenomenal drinks and, of course, incredible music and dancing — all in support of critical medical research. To register, visit: www.sbpdiscovery.org/gala
---