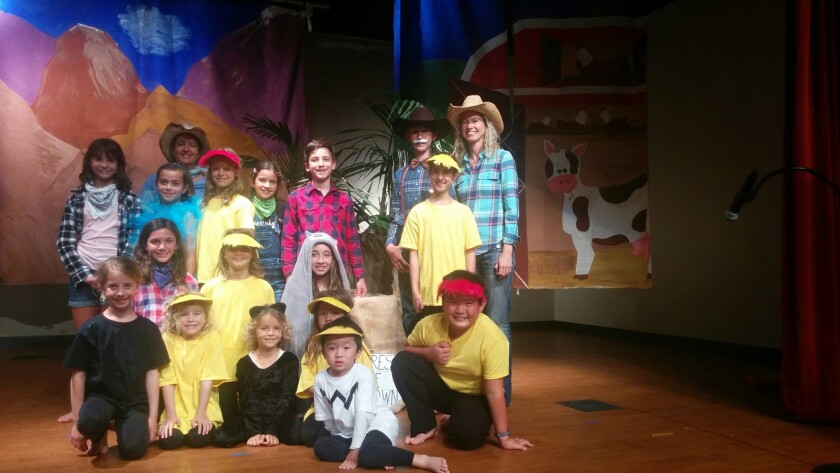 'O Chickens of Little Faith' musical to be performed at St. Therese Church
"O Chickens of Little Faith" will be presented Sunday, June 3, from 2-3 p.m. at the Parish Hall of St. Therese Church (4345 Del Mar Trails, San Diego 92130).
"O Chickens of Little Faith" is a musical story about children spending summer time helping grandpa on the farm. It seems like a dream or twisted reality. You would never know what could happen when you are taking care of chickens.
The production features children, youth and adults from the parish of St. Therese of Carmel and students of Notre Dame Academy. Reception with arts and crafts follows.
Carmel Creek reunion for the Class of 2018
On Tuesday, June 5, at 3:15-4:15 p.m. high school seniors that once attended Carmel Creek Elementary School are invited to a casual reunion at the school. (Carmel Creek 4210 Carmel Center Road.)
The highlight of this event is when students and teachers gather in a big circle to share a favorite memory and what their future plans are and the teachers share stories and words of encouragement to the students as they begin this next stage in life.
Earl Warren Seahawk Showcase
Earl Warren's Seahawk Showcase, a night celebrating the arts and student achievement, will be held on Thursday, May 31, from 5 p.m.-8 p.m., at EW's MPR and outdoor stage. Join the event for art viewing, band and guitar performances, student award recognition, and the play The Pink Panther Strikes Again, performed by drama students. This is a VPA fundraising event; tickets are a suggested $5 donation and Earl Warren students get in free.
Advanced Math Open House set for TPHS
The Advanced Math Open House at Torrey Pines High School will be held Tuesday, May 29 from 6:30 - 8:00 p.m. at TPHS B-Building (main academic building) 3710 Del Mar Heights Road, San Diego, 92130.
Come enjoy a showcase of advanced math courses at TPHS, including Calculus II, Calculus III, Linear Algebra, and Advanced Topics in Mathematics II. Students from Abby Brown's math classes will present projects that represent their knowledge in various math topics. Students will display their projects incorporating extensive use of mathematical programming technology as well as applied mathematics in calculus and linear algebra.
The Center Chorale sings African Concert
African Sanctus by David Fanshawe is a major choral work that incorporates authentic songs and drumming by African musicians integrated with his composition based on traditional Latin texts. Fanshawe, world traveler, musicologist and composer collected thousands of recorded examples of African music in the 1970s. The Center Children's Chorus joins with The Center Chorale to perform this late 20th century masterpiece. The concert will be held at Trinity Episcopal Church, 845 Chestnut St, Escondido on Sunday, June 3 at 3 p.m. Tickets are available at EscondidoChoralArts.com
'Animals for Armed Forces Weekend'
On Memorial Day Weekend, Helen Woodward Animal Center will once again salute the military with an "Animals for Armed Forces Event." In partnership with Animals for Armed Forces Foundation, a non-profit organization dedicated to uniting orphan pets with military heroes, adoption fees will be covered for approved military families, while supplies last. The special adoption promotion kicks off Saturday, May 26th and runs through Sunday, May 27.
For more information, please contact Helen Woodward Animal Center Adoptions Department at: 858-756-4117 ext. 313, visit www.animalcenter.org or stop by 6523 Helen Woodward Way, Rancho Santa Fe, CA 92067.
American Idol 2018 Live Tour
After a monumental return to television in 2018, "American Idol" announces it's taking the show on the road with the American Idol Live! 2018 tour, spanning three months this summer. The shows will feature this season's talented Top 7 finalists: Cade Foehner, Caleb Lee Hutchinson, Catie Turner, Gabby Barrett, Jurnee, Maddie Poppe and Michael J. Woodard with special guest, Season 8 "American Idol" winner, Kris Allen. The 40-plus city tour will make a stop at Copley Symphony Hall in San Diego on July 26. Tickets are now on sale at www.AmericanIdolLive.com.
Regional CrossFit competition
After a five-week worldwide Open competition with over 416,000 participants, the top 40 men, 40 women and 30 teams from the West Coast and Canada West Regions have been invited to compete in the 2019 Reebok CrossFit Games West Regional. The event will take place May 25-27 at the Del Mar Arena in Del Mar.
Athletes will endure three days of competition with the hopes of taking one of the five coveted spots in each division to the 2018 Reebok CrossFit Games in Madison, Wisconsin, Aug. 1-5. The CrossFit Games are the world's premier test to find the Fittest on Earth. Since its inception in 2007, the CrossFit Games have become one of the fastest growing sports in America. Visit games.crossfit.com
Blind Surfers hit the beach June 3
For the 23rd year, Blind Surf is making it possible for blind and visually impaired youth and adults from all areas of California and the U.S. to hit the waves under the supervision of expert surfers and volunteers. Participants will once again have the opportunity to experience San Diego's famous shorelines from a surfer's perspective on Sunday, June 3 from 9 a.m. to 4 p.m. at South Carlsbad State Beach, which is also known as Ponto.
The nonprofit event is organized each year by the Swamis Surfing Association and features music, food, opportunity drawings and giveaways. At this annual event, participants are given instruction and assistance in the water from volunteers as they experience the joy and magic of riding the waves. Visit www.swamissurfingassoc.org
10th Annual International Film Series
Every year, unique perspectives from around the world come to San Diego for the International Rescue Committee's International Documentary Film Series. This year the film's will be held June 10, 17 and 24 at 6 p.m. at the Museum of Photographic Arts (Balboa Park), 1649 El Prado, San Diego, CA 92101.
From the frontlines of conflict to rebuilding life in a new country, these films take an honest look at the reality of the refugee experience. Each screening is followed by a Q&A discussion with an expert on the film's subject area.
Visit www.Rescue.org/Films, or 619-641-7510 x 242.
Lecture: What's Happening in the San Elijo Lagoon?
Doug Gibson, executive director/principle scientist for the San Elijo Lagoon Conservancy, will give an update on all the activity we see occurring in the lagoon on May 25 from 1 to 3 p.m. on the San Elijo Campus of MiraCosta College, 3333 Manchester Avenue, in room 201. Topics covered will include the Lagoon Restoration Project including the Agriculture fields and new trail connections; nourishing our local beaches, the widening on Interstate 5, and the double tracking of the railroads. For more information, email lifesanelijo@gmail.com
SBP (Sanford Burnham Prebys) Insights: The Latest in Alzheimer's disease
Join SBP (Sanford Burnham Prebys) Insights: The Latest in Alzheimer's disease for a 360-degree look at this devastating illness. The program brings together a scientist, physician and patient caregiver to share their unique perspectives on current treatments and promising research that may lead to better patient healthcare. The event will be held June 5, 5:30 p.m. to 7 p.m. at the Sanford Burnham Prebys Medical Discovery Institute, Building 12, SBP Auditorium, 10905 Road to the Cure, La Jolla, 92121.
To register, visit SBPdiscovery.org/insights
Double bassist and conductor Matthew Kline presents his second UC San Diego recital, 7 p.m. Friday, May 25 at Conrad Prebys Concert Hall, UCSD campus, 9500 Gilman Drive at Russell Lane. Features Pierre Boulez's "Le Marteau sans maître," Wolfgang von Schweinitz's "Plainsound Counterpoint" and Eva-Maria Houben's "Romantische Streiflichter." Free. (858) 534-3448. musicweb.ucsd.edu
The lecture series from Jacquelyn Silver, "The History of Music: An enthralling panorama of music from Babylon to the present" concludes with "The end of the Romantic Era and into the 20th Century," 7:30 p.m. Thursday, May 31 at Athenaeum Music & Arts Library, 1008 Wall St. Tickets: $17-$22. (858) 454-5872. ljathenaeum.org/music-lectures
Chano Dominguez (who made his Athenaeum debut in 2012) returns for the Athenaeum Jazz at TSRI series, 7:30 p.m. Tuesday, May 29 in The Auditorium at The Scripps Research Institute (TSRI), 10620 John Jay Hopkins Drive. The quintet includes flamenco cantaor (vocalist) Blas Córdoba, flamenco dancer Daniel Navarro, bassist Alexis Cuadrado and drummer/percussionist Henry Cole. Early reservations advised: $30-$35. (858) 454-5872. ljathenaeum.org/jazz-at-tsri
Fans of Schubert compositions take note! Performers will play his music, 3 p.m. Sunday, May 27 at La Jolla Library, 7555 Draper Ave. Program includes St. Davis' Episcopal Church music director/pianist John Mark Harris, artistic director of the Finland Chamber Music Series/violinist Paivikki Nykter, and former UCSD faculty member/cellist Cecilia Kim. Free. (858) 552-1657. lajollalibrary.org/events
---