Local students take philanthropy and learning global with Pacific Ridge travel program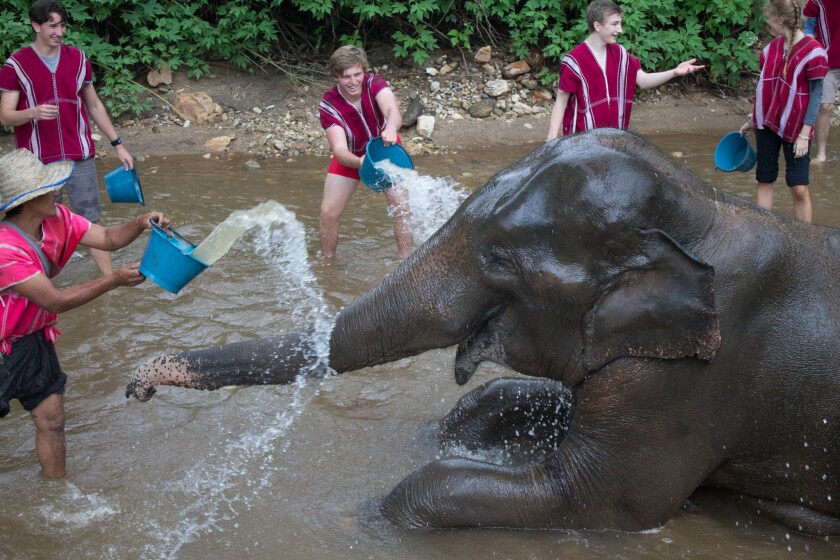 Rancho Santa Fe residents Jett Jacobs and Nathan Newman and Encinitas resident Rachael Bell are three of the 600 Pacific Ridge School students and staff who spent the past few weeks experiencing academic, service and cultural experiences abroad.
During the school's year-end global travel period, students in grades 7-10 travel to Big Bear (seventh grade), Washington D.C. (eighth grade), China (ninth grade) and the Northern Sierras (10th grade). Juniors and seniors have the option of choosing from numerous school-designed trips or designing their own year-end trips or internships.
Rancho Santa Fe residents Jett Jacobs and Nathan Newman spent two weeks in Thailand, learning from non-governmental organizations about the country's struggle with human trafficking. Officials from nonprofit Destiny Rescue discussed the group's work with human trafficking victims and the ways in which tourism effects the victims. After spending time in northern Thailand, the group traveled to Jabusii for homestays. The students worked alongside local villagers to construct a drinking water system. During the dry season, locals are forced to travel to a distant water supply. The new system will give them access to water year-round. Students also visited the Elephant Nature Park in Chiang Mai and took a Thai cooking lesson.
Across the globe, Encinitas resident and Pacific Ridge senior Rachael Bell traveled to Costa Rica for service work and cultural immersion. While there, she and 17 other students lived in homestays in the village of Monteverde. The group worked with The Cloud Forest School to plant sod and trees, to paint the school and to install a concrete staircase. Bell was proud of the work she and her classmates accomplished.
"Knowing that the work we did will have an effect was really rewarding," said Bell.
When the group wasn't doing service, they managed to take in Costa Rica's many sights and activities, including a visit to the Monteverde Butterfly Gardens, dance lessons and hiking, where they observed toucans, sloths, armadillos and the local coati. They also had plenty of time to soak up the Pura Vida lifestyle from the welcoming host families.
Jacobs, Newman and Bell weren't the only local residents to take part in Pacific Ridge School's global travel program. On trips to more than 14 destinations worldwide, students learned about the history of apartheid in South Africa, business entrepreneurship in Austin, Texas, and culture and religion in Singapore and Malaysia. Ninth graders visited Beijing and Shanghai and taught English to students in rural Chinese villages.
---
Get the RSF Review weekly in your inbox
Latest news from Rancho Santa Fe every Thursday.
You may occasionally receive promotional content from the Rancho Santa Fe Review.