Ladies of Las Planideras summer kick-off event features RSF Fire Protection District guest speakers
Rancho Santa Fire Chief Dave McQuead and his colleague, Mark Smith, recently met with a group of 15 women during the Ladies of Las Planideras annual summer kick-off gathering at the RSF home of Judy Bartolotta. The ladies group has conducted monthly non-denominational bible study meetings for over seven years. The network of the group also provides a neighborhood connection that keeps the residents alert to loose tortoises, dogs, birds, coyotes, bobcats, deer and other happenings on the outermost southwest street of the covenant. Besides the monthly meetings, philanthropic contributions and local field trips have been enjoyed by the group. The Las Planideras ladies group is led by Elaine Newkirk and Maria Delgado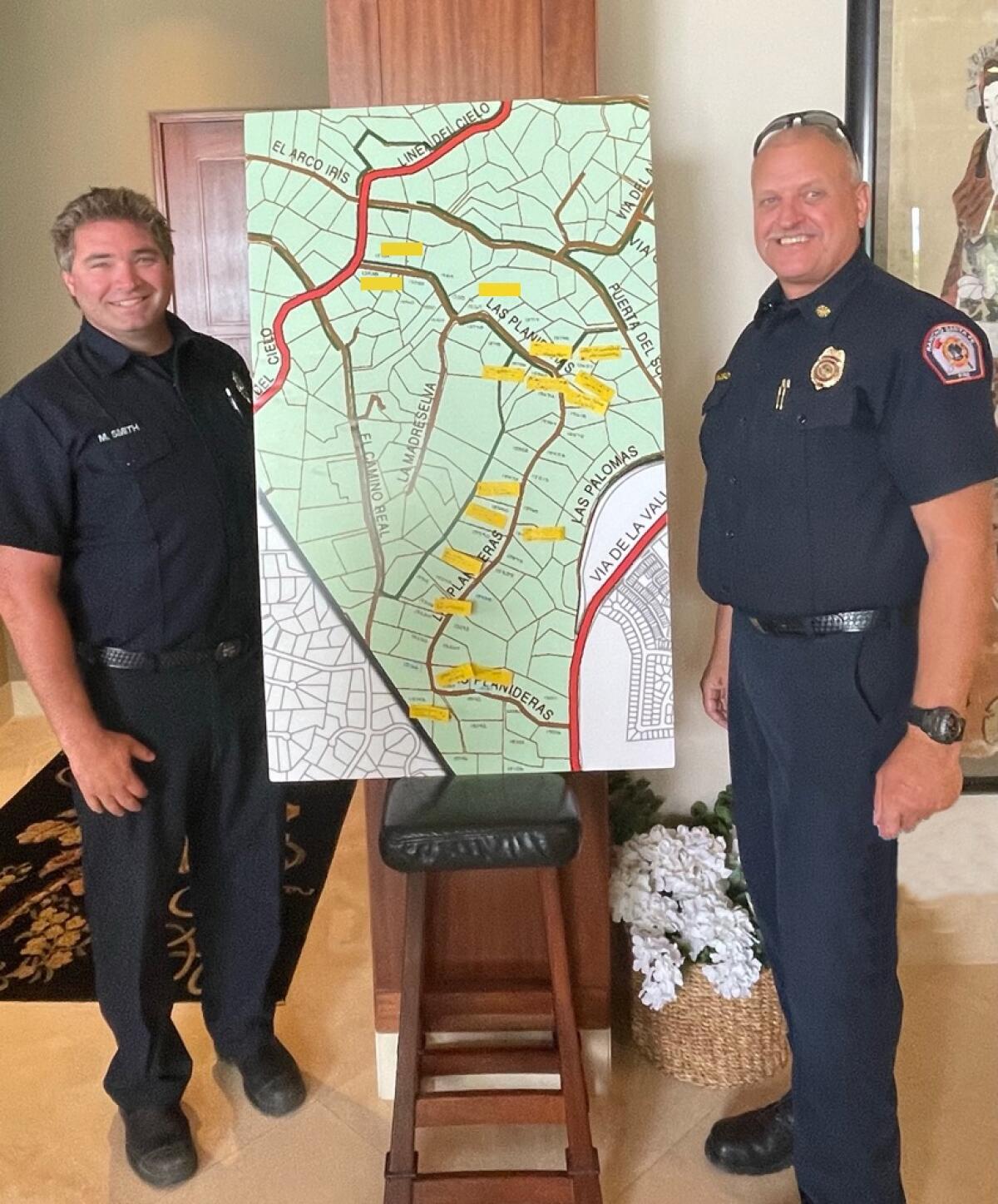 Chief McQuead reported that he had just attended a Southern California regional meeting on fire risk. Weather and fire specialists had assured local fire personnel that although the unusually wet winter may have brought on a lush new crop of vegetation, including wild grasses and tall weeds, the rains also permeated the soil with moisture so that larger plants and trees are now more fire resistant. Local residents may see a few small bush fires, but a major conflagration, such as the Witch Creek or Bernardo Fire, is extremely unlikely.
Mark Smith recently joined the Rancho Santa Fe Fire Protection District as a community risk reduction specialist. Smith has been responding to residents' requests to investigate sites of potential fire risk, including new construction, abandoned buildings and other overgrown areas where tinder for fires has accumulated. He said that just that morning he had made a phone call to an out-of-state property owner and advised him to remove dried leaves, twigs and branches from around the base of the house.
The community is fortunate to have such a great team of fire protection professionals available to share valuable information on preventative measures that can be taken to keep families and homes safe.
Get the RSF Review weekly in your inbox
Latest news from Rancho Santa Fe every Thursday for free
You may occasionally receive promotional content from the Rancho Santa Fe Review.