Mille Fleurs brings on new executive chef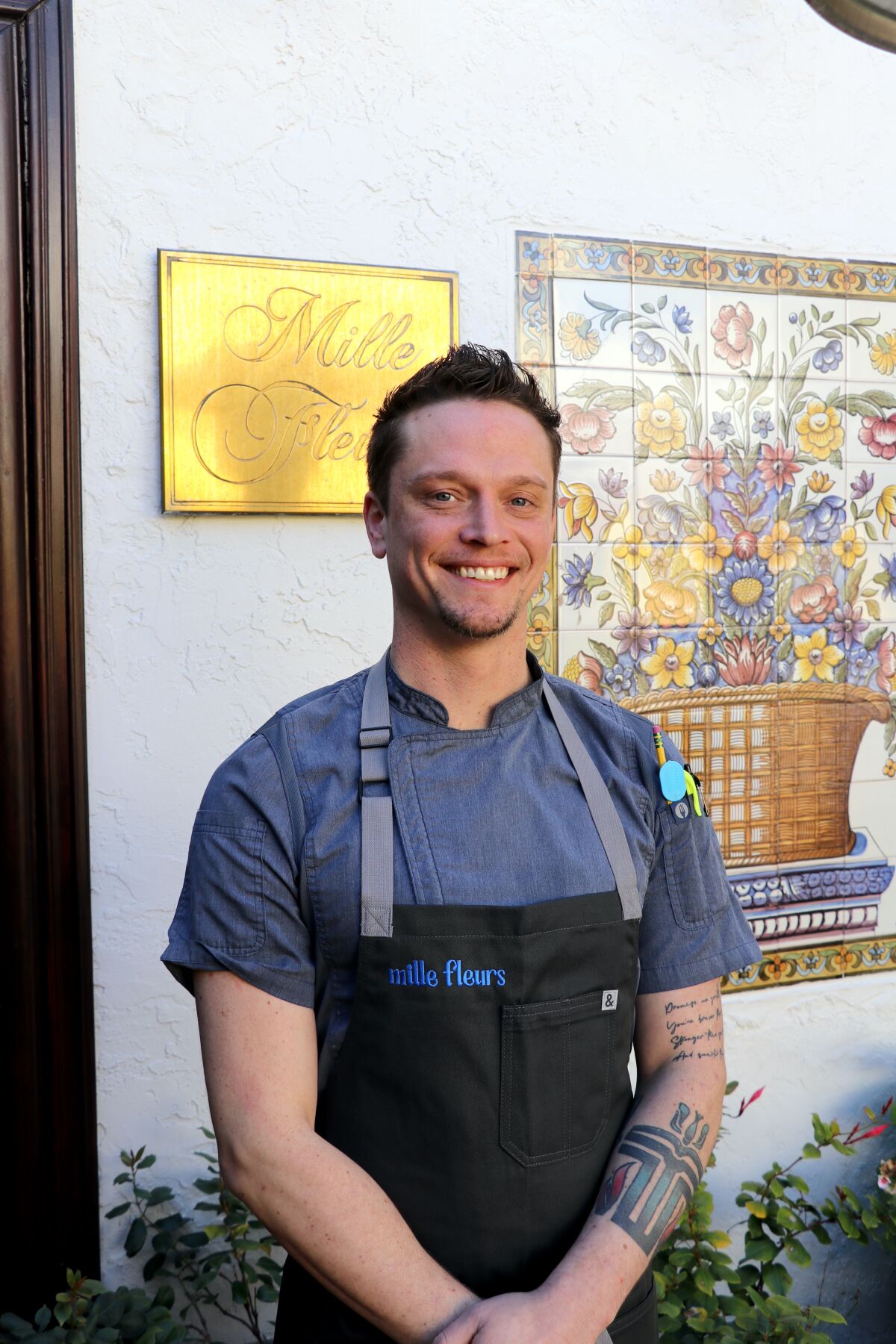 Brandon Jennings has joined Mille Fleurs as the new executive chef, hoping to bring his unique culinary vision to life at Rancho Santa Fe village's iconic French fine dining destination.
Jennings will oversee the kitchen and menu development, working alongside "Papa" Moussa N'Diaye who oversees the pastry program.
Jennings comes to Rancho Santa Fe from his recent gig serving as one of the executive chefs for Tao Group Hospitality, a culinary and nightlife group with more than 70 locations worldwide. During his time with Tao, Jennings went overseas to join the culinary operations of Lavo Marquee and Avenue in the Marina Bay Sands Hotel in Singapore. He relocated to California last March to assist with the openings of Lavo Ristorante in West Hollywood and Lavo San Diego.
Jennings shares a passion for French and Italian fine dining with long-time Mille Fleurs proprietor Bertrand Hug.
"I was captivated by the charm of a smaller, more intimate workspace compared to the larger corporate environments I've worked in before. Mille Fleurs caught my eye not only for its rich history and beloved reputation as a local landmark, but also for its role as a community hub. I'm thrilled to have the opportunity to create new and innovative dishes for both loyal patrons and newcomers alike," Jennings said. "What excites me most is the chance to engage with guests personally and cultivate lasting relationships with the community and local suppliers through exceptional cuisine and hospitality. For me, it's all about crafting an unforgettable experience."
Jennings started working in restaurants when he was 14 years old, washing dishes in his hometown of Gull Lake, Michigan. Eventually he became a sous chef and developed a passion for exploring various styles of cuisines—while in Boston, he worked at the nationally-acclaimed NO. 9 Park under Chef Barbara Lynch, one of Time Magazine's "Top 100 Most Influential People of the Year" in 2017.
Jennings has a passion for the arts and culinary science and he is able to create dishes that are not only technically precise but also visually stunning.
He doesn't believe in pretentious food, just good food—he has fun exploring ways to transform nostalgic childhood favorites like "ants on a log" into elegant, fine-dining dishes.
With Jennings taking over in the kitchen, guests can anticipate a sophisticated take on their favorite comfort classics at Mille Fleurs, with a fresh and innovative twist.
"We take pride in preserving the beloved Mille Fleurs staples, while reimagining them in ways that are distinct and unexpected. Our menu is constantly evolving daily, but one dish not to be missed this spring is the White and Green Asparagus Salad with blood orange, fava beans and horseradish," Jennings said. "At Mille Fleurs, we are committed to sourcing the finest seasonal ingredients, and work closely with local farms such as Chino Farms to ensure exceptional quality in every dish."
Get the RSF Review weekly in your inbox
Latest news from Rancho Santa Fe every Thursday for free
You may occasionally receive promotional content from the Rancho Santa Fe Review.