Passion for fashion: Rancho Santa Fe family business, Tolani Collection, introduces new product line, 'Mahila'
Growing up, Alka Tolani learned to create clothing from her mother.
"My mom is a designer in India," she said. "I grew up in a house of design. My mom loved to stitch and embroider and sew my clothes when I was young. I would watch my mom do that and I would help her."
Years later, the Rancho Santa Fe resident resurrected her clothing skills and made items to raise money at Rady Children's Hospital fundraising events.
"That's where it all started," Tolani said of what today has grown into a thriving fashion apparel business.
"It slowly moved on to some of the fundraising regulars telling me, 'Hey, can we buy some of your clothes for our stores?'
"Then, it moved on to selling the product at the California Market Center in downtown Los Angeles. Then, we moved on to all of the professional trade centers — Dallas, Atlanta, New York, New England, Chicago."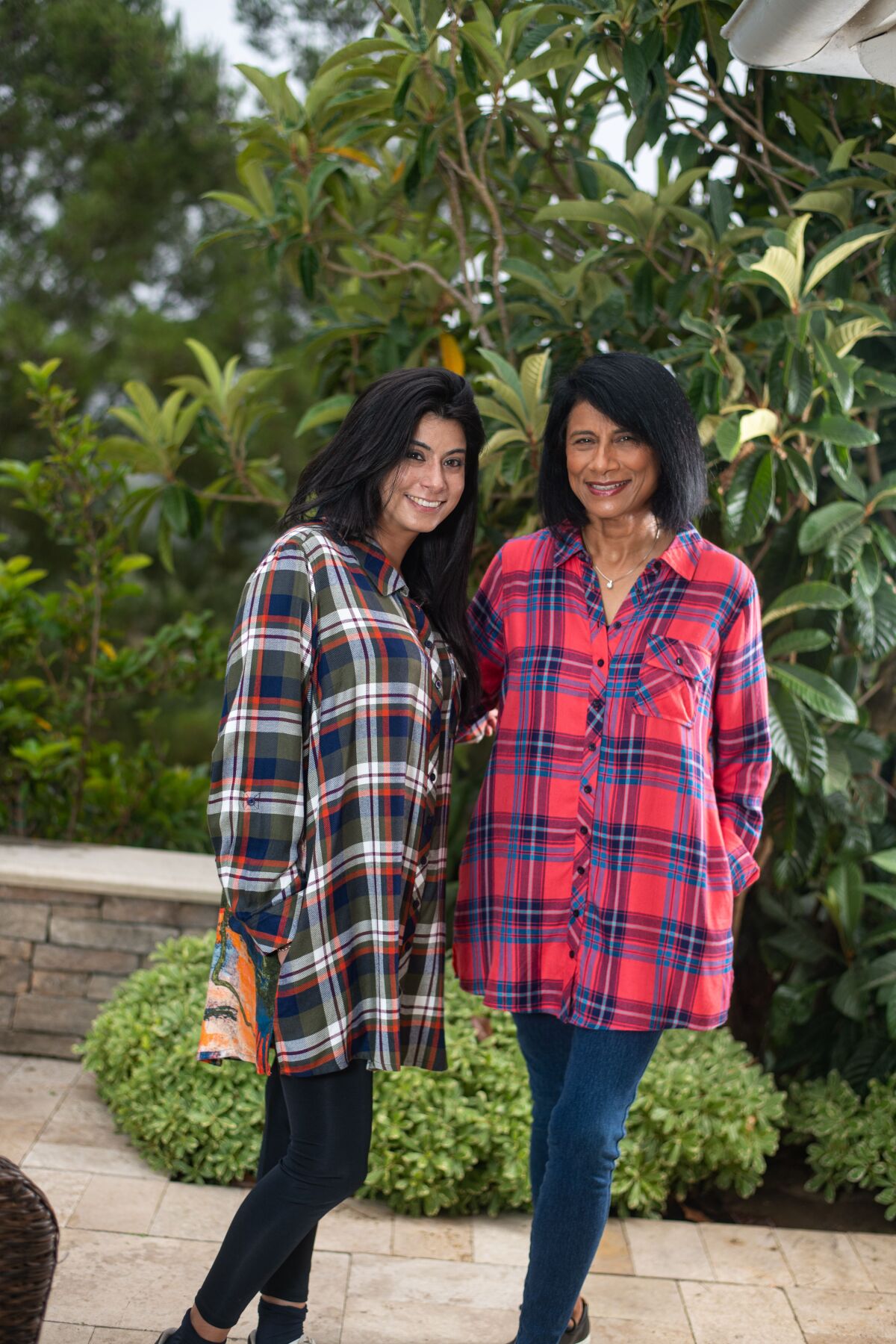 She and husband Raj Tolani created their company, the Tolani Collection, which designs and markets women's clothing to outlets ranging from boutiques to fashion chains and department stores, and even the QVC cable television and online shopping network.
Much of the clothing features floral designs and artistic patterns drawn from Alka's travels around the world.
"Design is my passion," Alka Tolani said. "I love happy, flowing, fun, fashionable clothing. It's something you could be wearing day in and day out. You could travel with it. You could go to a bar in the evening. You could be wearing it on the beach."
Now, the company, which the couple dubs "House of Tolani," is launching a new line called Mahila, which Alka said is a Hindi word for "girl."
Befittingly, the designs of Tolani's newest line originated from the ideas of the couple's daughter, Aishya, also a fashion designer.
The concept of Mahila is to captivate the imaginations of younger women.
"Mahila is my daughter's vision of what a younger (woman) would be like in terms of what she would be wearing," Alka Tolani said. "We are very excited about introducing the Mahila line."
Tolani Collection design assistant Brenda Valdez described a Mahila consumer as someone who's "not afraid to wear a little bit of everything. She's not afraid of wearing revealing silhouettes and different fabrics."
Fellow design assistant Briana Gonzalez elaborated: "She's trendy. She's reading all the fashion magazines and following all the fashion blogs. She's looking to get things done and have a little fun."
Mahila products have been introduced in Anthropologie and other department stores and the brand will be launched in special stores in August, Alka Tolani said.
"It's a work in progress, but it's looking good," Raj Tolani said of the new line. "The main thing in the (fashion) business is to come up with a product that's attractive to people and we've got that feedback."
Introduction of the new line is a further emanation of an evolution that stems from the lessons Alka Tolani learned at the elbow of her mother.
Alka Tolani said that as a wife and mother of two in Rancho Santa Fe, she had no inkling that she would one day develop a successful women's clothing business.
The demand that developed from that initial effort at the fundraisers led the couple in the mid-2000s to explore marketing possibilities, resulting in Tolani products to be sold in high fashion shops in the Los Angeles area.
One day, they got word of an incident that would mark a turning point. Film star Jessica Alba was photographed at a Los Angeles Lakers basketball game wearing a Tolani scarf.
"Every magazine had that picture because she looked gorgeous in that scarf," Alka Tolani said. "From that one scarf that she wore at the L.A. Lakers game, she wore four more scarves, and then it went on and on to the (other) celebrities. Over 15 to 20 of them kept wearing the product over (several) years and we launched a ready-to-wear line."
Alka Tolani said a major aspect of the Tolani Collection's appeal is that all of the items produced are unique with prints that are not repeated.
"Every print has its own story of originality," she said. "Celebrities love having these special pieces because they're one-of-a kind and they'll never see it again. ... It makes a person feel unique and special."
Retired from a career in technology, Raj Tolani embraced the business, though not without initial doubts: "I thought she would lose money. I said, 'Don't lose so much money that I have to go back to work.'"
As it turned out, Raj Tolani would go back to work, because of the company's success, not its failure. He manages the business side of the clothing company, with help from their son, Vijay.
"I was just supporting her passion," Raj Tolani said. "I never thought it would become a business."
Information on the Tolani Collection is available at tolanicollection.com.
Get the RSF Review weekly in your inbox
Latest news from Rancho Santa Fe every Thursday for free
You may occasionally receive promotional content from the Rancho Santa Fe Review.