RSF author Adrienne Falzon visits Rowe School to share her new book 'Olivia and the Sea Turtles' with students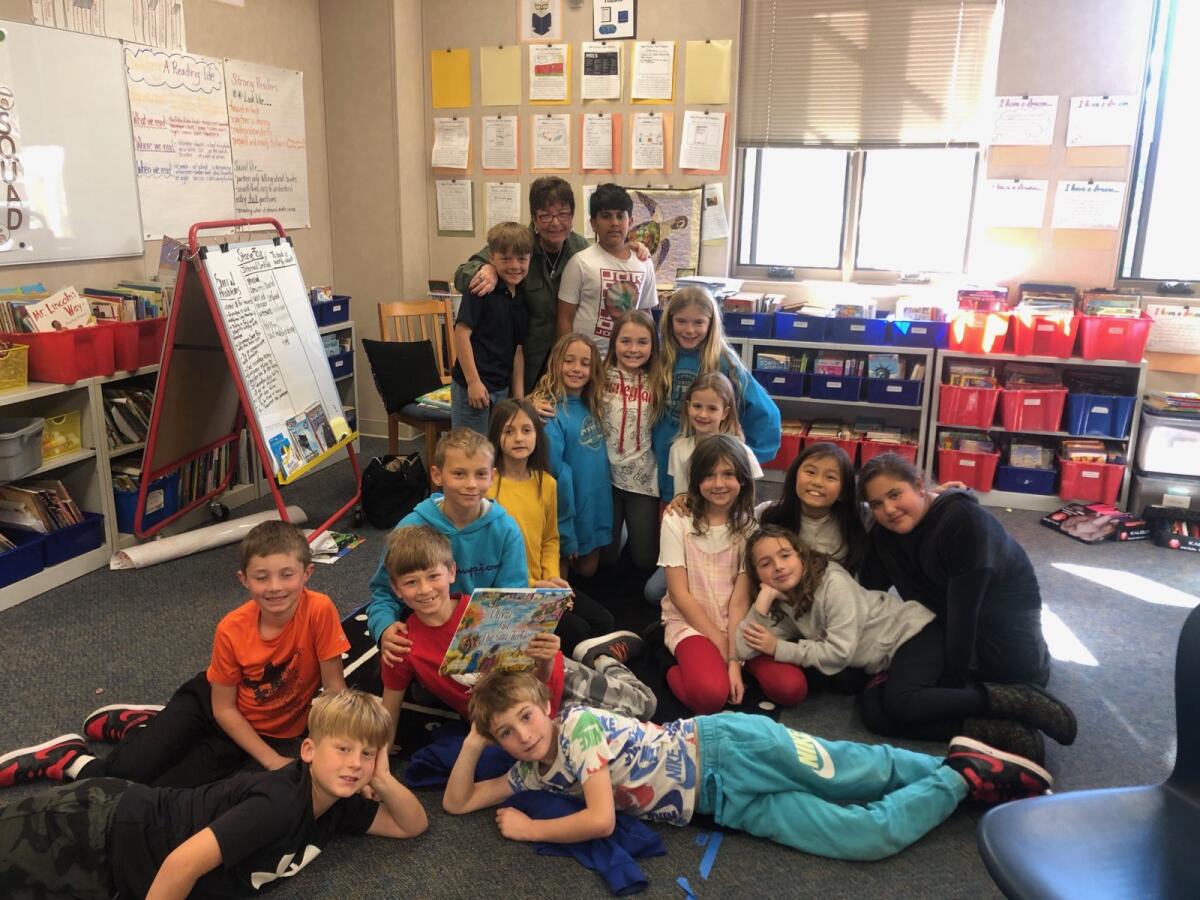 Adrienne Falzon, a Rancho Santa Fe resident who has written several children's books, recently spent time reading from her new release, Olivia and the Sea Turtles, to elementary school students at the R. Roger Rowe School as part of the RSF School District's Ocean Week programming, which is intended to promote environmental awareness among young learners.
Falzon also brought a wealth of knowledge about sea turtles to share with her excited audience. Falzon draws much of her inspiration from years of experience as a reading specialist, during which time she taught students at all reading levels, including those residing in a minimum security residential facility for incarcerated youth. Falzon has also found material for her books closer to home, as she and her husband, Manny, have a blended family of seven sons and nine grandchildren. Her book, Live Like Paul, recounts the death of her son Paul and the lessons she learned about finding acceptance and grace in the face of life's unfairness.
RSF School District K-5 Principal Megan Loh called Falzon's reading and discussion "engaging, fun, and the perfect connection to our study of Ocean Literacy", according to a news release. In addition to reading to children, Falzon devotes much of her time to many local organizations, including USO San Diego, Breast Cancer Angels, and several literary societies. She is a board member and membership chairperson with the Rancho Santa Fe Garden Club. Falzon also serves as co-vice president of the Southampton Garden Club in Southampton, NY, where she and Manny reside part of the year.
Olivia and the Sea Turtles was illustrated by Helen M. Salzburg, who previously collaborated with Falzon on three other children's books. Her award-winning artwork has appeared in numerous collections, both public and private, and she originated the Jaffe Center for Book Arts' Salzburg Artist in Residence program at Florida Atlantic University.
More information can be found at www.adriennefalzon.com, as well as upcoming readings and book signing events, and find all of her books available for sale on Amazon.com.
Get the RSF Review weekly in your inbox
Latest news from Rancho Santa Fe every Thursday for free
You may occasionally receive promotional content from the Rancho Santa Fe Review.