"Traveling 911 Memorial Painting" comes to Rancho Santa Fe Fire Station
Local realtor, Wendy Moldow, removes the cover from the painting
Riley Wilson, Bruce Sherwood, Chris Mertz, Jim Ashcraft, Wendy Moldow, Dr. Naoemi Balinth, Fred Cox, Nate Fritchle, Paul Roman, Chris Payne
Bruce Sherwood, Chris Mertz, Riley Wilson, Jim Ashcraft, Joe Moscato, Dr. Naoemi Balinth, Paul Roman, Wendy Moldow, Fred Cox, Chris Payne, John Brzostkiewicz, Nate Fritchle
Bruce Sherwood, Chris Mertz, Riley Wilson, Jim Ashcraft, Joe Moscato, Dr. Naoemi Balinth, Paul Roman, Wendy Moldow, Fred Cox, Chris Payne, John Brzostkiewicz, Nate Fritchle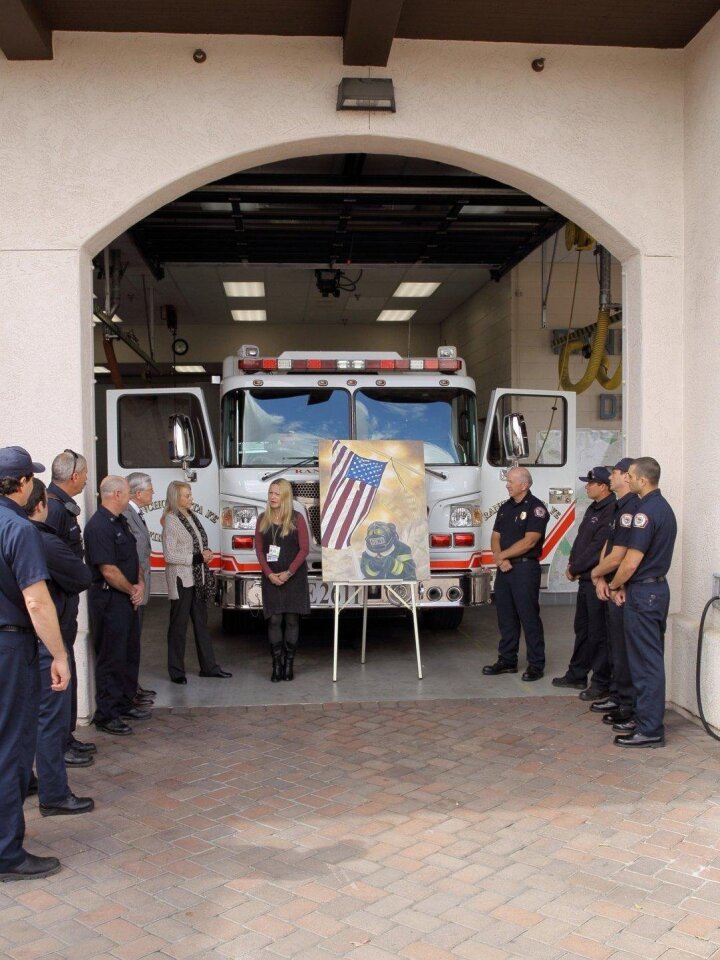 The traveling 9/11 painting arrives at the RSF Fire Station
The traveling 9/11 painting arrives at the RSF Fire Station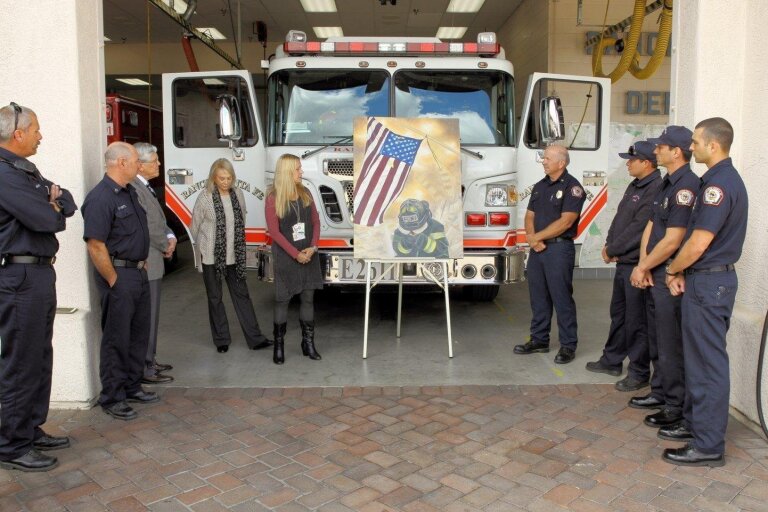 The traveling 9/11 painting arrives at the RSF Fire Station
Local realtor, Wendy Moldow, removes the cover from the painting
A presentation of the "Traveling 911 Memorial Painting" was held March 11 at the RSF Fire Station.
A presentation of the "Traveling 911 Memorial Painting" was held as it continues its San Diego County journey touring and spending three months in different fire stations, according to a press release.
Local Carlsbad artist Kelly Lucas was commissioned to paint and deliver her painting to New York to raise money for families of the fallen firefighters. It was purchased for over $26,000 by a restaurateur who who said, after he hung it in his restaurant, that it made people too sad so, although still pleased with his donation, he returned it to the artist.
The painting was then purchased by Wendy Moldow, a local Pacific Sotheby's Realtor. Moldow said in the press release that she knew this special piece of art deserves to have its home in a fire station, but which? Thus, the "Traveling 911 Memorial Painting" began its journey through San Diego County. Prior to Rancho Santa Fe, it has stayed at the Encinitas and San Marcos fire stations.
In the press release, Moldow said every day should be a day to recognize the importance of first responders. "Sharing this dramatic painting with them and those who visit their stations serves as a reminder of how much we appreciate all they do for us."
Among those who were at the March 3 event were RSF Deputy Fire Chief Fred Cox and Dr. Noemi Balinth, past president of the New York Psychological Association who was a first responder at Ground Zero, according to the press release.
Photos by Jon Clark.
---
Get the RSF Review weekly in your inbox
Latest news from Rancho Santa Fe every Thursday for free
You may occasionally receive promotional content from the Rancho Santa Fe Review.