Tune in: Expert to speak at Rancho Santa Fe Library on antique radio sets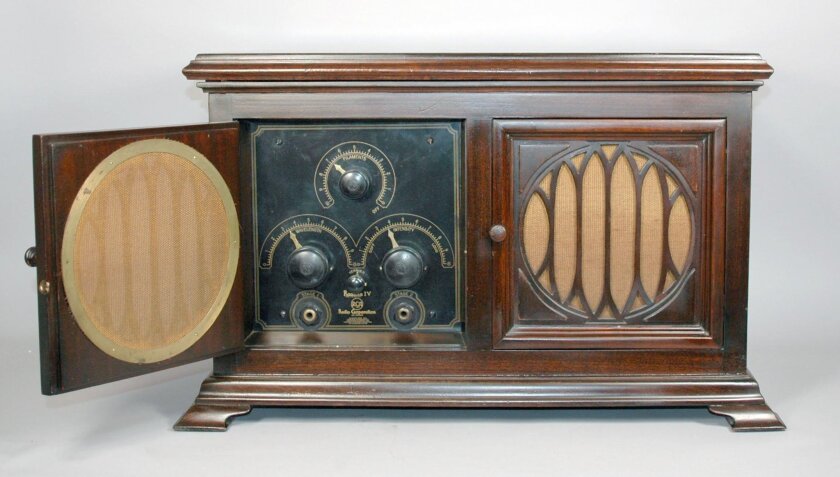 Rancho Santa Fe author Eric Wenaas will host a presentation and book signing on "The Evolution of Broadcast Radio Receivers" at 5:30 p.m. Sept. 25 at the Rancho Santa Fe Library.
Wenaas' talk will draw from his book, "Radiola: The Golden Age of RCA," detailing a period from 1919 to 1929 when the first radios became a part of Americans' everyday lives. Copies of the book, a $60 value, will be available for $15.
"Picture in your mind the ultimate Radiola reference book with detailed information on each model," wrote reviewer Alan Douglas in Antique Radio Classified. "Multiply that by 10 and you have a fair idea of Eric's book."
"I'm hoping anyone who is interested in old-timey radios will come," Wenaas said.
Wenaas first started collecting radios at age 14 when he was given a Radiola Super-Heterodyne in a wood case with a leather handle. The front panel had two dials. The user would find the wavelength of radio stations and write the station letters on paper dials so it could easily be found again.
The radio weighed 50 pounds, but was considered a portable.
Growing up in Chicago, Wenaas lived close to a big tower for WCFL. With his crystal set, he could pick up the broadcast without an antenna or power supply, the crystal detecting signals being transmitted through the air.
"I always thought (the technology) was amazing," said Wenaas, who would listen to White Sox games into the night on his headphones.
He experimented with radio devices and repaired radios and TVs in a shop while attending high school.
Wenaas went on to study electrical engineering at Purdue and received his Ph.D. from the State University of New York at Buffalo. He moved to San Diego in 1969 and became the president and CEO of Jaycor, a local defense company. He lived in Del Mar until 2007, when he moved to Rancho Santa Fe.
Wenaas had more time to explore his passion after he retired in 2002, starting to research and write articles for antique radio journals and to collect radios. Before eBay, he attended multiple radio shows and auctions — he now has close to 500 sets.
The rarest sets, he has learned, are the ones that were the poorest performers. They typically were junked and aren't around in large numbers today.
"I have every set RCA sold between 1920 and 1929," Wenaas said, noting that RCA sold its receivers in the 1920s under the Radiola name, manufactured by the competing brands of Westinghouse, General Electric or Wireless Specialty Apparatus. "I'm more interested in the early days, because there's a lot more great stories behind them."
Wenaas was fascinated by radios and felt there was so much great information people didn't know that he should write a book. He embarked on a five-year process, writing a book of more than 450 pages.
He spent hours at the Smithsonian Museum in Washington, D.C., doing research, where the Radioana Collection archives had more than 500 boxes of information.
Wenaas had a house in Virginia at the time and over the course of three years made 18 visits to the Smithsonian, logging long hours and collecting more than 5,000 documents and images.
"I would sit there and the time would pass by. I'd be there from 10 a.m. to 4 p.m. and never even stop to eat lunch, I was so fascinated," Wenaas said.
Sonoran Publishing in Arizona published the book in 2007. Wenaas is working on his next book about vacuum tubes, which will be published by the Antique Wireless Association.
"Radiola" is filled with Wenaas' photos of his collection, as well as antique photographs and advertisements.
One 1924 ad boasts that "There's a Radiola for every purse," with options ranging from $30 for a small box two-tube balanced amplifier to a grand mahogany console for $425.
Radiolas could be sold with a curved loudspeaker to amplify the sound.
"Broadcast radio was really the first social network," Wenaas said. "It was the first time that people were able to come together and all listen to music in the home. It was a special thing and everyone felt connected."
Several of Wenaas' radios are on display at the Rancho Santa Fe Library and more will be shared at the Sept. 25 event.
---
Get the RSF Review weekly in your inbox
Latest news from Rancho Santa Fe every Thursday for free
You may occasionally receive promotional content from the Rancho Santa Fe Review.