Rancho Santa Fe garden conserves water while maintaining aquatic theme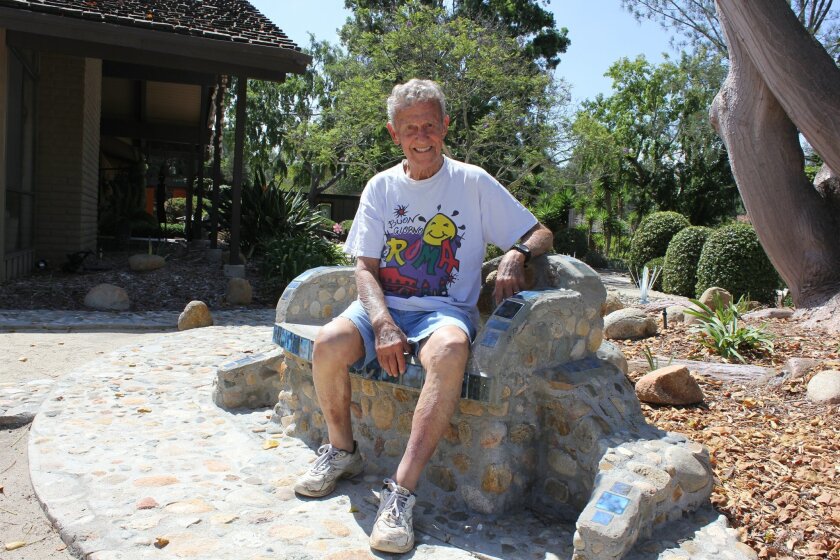 Behind Chuck Bahde's Rancho Santa Fe house are several ornamental lakes that gleam with blue and green hues, and fountains that sparkle in the sun.
But not even the most ardent water conservationist could quibble with Bahde's landscape scheme — none of the lakes or fountains contains a drop of actual H2O.
Instead, where green lawns once surrounded Bahde's house, the Rancho Santa Fe resident has created a garden that conjures the idea of water, using materials such as rocks, paint, concrete and bits of colored tile. For greenery, the garden features cactuses, succulents and other drought-tolerant plants.
The garden, which replaced 6,000 to 7,000 square feet of turf, represents what Bahde calls "an artistic approach to saving water."
Bahde began his project several years ago, before California found itself in the grip of a four-year drought, and residents faced water-use restrictions such as rationing and mandatory limits on outdoor watering. Violations of the new restrictions carry stiff fines and penalties.
Bahde, 89, who has worked as an architect and industrial designer among other pursuits, has also ornamented his garden with fanciful sculptures constructed from materials that include different colors of plastic sheeting, as well as used copper solar panels.
The result is a whimsical space that includes built-in "love seats" and concrete bridges, affording vantage points from which Bahde and his wife, Pilar, can enjoy views of their five-acre property, which they have owned since 1975.
Bahde initially decided to tear out his turf after concluding that the effort and expense of maintaining the lawn had become too great. Keeping up the lawn required sod, fertilizer and water, as well as battles against the incursions of rabbits and gophers.
"I thought it would save water, and it would be something different," Bahde said.
When the drought hit and Gov. Jerry Brown declared a water emergency, leading to the stringent restrictions, Bahde was in good shape, having already removed all of the grass on his property.
The rock that Bahde has incorporated into his landscape features all came from the property, and most of the work has been carried out by Bahde and a gardener who has worked for him for the past 38 years.
"We use what we have," he said.
He estimated that he has spent hundreds of hours at a minimum over the years in creating the different elements of his garden.
Bahde trained as an architect at the Institute of Design in Chicago, and designed "ultra- contemporary" houses, although he hasn't created projects for other people for several decades.
He has a long history of working in sculpture, dating to his student days. Part of his garage is given over to a workshop for his sculptures, and his property is dotted with his work, including a piece called "Surf" that resembles a breaking wave, fabricated with a copper solar panel and concrete, and decorated with blue and green tile remnants. Bahde calls an area next to his swimming pool the "art walk," because it is decorated with sculptures and tile mosaics.
Bahde said he hopes others are inspired by his garden to use their imagination and come up with their own creative, low-water landscape schemes, asking themselves, "What can I do instead of plunking down a few cactuses?"
While he has opted to remove his lawn, he realizes that others may feel differently. "I say to each his own. If they want to have and enjoy a lawn, maybe they have to pay for it."
---
Get the RSF Review weekly in your inbox
Latest news from Rancho Santa Fe every Thursday for free
You may occasionally receive promotional content from the Rancho Santa Fe Review.