Local resident committed to campaign against domestic violence
Once a year, Mike Zill slips on a pair of high heels and goes for a walk, and it's not because he is a cross-dresser.
On Oct. 13, the Santaluz resident participated for a fifth consecutive year in "Walk a Mile in Her Shoes," a fundraiser benefiting Becky's House.
Becky's House is the overarching name for several domestic violence programs operated in this region by its chapter of the YWCA.
The October event features several hundred men and women, many of whom wear heels, competing as teams or individuals to generate money for Becky's House programs. They do that by getting donors to sponsor them in the mile-long walk in downtown San Diego.
"It's a huge event and there's blisters involved," Zill said. "It's a fun event for a very serious cause."
For his involvement and fundraising efforts this year, Becky's recognized Zill as Top Individual Fundraiser, having garnered $2,475.
That figure is dwarfed many times over by the amount Zill has been able to bring in to the cause through various efforts. He is estimated to have raised at least $75,000.
"As you get older in the world, you start looking at how you can help," said Zill, who is retired, though a few years short of qualifying for social security benefits.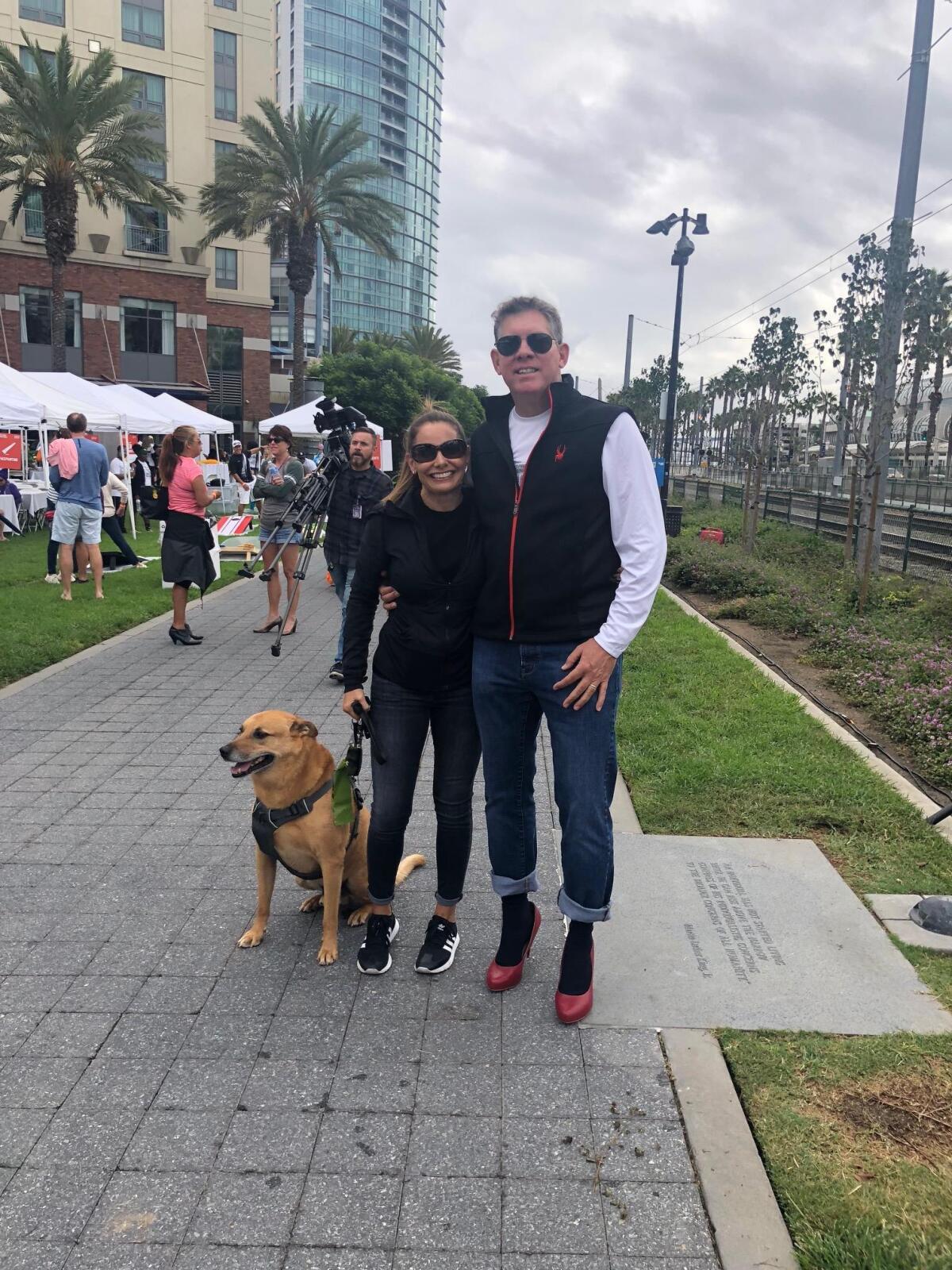 "Even an old guy like me could use my network to bring some resources to bear," he said. "You reach out to your network and get other caring people to pitch in."
Zill's involvement stems largely from taking a tour of the YWCA in which he learned about domestic violence and its impacts, and hearing a presentation by YWCA CEO Heather Finlay.
"Mike Zill is a wonderful person and he's been a tremendous supporter of the YWCA and its domestic violence programs, which we call Becky's House," Finlay said. "He really took the time to understand the issue and it's something that has resonated with him.
"It's very important that we're talking about this issue, but also engaging men in this issue because we're not going to eradicate domestic violence without all of us engaging in the dialogue about it."
Finlay said about one in four women and one in seven men experience domestic violence. More than 17,000 calls reporting domestic violence were placed to San Diego County law enforcement agencies in 2017. Yet, many cases typically are not reported.
Zill said that in learning about the issue through his contact with the YWCA, he was particularly taken by Finlay's talk.
"I thought it was amazing in terms of opening my eyes into what's happening around us with domestic violence, her passion for the cause, her commitment, and her clarity," Zill said. "It's one thing to have a big challenge and another to say we can make a difference and are making a difference."
Another influence on Zill's altruism was a visit to Camp Pendleton in which he heard about the struggles that Marines endure when they return from combat and the difficulties they sometimes face in rejoining loved ones, wives and families.
"I harbor a strong feeling for veterans," he said. "Gratitude is the right word. On the other hand, I can just imagine how difficult it is in reuniting with the family."
Zill's career in the medical devices industry eventually landed him in San Diego County after jobs in the Bay Area, Phoenix and Orange County.
He grew up in Long Beach, Miss., a small city on the Gulf Coast west of the better known resort towns of Gulfport and Biloxi.
He went to college at the University of Tennessee and then on to graduate school at the University of Texas, laying the groundwork for his high-tech career.
In Santaluz, he resides in a gated golf-oriented community situated east of Fairbanks Ranch and west of Rancho Bernardo.
"I'm a transplant," Zill said. "I've been in California for 20 years. I've lived from north to south, and San Diego's the best."
It's a sure bet, however, that Zill will not be seen toting clubs around the Santaluz golf course wearing high-heels.
"It's not easy," Zill said of the Walk a Mile in Her Shoes experience. "It gives men a feeling of what it feels like to walk in women's shoes."
Get the RSF Review weekly in your inbox
Latest news from Rancho Santa Fe every Thursday for free
You may occasionally receive promotional content from the Rancho Santa Fe Review.